I felt so much stronger this year. My energy was better. I made it through that whole long spring time of Mercury Retrograde with nary a blip in my emotional mojo. Morning yoga was a regular thing, and I'd been walking or using the elliptical with some regularly. I had been making progress on my novel and was excited to receive galleys to review for the chapter that is going in an upcoming anthology of fiction by DC-area women writers. Heck, I was even meditating first thing in the morning!
And on the way over to College Park, I stopped at Great Falls to join up with my son's field trip. I had a nature moment that also translated into a novel-inspiration moment. It was a gorgeous day and I was feeling excited about the BlogU conference weekend.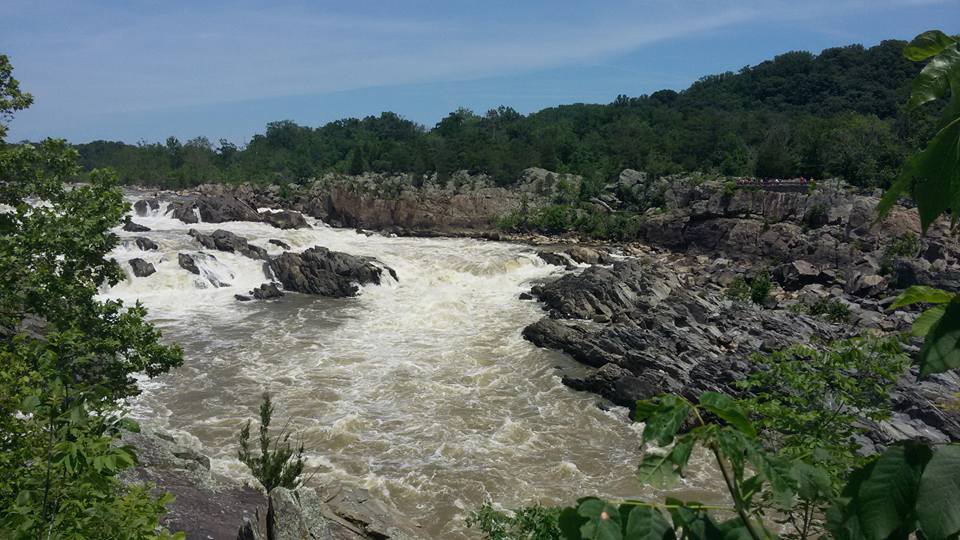 I really thought I would make it through okay, certainly no worse for wear than the previous year when I had stayed up late and eaten some cafeteria food and lived to tell the tale. I had been feeling better, after all. I could handle it, I told myself.
I wrote over here about how I got an award and read my piece, garnering nice comments from lots of other bloggers over the course of the weekend. That was great, and I thoroughly enjoyed the weekend, but after it was over, I was EXHAUSTED.
It was hot. There was a lot of walking. I stayed up until midnight two nights in a row. I ate mostly food I prepared plus plain lettuce, but I did try chicken from the cafeteria twice and once my skin got hot and prickly. I drank a ton of spring water and took some Unda 243 homeopathic remedy. I diffused essential oils in my dorm room. I brought an electric kettle and made tea.
I meditated both mornings before going out on the quad to do yoga. I made sure to start the day grounded.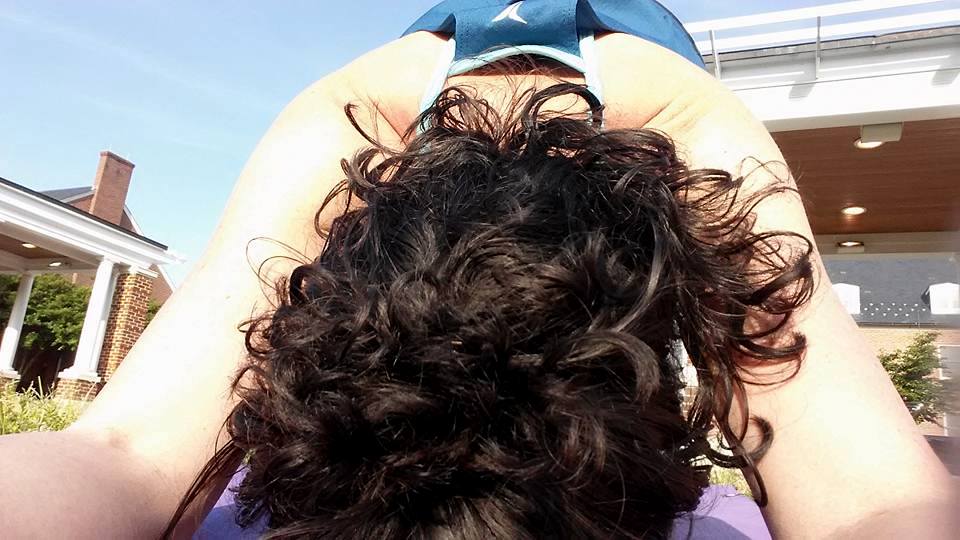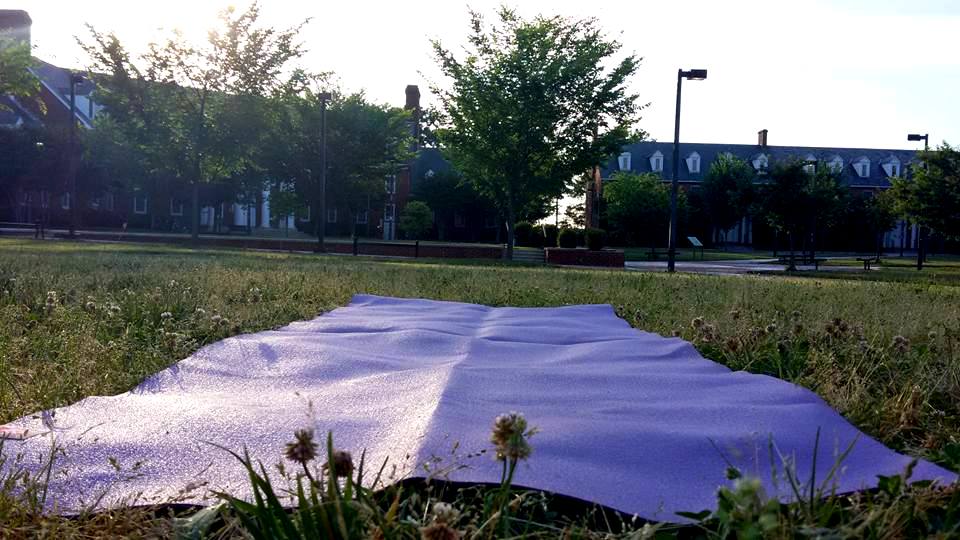 But that wasn't enough.
When I told my chiropractor how tired I felt after the weekend, he asked, "Were you on all weekend? Like did you have to interact with others a lot?"
Yes, I said, I expended lots of extroverted energy. But it was good, I swear!
He said that for someone like me, who is so sensitive and has such little in reserve, even good stress registers like negative stress. Awesome.
The final session of the conference was about self-care with Ashley Fuchs, The Malleable Mom. I was so glad to hear her message and so glad for other bloggers less familiar with self-care to hear it as well. I almost missed the session so that I could arrive earlier at, ironically, Love Your Body Day around the Beltway in Reston. It's a terrific day of yoga and healthy living presentations and exhibits, and I wanted to cover it for my lifestyle magazine website, Mindful Healthy Life, which was a media sponsor.
But I realized I hadn't verified the status of my daughter's waiver for the trampoline park. Between texting with the other girl's mom and packing up my dorm room and hauling my crazy amount of gear back to my car, I got a late start. The parking lot was far from the dorm but near Ashley's session, so I  decided to go and made it in just as she was getting started.
And I'm so glad I did. Her messages about sleep and posture and so much else were really important, and I'm glad I got closure on the weekend.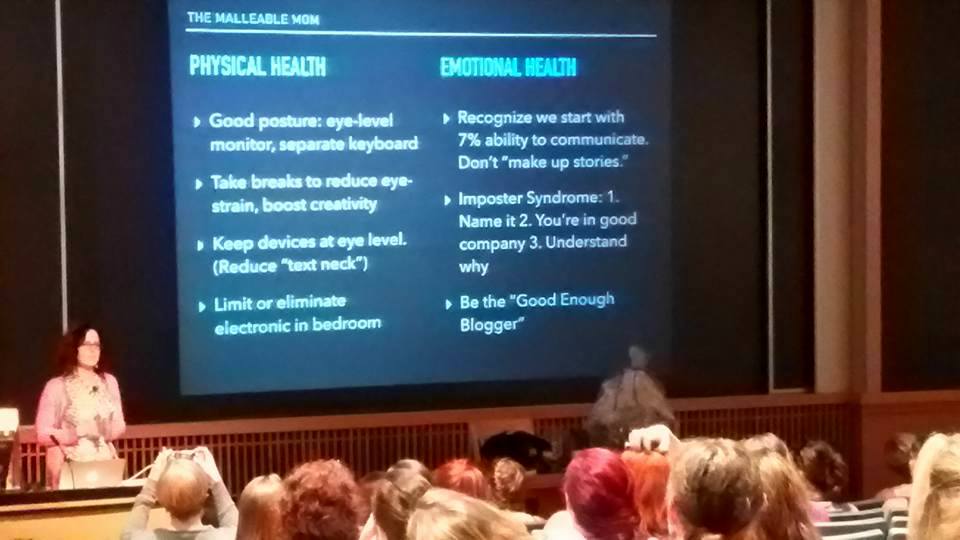 I then had only a few hours at Love Your Body Day, but I met tons of great people and made connections that have already been super valuable.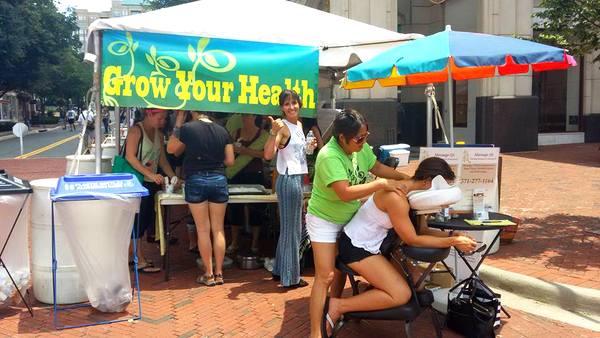 I managed not to get sunburned, and I think I kept adequately hydrated.
I closed the weekend with a lot of good memories and knowledge but a heavy heart about the Orlando tragedy. That was followed by a very heavy body and mind for the rest of the month.
The first week of summer break, while the kids were at camp, I spent hours talking and consulting with people, including friends, my sister, my chiropractor, my health coach, and my M.D.
The chiro had looked at my recent labwork ahead of time and pronounced that he thought "chronic cryptic Lyme" was at the heart of most of my issues and then muscle-tested me and determined he wanted me on the herb Cat's Claw. It's an adaptogen that should help my adrenals, which he said were pretty weak, and it should help address some of the bugs in my system, be they virus or other.
My health coach reviewed my supplement protocol and reiterated that I still wasn't on the full range of B vitamins she wanted to see and that I probably needed other fat-soluable vitamins I should have had earlier.
When I told the M.D. I had forgotten to start quercitin per her recommendation last time, she said to go ahead and start it but made it clear that there were bigger fish to fry. She said my total IgM showed that my body was "in battle mode" and she said it probably had been for a while. Some things looked good and fine – including my glucose and iron levels and my liver enzymes.
But looking at the IgM and the Candida antibodies and my high DHEA and the positive Lyme bands, my doctor said my body is fighting hard and needs assistance.
She's recommending to address the Lyme and my viral load (EBV and HHV6) at the same time with
1) an herbal protocol of Cat's Claw and Resveratrol (Japanese Knotweed).
2) possibily an antiviral homeopathic remedy called Ecvir and, I think, continuation of Lauricidin, a natural antiviral derived from concentrated coconut
3) a course of Valtrex, a prescription anti-viral that she says is one of the five drugs she actually feels comfortable giving and that doesn't hurt gut bacteria
4) a continuation of low-dose naltrexone (LDN), which I started about a month ago and she wants me to give until the end of the summer to work wholeheartedly. Here are some thoughts about the effectiveness of LDN from Chris Kresser and Dr. Mercola.
I proceeded to spend a bunch of money this holiday weekend ordering methylation support supplements but will hold off on the Lyme & virus protocols until after I get back from visiting family in early August.
My doctor understands I'm sensitive, and she is a great listener and champion who, without ego, defers to my health coach for the specifics about certain supplements and how they interact with my particular SNPs. My chiropractor is a kind and supportive man who also gives great adjustments.
And yet, I still felt pretty bad. Tired. Defeated. Depressed. It's hard to know what is biochemical and what is situational: no solo time this coming week, no progress on the novel of late, busy times prepping for having a table at MommyCon and all the related work to try to build the business pretty much alone after thinking I was going to get some help and not having the energy to start looking anew when that fell through.
Prime ground for doubt and frustration to take root. When negative has been your default for so long, it's real work to stamp down those different pathways!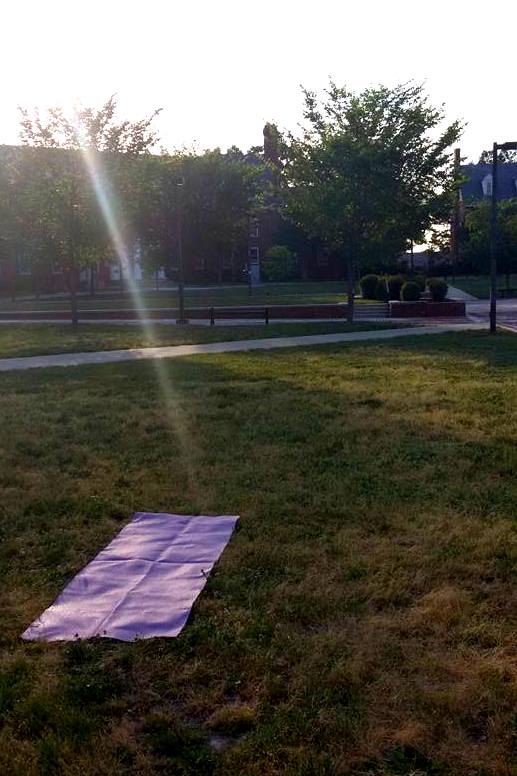 And it's work I need help with. The last week of school, I missed an already-overdue therapy appointment to stay home with a sick child. I don't know when I can make it up. The 35-minute one-way trip is something I can handle twice a month during the school year, but when I'm paying something like $25-40/hour for the kids to be at camp, it's hard to add that expense onto the hourly therapist rate.
Clearly I do better when I'm working through my stuff, but with all the medical appointments for me and for my son, whose allergies we are trying to deal with more seriously before next spring, we'll see if I get in to my therapist before September!
I do hope I can get myself to a yoga class one of these days. Ease, a studio I love is right near a place where the kids will be at camp a few days a week in July and August. It took me a year to activate my grand opening special of 50 days for $50, but once I did, it felt so good to get in there on a regular basis. I haven't bought another package yet, but I need to.
I mean, if I didn't do yoga, how could I manage to take toe selfies?
I'm grateful for all the people who said or write really nice things to me this week and will gladly accept healing vibes from anyone who wants to send them!