BlogU is a small and intimate conference that is both super practical and a lot of fun.  It's local to the greater DC area, which is big for me since traveling is such an ordeal with my food and fatigue issues. And it's economical, with the conference – including all sessions, keynotes and parties – and room and board for the whole weekend costing under $400.
As someone who hasn't really established a serious personal blogging presence and who is a little out of the mainstream when it comes to mommy blogs, for me, attending wasn't like seeing a bunch of old friends the way it was for lots of the attendees. Everyone was very nice and welcoming. No one ever looked at me funny for asking to sit with them at a meal or anything, which can be a worry when you're in a group that is big but not gigantic, like the sea of thousands that is BlogHer, which I attended in 2012 and 2013.
This was my second year at BlogU, and this year I had registered a lot earlier so I had been able to participate some in the private Facebook group and to have submitted essays for three of the four "term paper" competitions. And one of them won!
I was called up to read my "hot topic" piece on wanting my children to understand their white privilege. Since I hadn't seen the piece for nearly a month, and since I was already pretty tired from schlepping my belongings from one end of campus where I parked my car to the dorms at another end, through the blazing sun, it was a little odd to get up in front of a hundred or so people. Thank goodness I had taken a shower and washed my sweaty-greasy hair!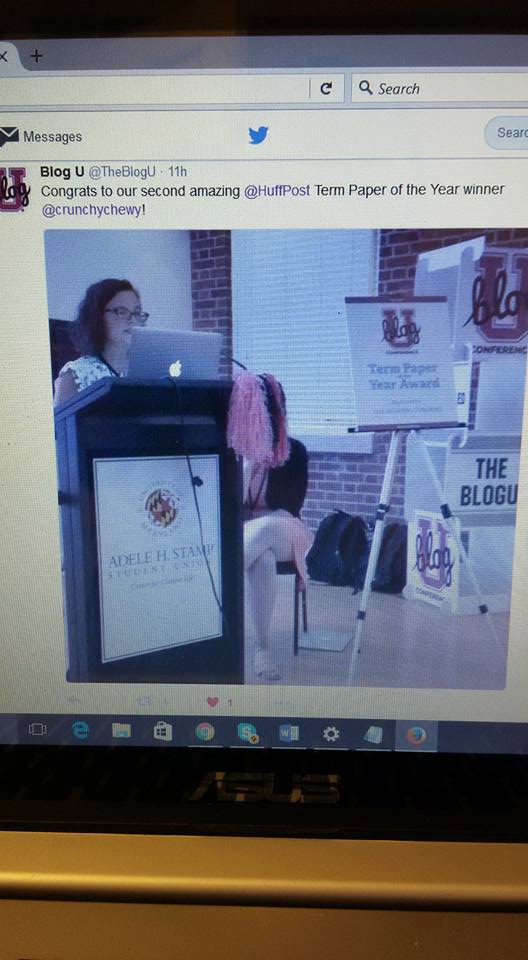 I won't lie; it was very cool to be complimented on the piece and on the delivery, both immediately after and throughout the weekend. Never again will I hesitate to congratulate someone, because I'll tell you, it feels really nice to have people stop you and thank you for something you wrote and to tell you it made them think. So yay for that. But there are a lot of things I want to do with this blog before I feel ready to tell the Huffington Post to publish the piece!
On one hand, I want to list all the people whose sessions I attended and give them shout outs. It was terrific to hear them tell their stories and to learn from them. But that feels a little name-droppy, and it's already been almost a month since the conference and it's taken me this long to write anything about the conference. I have a whole separate one I want to write about how it feels to participate in stuff like this as a person with chronic fatigue issues.
So, in the interest of not letting the entire summer go by without saying a public thank you to the organizers, I will conclude simply that I learned a lot, I laughed a lot, and I had a lot of positive take-aways from BlogU 2016. I'm grateful for all who made it happen and for everyone who let me walk across the gigantic campus with them! You may not remember me beyond my moment at the stage, but I will remember you!