Before I had even cracked the spine of the book Good Enough is the New Perfect: Finding Happiness and Success in Modern Motherhood, it got soaked. For at least the fourteenth time, I'd failed to screw the top on my new glass water bottle on correctly, and it spilled all over the purse I took when I left the baby asleep with a sitter to buy organic Romaine lettuce and go to the Hair Cuttery.
"Good enough," I thought, "does not cut it when containers of water are involved. Perfect is required. This book is wrong."
But really, I knew that the problem was all about me: I hadn't been paying attention when I was screwing the lid on while drinking and driving (water, that is). If I'd just focused on one thing at a time, there would be no soggy books.
That's pretty much the message of the book:
Choose what is important to you. Pursue it. Let the other stuff slide. Happiness will ensue.
It makes a lot of sense, and I've been moving toward that kind of narrowing. Well, maybe it's more like a re-seeing of things I complain about for how they actually do work toward my big goals rather than thwart other smaller goals.
The book also helped me see that I am not as conflicted and frustrated as I might be if I had expected to go back to work after having my first child. But I had gotten to the point teaching high school English where I knew I simply couldn't do it and be healthy. My struggles with my thyroid and celiac disease had gotten me clear on the fact that I needed to follow a different path.
So even though I had been like a lot of the over-achieving, perfectionist moms in the book, I knew I would just have to let some things go if I was going to be healthy and get pregnant. Once I got pregnant, I was even more ready to be done working and just be home with my son.
The whole time, however, I've wanted to pursue my own interests and eventually a little work. I started a writing group when he was four months old, started tutoring when he was a year old, and started a chapter of Holistic Moms when he was two and a half. It seems sometimes like my interests have multiplied, and there are times when I wonder if I will ever balance being the kind of mom I want to be with being an individual who feels all her needs are met.
Reading about so many moms who continued to want to "have it all" after giving birth, though, I realized that most of my conflicts are not really conflicts. I am privileged and lucky to be able to stay home (even if earning money does feel really good), and most of my interests dovetail more than I give them credit for. This book showed me that there are a lot of internal battles I could be having but am not. I think I may indeed be close to embracing the "new perfect."
The commitment to health and well-being that I made in 2004 remains. It's okay that this is my top priority and that things like fashion (for me or my kids) fall to the wayside. If looking good starts to become part of my broader goal (which it might, since "beauty" is my 2011 catchphrase), then swell. It should feel fairly effortless and, in fact, fun if it really aligns with my values.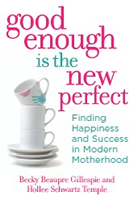 But for now, I'm just going to try to honor that food and health — for me, for my family, and for my community — are the things I care most about. So the choices I make will reflect those values, and I don't have to feel bad about not pursuing things that don't.
In this light, "good enough" does sound rather freeing!
Disclosure: As a member of From Left to Write book club, I received a copy of this book for review. All opinions are my own. You can read other members' posts inspired by Good Enough Is The New Perfect on book club day, May 10 at From Left to Write book club.
Additional note: It seems appropriate to give a shout out to two other moms who live and breathe "making it work":
Washington Post staff writer Brigid Schulte has written about motherhood and time management for the Post Magazine and is working on a book about it. Two days ago, on Mother's Day, she published an article about flexible work arrangements and included a profile of Jennifer Folsom, who I know from The Enterprising Moms. Jenn was the winner last year of the Hot Mommas Project, of which I was a finalist.
Check out this great article, and let the Post know these are important issues to cover!