There's definitely a soundtrack around my house right now that I want to document. That, and today the kids were off school so I've had no time to write but am determined not to skip a day of #NaBloPoMo15! So here's one of the shorter posts I wanted to be sure to write, to peg this time in our lives, because I'm always surprised how much more fluid things are than I give them credit for, and because what I think I will recall tends to slip through the cracks without a photo or a specific and shared memory. Or a blog post.
Right now, the soundtrack of my life contains the following tracks:
This is the the most notable of all the sounds as the Harry Potter theme is played on the 1928 upright piano in our family room and also on my husband's keyboard in all manner of engineered sounds, including bells, strings, and tricked out synth.
Hedwig's Theme is played by my nine-year-old son and by my husband, before school and after school. On weekends and after bedtime. It is sung by my five-year-old daughter, despite the fact that she only just tolerates her brother's interest in Harry Potter. (No she would not be Ginny to his Ron for Halloween.)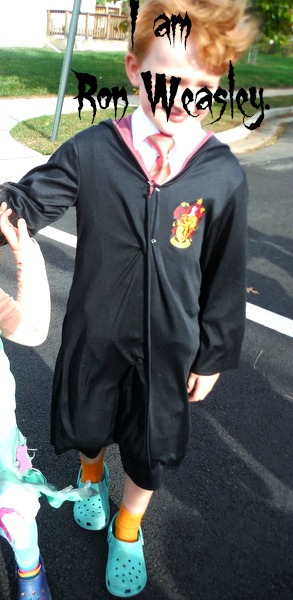 It is haunting and yearning, lovely and eerie. And then it breaks into something fast and tinkling that makes me think more of the menu loop on the DVDs than the content that is evoked by the first part. My son picked out the notes to most of the theme on his own but now is borrowing the sheet music from his piano teacher. So we expect he will actually be reading the notes, but he kinda just likes to feel it a lot of the time.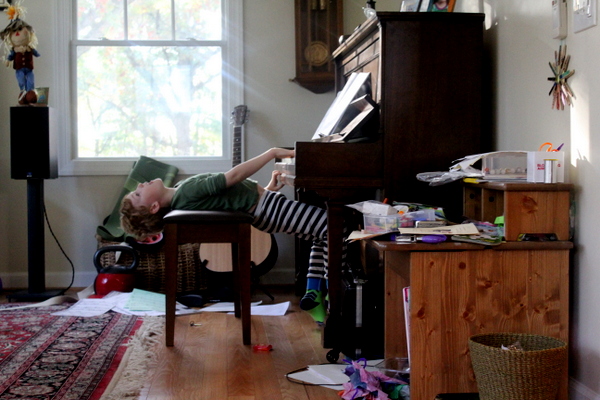 2. Jim Dale reading Harry Potter on audiobook
We started reading HP in July just before my son broke his leg. Then we read a lot, and listened to a lot, and watched each film as we finished the movie. While I'm cooking and cleaning, he's doing his "homework" to read for 30 minutes on top of all he has read and school and on the bus. So he's been done with book 6, HP and the Half-Blood Prince, for weeks. I told him he couldn't go on without me; I like it and want to catch up, and, more importantly, it's dark stuff and I want to be able to talk with him about it!
Today we drove to a pumpkin patch and took down much of the final four chapters. We listened to more while I cooked dinner (while little sister was playing at the neigbhor's). And then, finally, in much more subdued tones, I read the last 9 pages by the glow of a salt lamp and the closet light in my room after my husband had finished reading to our daughter. So back to the library that CD goes.
We will probably check out the film soon, and I'm sure he will start reading the final book in the series as soon as he can get his hands on it at school. And I can't wait to see how it all turns out, so I'll be checking out the next CD to once again play while I clean and cook during school hours and whenever my daughter is otherwise occupied and there's a window of opportunity.
3. Steely Dan
This is my husband's groove right now, on the stereo and on his keyboard.
4. 30 Rock
We realized recently that we'd missed a lot of the series. We've since watched several together and my husband a whole lot. In fact, it's on right now, while I stand typing. This has become pretty typical, but after-kid-bedtime is not the only time for Tina Fey. Last week, my husband was sick worked from home with his laptop while watching 30 Rock. (And also John Oliver). I can hack it after bed, and I do think that most of it is brilliant, but during my thinking/work day had to ask him to put on the headphones.
A few months ago, Drunk History was the favorite child, but I think he ran out of episodes.
For the under 42-set, Shaun the Sheep's banjo is often twanging on the weekend. The show has no words, which is awesome, but the sheep do baa a fair amount.
5. NPR
I usually get to listen to Morning Edition after the kids go to school, from 8 to 9 a.m. while I clean the kitchen and dining room and whatever else is  I missed my fix last week when sick boy was WFM but managed to squeeze in a little Studio 360 while cleaning the kitchen on and some Splendid Table while cleaning the floors Saturday afternoon before the trick-or-treaters showed up. Sunday morning got me some Wait, Wait, Don't Tell Me and TED Radio Hour while organizing the cubbies as the kids played with the neighbors. Oh, and I caught Gloria Steinem on both Diane Rehm and Kojo Nnamdi. Just snippets, but something.
6. IQ Air
It needs a new filter, but we're running the air purifier at night more often now that we're trying to get kids to bed earlier and I'm trying to get up earlier in the morning, without company.
7. The stove
The sounds of cooking are almost always going, but right now, the bubbling of applesauce is kind of a daily occurrence.
8. The elliptical
I'm exercising most mornings! So there is the whirr of the machine and the beeps when I get off and forget to push the stop button.
9. The game Operation
Did you know this has been updated, such that you now need to get meaningless things out of someone's body instead of, you know, bones? My kids have really no idea how to play, but they do like to make the thing buzz and blurp.
10. Birds & bugs
With lovely fall temps, our windows are open during the day. And I try to walk some each day. Bugs are still busy at night, crows are bustling during the day, especially late afternoon.
Those are the tracks in my ears right now. What's playing in yours?
#NaBloPoMo15 posts
Day 1: Writing To-Do List: Making it Public
Day 2: Why I Feel Better, Part 1: Diet & Supplementation