When I first met my friend Elaine,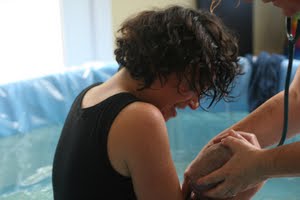 she spoke warmly of her two homebirths. I had just one child who was born via c-section, which saddened me. Now I am the proud mama of a home VBAC — Vaginal Birth After Cesarean, or HBAC. And today Elaine is writing at TheDCMoms.com about homebirth.
Here are some upcoming resources to learn more about VBAC and to support those who are working hard to make VBAC a viable option.
Fundraiser for ICAN of NOVA (International Cesarean Awareness Network of Northern Virginia)
Go to California Tortilla on Wednesday, October 12. Write "ICAN of NOVA" on your receipt and put it in the box so that the chapter gets proceeds.
Fair Lakes – 12239 Fair Lakes Parkway, Fairfax (all day)
Arlington – 2057 Wilson Blvd., Arlington (all day)
Alexandria – 301 Swamp Fox Road, Alexandria (all day)
Oakton – 2930 Chain Bridge Road, #102, Oakton (5-9pm)
VBAC 101 Class
Capitol Hill Yoga on Sunday 10/23 from 3:00 to 5:00
p.m. The class covers:
Everything you need to know about vaginal birth after cesarean such as: Are you a good candidate for a VBAC? What are the risks and benefits of VBAC? What can you do to increase your chances of having one? Where can you find mother-to-mother support as you pursue your VBAC? Workshop facilitator Barbara Stratton is a former doula and is currently the national VBAC ban chair for the International Cesarean Awareness Network (ICAN) as well as the founder and co-leader for ICAN of Baltimore. $40 per couple. Interested women can contact me at womancaredoula @ comcast.net
Baltimore ICAN Meeting
October 13, 7pm at
Butler Volunteer Fire department, 15019 Falls Rd Butler MD 21023. The hall is stroller accessible and
handicap accessible. Topic will be on Holistic Midwifery with midwife Lori Serabo.
http://www.icanofba ltimore.org/
ICAN of NOVA Meeting
Wednesday, October 19, 2011 from 7 PM (until 10 PM). At the City of Fairfax Regional Library.
http://www.icanofnova.org/articles/Meetings_&_Events and on Facebook