Welcome to the March 2013 Carnival of Natural Parenting: Tough Conversations
This post was written for inclusion in the monthly Carnival of Natural Parenting hosted by Hobo Mama and Code Name: Mama. This month our participants have spoken up about how they discuss complex topics with their children. Please read to the end to find a list of links to the other carnival participants.
***
Having my child in a Waldorf preschool helped me learn to hold my tongue and listen to what sense my son made of things. As much as I wanted to explain and answer, I came to understand the value in hearing out his thinking. Sometimes I assumed things meant more or something completely different to him than I expected. If I didn't first pause with a "Hmm… I wonder" or a direct, "What do you think" and then really listen to his response, whatever I would say might be totally inappropriate.
When my son first referenced someone as a color, I freaked out before I realized he identified them by the color of their shirt, as in "the purple guy." This made it clear to me that any kind of nuanced conversations about "race" were far in our future. He's only in first grade now, and I find myself questioning the wisdom of the messages he is getting at public school about things like Martin Luther King and segregation when there he is in a class — here in the diverse D.C. suburbs — with kids whose parents are from at least half a dozen countries.
It's kind of like not thinking something is just for girls or "sissies" until someone gives you that idea or teaches you that word, even if they are trying to criticize stereotypes. My degree in women's studies and my background in critical pedagogy (that talked about making the debates and questions transparent) are sometimes at odds with what now seems developmentally appropriate as the parent of a six-year-old and a two-year-old.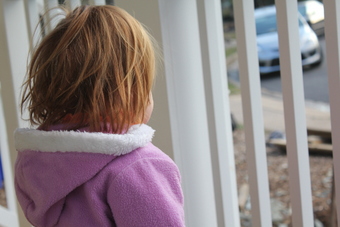 The more I listen, the more I learn. And yet, I'm a talker. And I do care that my son knows my opinion about some things. So when he asks me if I think there should be slavery (!), I  have a hard time not screaming and going off on a lecture. But would that do him any good or make him any more clear on the concept of discrimination and racism? I think not. And so I muddle, starting in and then backtracking to hear his side before I make assumptions.
Now, when it comes to things like tragedy and death, I am most guided by the fact that my boy is incredibly sensitive. I've had at least three practitioners tell me through energy work that he feels more than his fair share; he has fuzzy boundaries between his own "stuff" and other people's. We're working on some woo-woo ways to break that enmeshed connection, but it is clear to me that what another kid might shrug off, mine holds firmly in his heart and his head.
So we have not once talked about Sandy Hook, for example. In my opinion, there would be no benefit to my son or to anyone else for him to know about something of that proportion that is not affecting his daily life. I don't think he could sleep at night if he really knew.
But something bad could happen in our neighborhood that we could not ignore.
So I try to be matter-of-fact when things do come up: when he sees photos in the newspaper or hears about something on the news. "That is sad," I agree, offering that we should keep those people in our thoughts and hope they feel better, or get what they need. I hope to get better about more family volunteer work and giving back.
I've tried to normalize death so that his first experience with it isn't a direct one with a family member or friend. I have commented on other children's grandparents dying and my grandparents dying. The other day we were discussing ages and when someone had died. He asked about his grandfather's age and put it together that he might die soon. My husband (the son of this 80-year-old man) commented that his dad had been through a whole lot and was still going strong. I agreed but countered that yes, someday he would die. The tone I'm going for is some combination of matter-of-fact and compassionate.
My son's sensitivity requires me, I think, to shield him from what I can but to prepare him for what I can't. The first time he loses someone close to him, I know it will hurt, but I don't want it to be a complete shock because we've never talked about death. So I bring it up whenever I see an opportunity that I think won't burden him too much with someone else's sadness.
And when that first close loss does happen, I will encourage him to cry and feel his feelings. But I will be at the ready with Rescue Remedy, and lavender oil, and aconite, and Emotional Freedom Technique, and maybe some craniosacral therapy or Reiki to ensure that whatever negative energy comes up can move through him and not burrow deeper into his body to keep hurting him.
***

Visit Hobo Mama and Code Name: Mama to find out how you can participate in the next Carnival of Natural Parenting!
Please take time to read the submissions by the other carnival participants:
(This list will be updated by afternoon March 12 with all the carnival links.)