I'm thrilled to share that I'll be part of this year's Listen to Your Mother DC cast! If you haven't ever attended a LTYM performance, make this your year!
It is, in fact, the final year of the program as it's been done around the country with original stories in each city. It's going to instead become a licensed theatrical production. Many thanks to local mom powerhouses Kate Hood and Stephanie Dulli for producing and directing this show here in DC for so many years and for giving local mothers and others a chance to share their voices.
Listen to Your Mother is a 90-minute show in which 13 people – usually women, but not always – share a personal story that in some way relates to motherhood. The producer and director of each city's show hold auditions and then put together a collection of stories that includes humor, poignancy, wisdom, vulnerability, strength and so much more.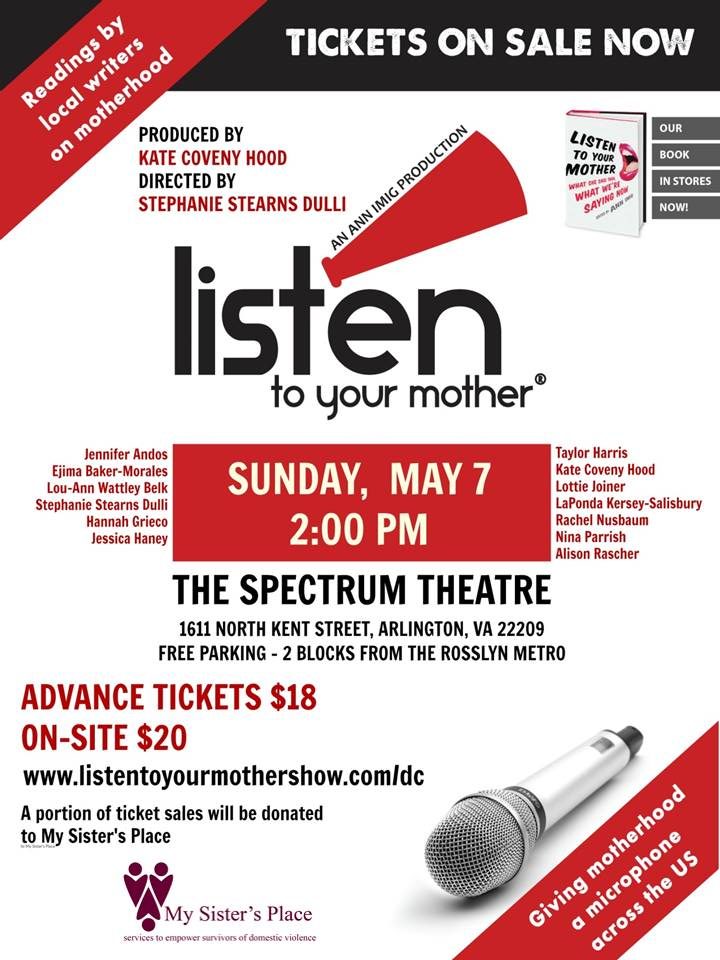 The first year I auditioned with a funny piece about nursing that later turned into an essay that was included in the anthology Have Milk, Will Travel: Adventures in Breastfeeding
I didn't audition for a while and a few years didn't attend, partly because I have such a hard time around Mother's Day. But I was so moved the years I made it to watch the performances. I think often of the stories that were shared on stage; they have become part of my brainspace, my understanding of the shared experience of mothers. It is so important both to be reminded that you're not alone and also to be surprised by what other mothers go through that you couldn't fathom.
Last year I considered it a win that I did the work of writing, a piece about a professor I had in graduate school. I thoroughly enjoyed the audition process as its own accomplishment that I said yes to myself.
This year, the piece I'll be reading addresses the space fear inhabits in my mothering and in my heart. It's one of the pieces of writing I mentioned recently in this Facebook post.
I am grateful for the opportunity to have written it and for the opportunity to share it with others. And I'm excited to be part of the cast community. When I'm not feeling well, I tend to put efforts into causes but not into connection on a personal level. That helps part of my brain, but not always my heart. I could use some heart help.
This event isn't just empowering for the performers and inspiring for the listeners. It also benefits women who are seeking to flee or who have fled abusive situations. Proceeds benefit My Sister's Place, which provides services to empower survivors of domestic violence.

Please join me on Saturday, May 7 at 2 p.m. at the Rosslyn Spectrum Theatre. Details and the full cast list are here. Tickets are available here.
This page includes affiliate links.
Updated to add: The piece I read at Listen to Your Mother is "Words to Live By."