I have read the same issue of High Five over and over to my daughter the past few days while she's been home sick and wanted to spend what has added up to hours sitting on the potty for no apparent reason. My son was never much of a "read it again" kid, so it's been fascinating to see how powerful repetition is with my daughter.
Even if we didn't read books to him over and over in quick succession, we certainly have committed a few regulars to memory over the years.
Here is a found poem of some favorite lines. Which ones do you recognize?
Maybe I'll post the answers tomorrow!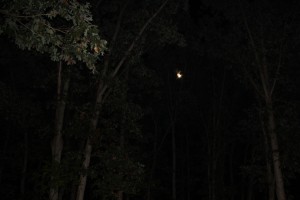 In the light of the moon
a little egg lay on a leaf
The stars are out and on the loose
Nothing could be farther than the sky
Leaves begin to whisper
Little birds hush
Goodnight noises everywhere
2013  NaBloPoMo archives
Day 4: All I needed to know about myself I learned on Land/Sea
See also the archive of my 2012 poems