The same things I love about a day home with my kids are the same things that drive me nuts.
I've probably said this before, and I'm much more accepting of this contradiction these days, but I still feel it. At least the feeling is more like an ironic chuckle than an internal war that's going to eat me up. Progress!
I'll never finish a post if I try to talk about all of these contradictions, so this will be a one-in-a-series, perfect for a month I'm trying to blog every day.
These reflections come in their most fresh form from yesterday's day off for Election Day and two days home with my daughter last week (including Halloween, and sort of a third on Saturday). Before that, there was the entire month of August here at the house plus much of July on vacation and two days a week with my toddler daughter the rest of the year. My son finished first grade in June and did three weeks of camp before our July-August of togetherness. I admit that I have not been full-time stay-at-home with two children, but it's also worth noting that when I am, there are no relatives who might help out or girls-next-door who can babysit at the drop of a hat. Any support I need has to be scheduled and paid for, or to come on the weekend. Oh, and any food that I do not make from scratch makes me at least a little bit ill, so excursions that go beyond a few hours tend to require thoughtful planning, though less than they used to when I was really sick.
The #1 Thing I both love and not love about being home with my children:
There are so many options!
Truthfully, I moved to DC because there would always be lots of cool cultural things to do. It would never be hard, I thought, to feel part of a global community, and to learn about art. I imagined I'd wander the Hirshorn museum with my children from the time they were babies. Uh, I took my daughter there for a nurse-in…
I do believe that just staying home and hanging out in our house or are yard has its own value and needs to clock a good number of hours but sometimes feels like it doesn't amid soccer practice and doctor's appointments and after-school activities. Always looming over me are the many things I would like to experience myself and want my kids to feel with their bodies and spirits.
There are the suburban opportunities – parks with trains or pumpkin patch places with giant slides or hikes near nature centers with play areas. There are botanical gardens and the zoo, and the aquarium an hour (and many dollars) away. There is the Kids Euro Festival and fall festivals and holiday bazaars and farmers markets with artisans. There are yoga classes and musical performances and plays that might make me weep and might inspire my children toward artistic excellence.
And there are always the free Smithsonian museums, each with its own pull and its own many opportunities within. Yesterday we found our way through our unplanned day off by one crumb in a text message from a friend: she had bought tickets to the 12:55 showing of Flight of the Butterflies at the Museum of Natural History. This seemed late, but I reshuffled the day in my head, said we could hang out at the house for a little while longer before voting and having an early lunch and then heading downtown.
The film was unreal. It made me feel like I was starved for sensation. I think I need to see more movies or at least listen to more music! It was such a delight to see my son reaching out to grab the butterflies, and his sister, even though she was a little scared by an image of a cow in the field, do the same. The 3D effects were amazing. It filled me with such joy to see my seven-year-old having such a magical experience learning the story of how the journey of the monarch was discovered. Seven is a great age, I concluded.
Our meter was to expire after just two hours. We joined our friends for a short visit to through the bones on the way to the insect zoo.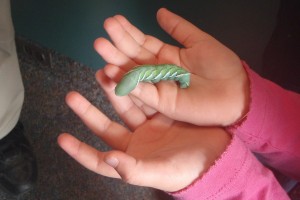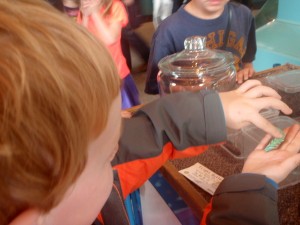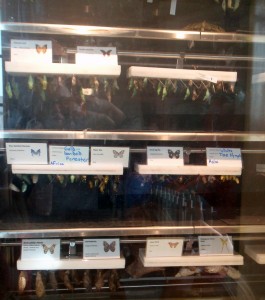 There wasn't time on this day to see the live butterfly pavilion (too bad, because it's free on Tuesdays!), but I'll make sure we get back again.
Little girl had to use the potty, so we wended our way through the bones exhibit to the tucked-in-the-corner bathroom and paused on the way out for our last treat before getting back to our car: : the History channel 10-minute movie about Jamestown and the discovery of bones there. Now that my son is actually studying Virginia history in school, this might have made almost as much of an impression as the butterflies and caterpillars! We'll have to get back without little sister in tow (or with an extra adult).
The day cost us $30 in tickets and another couple of bucks in parking on Constitution Avenue, which meant we didn't get to climb up the big fancy steps at the main entrance. Even I was feeling a little like we'd missed something, and I know my son was. But I wasn't about to illegally park or to pay again for more Mall time.
When we didn't find a free second parking spotl, I suggested we could look at the monuments. I'd been on a field trip about a year earlier with my son's class to visit the Lincoln, WWII and the base of the (closed) Washington Monument. That was a treat, to see him explore all those things with his friends. This time, we got a good look at the Washington's scaffolding from the car and then headed toward the Jefferson. I almost continued home but decided to try to extend the day and park if I could.
I'm so glad I did.
Even walking under the highway between East Potomac Park and West Potomac Park seemed like it held its own magic.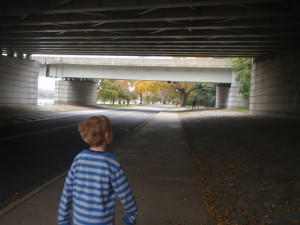 Both kids gleefully trotted around the Tidal Basin, where I haven't been since my son was a year old. The fall colors could not have been more varied and rich.
We enjoyed looking at the MLK memorial from afar, climbing the Jefferson steps and soaking up the grandeur of the rotunda. Everything looks cool when it's up against something huge.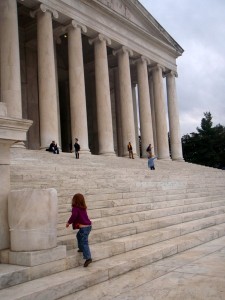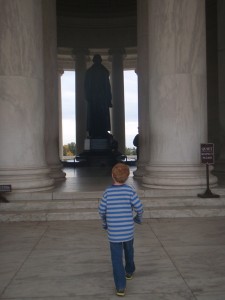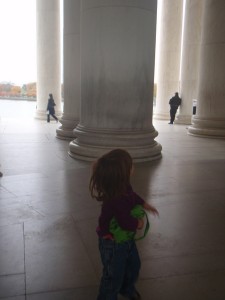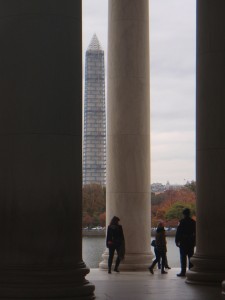 And then, we went home.
Well, then we headed home. We first had to get back to the car, which took its own detours and hitchhike piggybacks.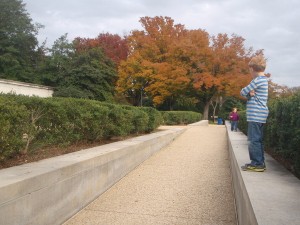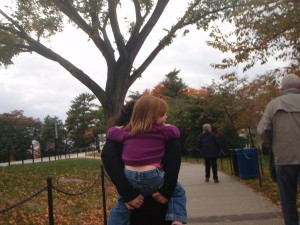 It took about 15 minutes through a little traffic to get home, but on the way we enjoyed more sights, like the big steps on Ohio Drive and the view of Arlington Cemetery from Memorial Bridge.
I sometimes feel like the area we live in is too busy, with energy that is always frenetic. Like I'm teaching my kids to feel overwhelmed by opportunities or never satisfied with just hanging out. Or alternately that they won't have reverence for things they see all the time, that other people travel for miles to visit, sometimes only once in a lifetime.
It feels like a tremendous sense of accomplishment that we didn't stay home the whole day and that we got to do such fun stuff. But I have to remember that it's also an accomplishment that I was able to pull that off in good health. I am so much stronger than I was a year ago in so many ways. Now doing fun stuff can feel like just doing fun stuff instead of a huge undertaking from which I may not recover for days.
With that perspective, I can better enjoy whatever we choose and stop obsessing about what we don't. There really always is another day. But also, for now, there really only is this moment to experience.
2013  NaBloPoMo archives
Day 4: All I needed to know about myself I learned on Land/Sea
See also the archive of my 2012 NaBloPoMo poems