A few hours ago, my eight-year-old son and I popped back on the Metro from the Library of Congress National Book Festival at the DC Convention Center after sampling just a fraction of what the event had to offer in this, its first year taking place inside.
The key attraction that got us there by 11 a.m. — when the crowds were far smaller than they were an hour later — was an author reading by Dav Pilkey, whose work in the Captain Underpants series my son has come to love.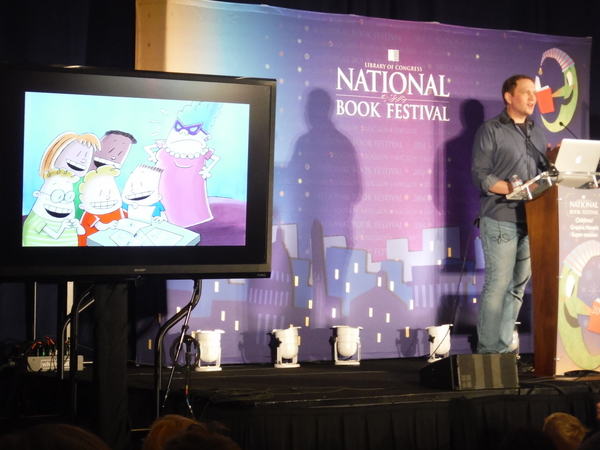 Pilkey gave a wonderful talk, complete with a screen presentation that included visuals of him drawing (with his pet beetle on his arm) in a spare room in his home in Japan and kayaking to a cave where he now does a majority of his writing, and images of his first attempts at drawing what his second grade teacher condescendingly called "silly little books." She told him he'd have to "grow up" and stop making them. Instead, he's had a successful career and has written and illustrated some 60 books. Pilkey shared in an honest and accessible way how his ADHD and dyslexia made it tough for him to focus in — or to enjoy — school.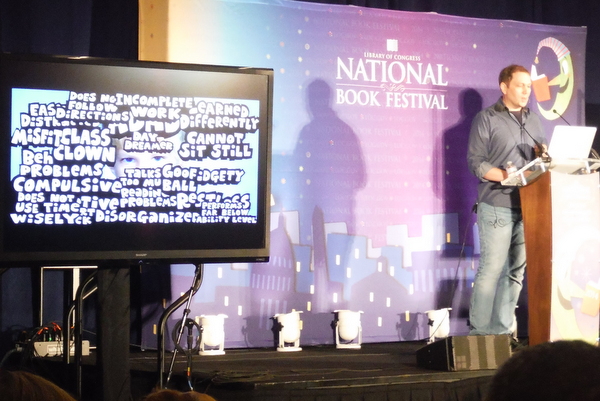 When a little boy in the crowd added that he, too, had ADHD, Pilkey high-fived him and said, "Brothers!"
It was wonderful to hear the story behind the story. I only wish we'd heard just a bit about who encouraged Pilkey — or how he found the inner strength — to persist in utilizing his gifts, talents that at one point merely got him in trouble.
I'm glad my son heard the story in part to make him more compassionate to children who are not as gifted in reading as he is and also to help him know that his struggles with writing are not bound to keep him from doing great things.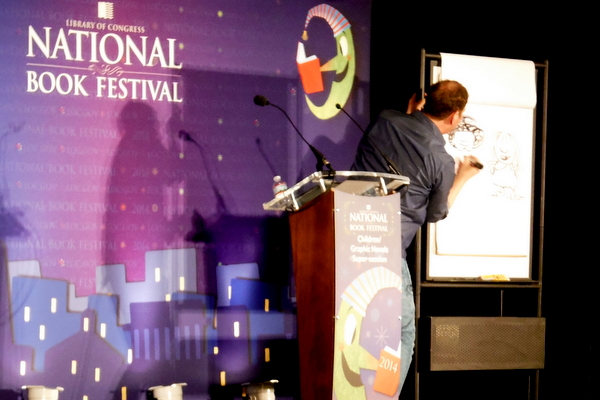 Eventually we made our way from the hugely well-attended reading in the children's area back up to the main hall with the book signings.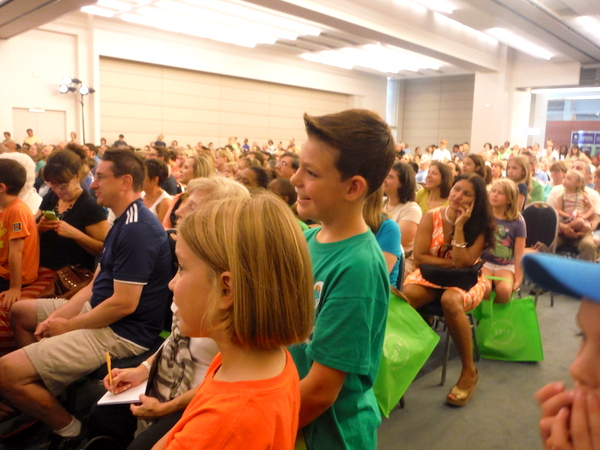 Along, the way, we were so distracted by the wide variety of attractions for kids that we stood no chance of getting a decent place in line to have Dav Pilkey actually sign my son's book.
The line stretched clear around the whole back half of the convention center, it seemed. All the book-signing lines appeared very organized, we had a short window of time and had already waited long enough for some free books and tattoos from the very generous folks at Scholastic. The line had barely existed just an hour earlier, and I wondered if it was worth it, but they had several great options, including Geronimo Stilton.
Plus, my son read the whole time we were in line.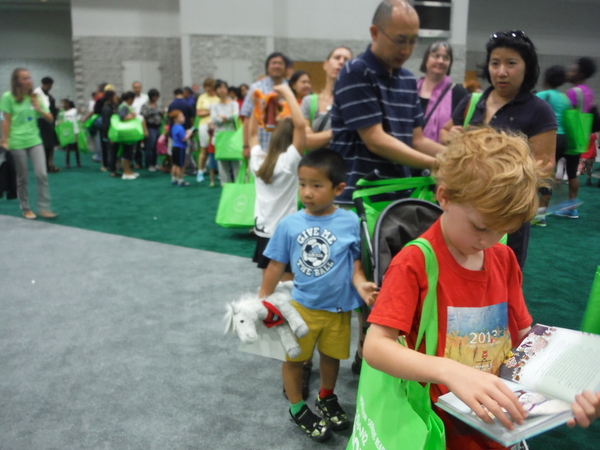 We had been smart enough to buy a signed copy of Pilkey's book ahead of his talk that my son felt like that box was as least half checked. I'm glad that Politics & Prose was given the contract for book-selling and that they had signed books!
It would have been great to meet Pilkey, but we didn't pack lunch and weren't up for making a whole day of it this year. At least my son got to high-five a giant version of his famous character, and walked away with some sweet tattoos, too.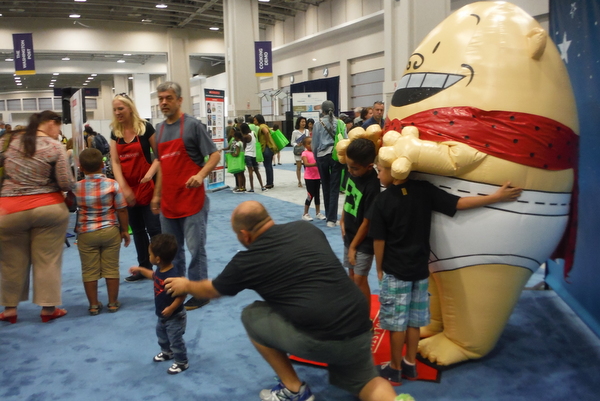 It was a fun mother-son outing, and I look forward to going for the whole day — with lunch and snacks in tow – as a family next year.
Or making my husband come along and then ditching him with both kids so that I can peel off to see some grown-up authors!
See a more complete review of the festival at TheDCMoms.com.