Welcome to the September 2014 Carnival of Natural Parenting: Home Tour
This post was written for inclusion in the monthly Carnival of Natural Parenting hosted by Hobo Mama and Code Name: Mama. This month our participants have opened up their doors and given us a photo-rich glimpse into how they arrange their living spaces.
***
It's been two years since our renovation was completed, but the story goes back a lot further and will continue to reach into the future.
It was a great opportunity that we could not pass up, and I do think it has been worth all the work. But it's sure been a lot of work to turn this
into this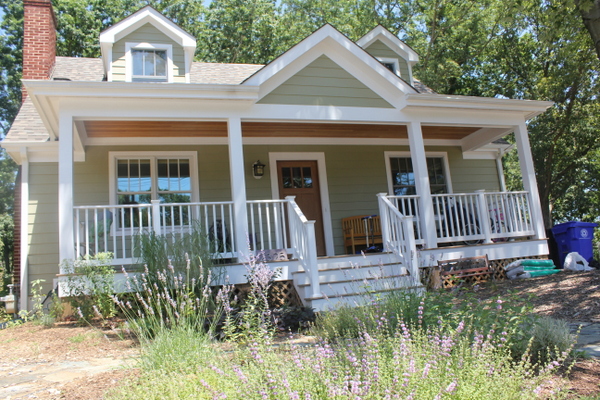 Background on how we got here
This is our third home in the same neighborhood, where we moved in June 2001 into a townhouse-sized Colonial that seemed overpriced at the time but appreciated better than we could have expected. After we had a son in 2006, we started looking into doing an addition, but it was cost-prohibitive and wouldn't have even really given us what we wanted anyway. Instead, when our neighbors around the corner decided to move, we bought their larger Cape Cod style home that also had an addition, and we figured we'd be there to stay.
A year later, we had a daughter and started to think about the layout — with two bedrooms on the second floor and two on the main (one of which we were using as an office). I didn't like the idea of being on a different level from my children, and I knew eventually they'd need to be in separate rooms, so we looked into adding a third bedroom. Again, the numbers just didn't make sense.
And then, the older couple next door whose home was the blight of the neighborhood suggested they might move when the husband retired. It was a hoarder's house whose cat pee smell reeked out to the sidewalk when the door was open. With its large lot, my husband and I worried it would get snapped up by a developer who would tear it down and build a McMansion that we would have to live next to forever.
Truth be told, my husband had been eyeing the place since we moved next door in 2009. His wannabe architect played with our Better Homes & Gardens software for fun, imagining how what he would design if given the chance.
And then we got the chance.
The project begins
The couple sold us the house for what would seem like a lot in much of the country but was one of the better deals anyone in our close-in DC suburb could hope to get. And since we loved the neighborhood and wanted to stay anyway, and we loved the lot that backed up to the woods and hoped to build a sizable garden, it seemed like we would be fools not to jump at the opportunity. I liked the idea of salvaging the house, loving it for the good old bones it was and breathing new life into it.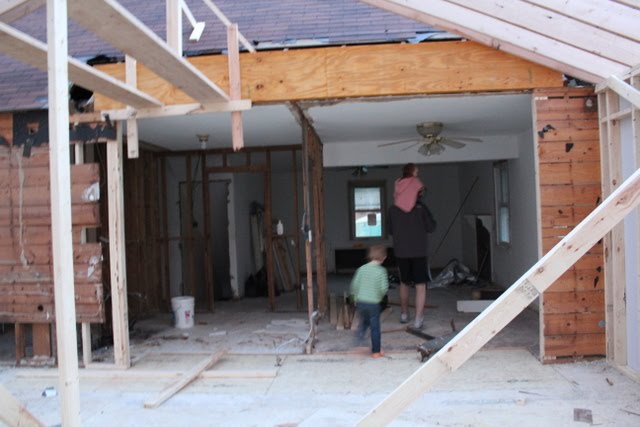 And yet, I had a five-year-old and a baby who was just one when we started the negotiations, and the whole thing had to happen pretty fast because there was only so long we could float two mortgages. I knew the process would take a toll on my health, and it did. I feel like it also sucked away nearly a year of my daughter's young life as I had to either ignore her or use a babysitter to make decisions and walk the site and talk with the contractors or bow out of decision-making, which sometimes led to problems in design or in the choice of not-as-non-toxic-as-I-wanted materials. It was certainly a privilege to be in this position to do this project, but knowing that didn't make it any easier to make those hundreds of decisions we would be living with for years to come!
My husband and I enjoyed working together through the process and talking about what worked and didn't in our home and what we'd want to change in the new place, and how. We'd tear down the wall where our old closet was an open up the front room!
Oh, but how would we create anything like a closet? And how could it serve as both an office and a closet/mudroom?
From this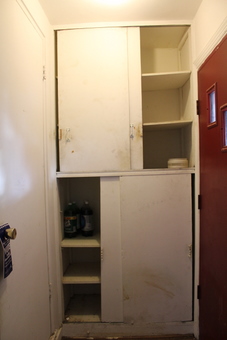 This: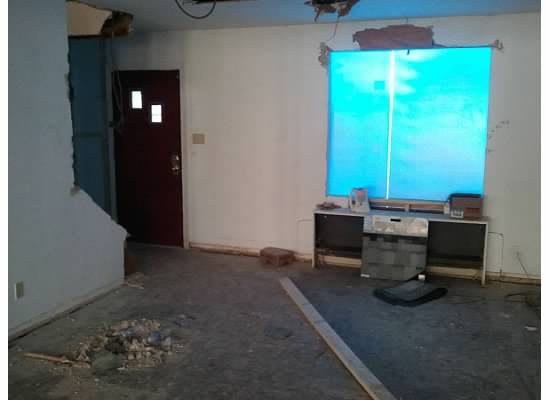 to this: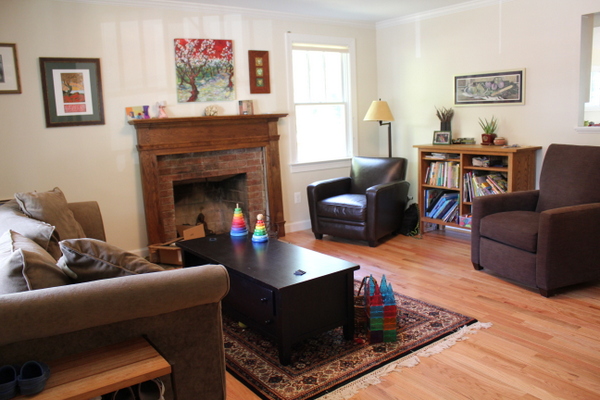 All those decisions took a toll, and whatever didn't need to be done for us to move has continued to take a really long time!
We moved in August 2012, and it wasn't until the following June that we had the money and the vision to decide what to do about the back yard and a deck. As such, our new large "yard" was an unusable collection of junk, construction debris, a thousand baby oak trees and a lot of just naked hard clay. We had some mulch in one spot for a little play, but I was still scared to send my kids outside lest they step on a nail. Yes, it was nice to look out to the woods, but I do wish it didn't take over a year until it was safe to step out there.
Part of the problem was that there was huge shed in the middle of our yard, bigger than we needed and in just the wrong spot. It took months for us to find someone to dismantle it at no charge (to reuse for a tree house for his kids). Until then, we couldn't proceed with the deck, which meant the back door had a bar across it so no one would walk out and fall down five feet. Thus, the phrase "go play outside kids" couldn't have been further from my lips! Enter the television.
And how could I forget that because of the mold remediation and construction schedules not aligning perfectly with the moving date per the contract on our other house (which we were selling to a family with four kids), we had to wait until after we'd moved in to tear down the front stoop and build the porch. That meant that we had to enter the house through the basement door around back for about 6 weeks. My son was six and my daughter was two. Down the basement steps to the door, through the cluttered basement, up the interior steps to the kitchen, over and over again. And I was really not feeling very healthy, so it was tiring! But I'm glad we built the porch. It's certainly great for Freecycling!
We do love the open plan of the kitchen so I can interact with the kids while I cook (which is all the time).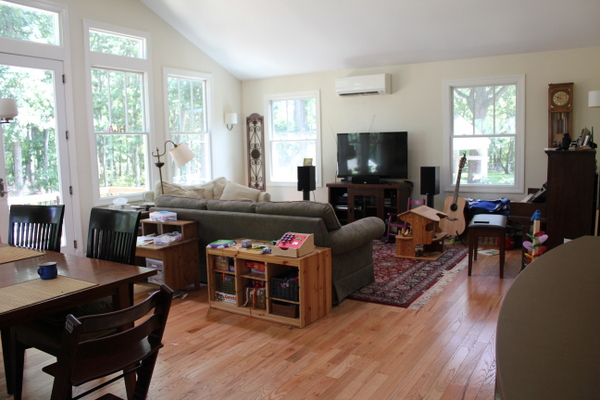 But two years later, we still don't have all the pulls for some of our kitchen cabinets because I took forever to decide what I wanted and then it took the Etsy artist a while to get the color right. Let me tell you, opening drawers with your fingernails gets old fast! Then some of the ones made warped so she had to redo them, and some of the good ones broke in the mail, then her kiln broke, and now I haven't heard from her in two months about our final pulls. She also hasn't billed me, so I am going to hold out hope!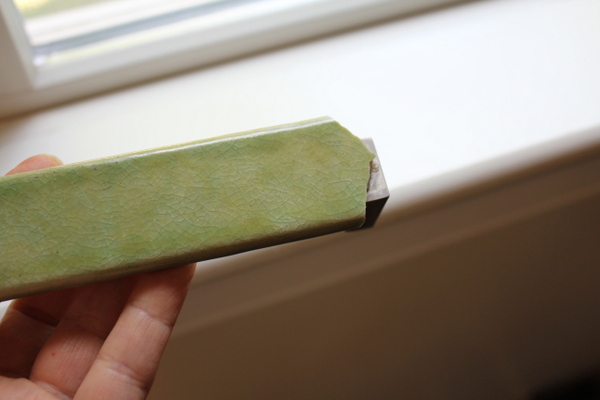 Other undone things: We still have no backsplash title behind our stove. The fireplace mantel is not up because it took us over a year to choose tile and then the one contractor I asked to come for an estimate didn't actually install cut tile. Calling more is on my to-do list, as is considering my mother-in-law's offer of a built-in cubby system for the wall of our office that is supposed to funciton like a closet. In our previous home, we had a wall between the two rooms and never liked that the closet was behind the front door. So we opened up that wall in the new place, with mostly positive results, but we have yet to really make the space work.
There are other fuzzier things that are still in progress, or not. I haven't made a space for a Waldorf-inspired season table. Many of our toys spend a lot of time on the floor instead of away when they are not in use. We keep getting rid of and occasionally getting stuff off of Freecycle and Craigslist. Much art has yet to make it to walls. Others are partially done: framed but not up, up but not framed. For example, we left an interior transom window in the bathroom when the addition took over the regular window and commissioned a stained glass window. I tried out so many colors of glass to try to get it right, and I still think it needs a frame. And that it's backwards.
The kids have been sleeping together in a double futon in my son's room for the past several months. I'm not sure how it started, but now it's the status quo, and my daughter doesn't want it to change! We built the kids' rooms pretty small but with high ceilings so they would feel larger. But then my daughter's room didn't feel cozy, so we bought a beautiful hardwood used loft bed. She still doesn't want to sleep alone and rebuffed my attempts to affix a rainbow silk canopy over the lower bed. My son, however, loves to read in the comfy chair in her room! And it's a whole lot better than it was!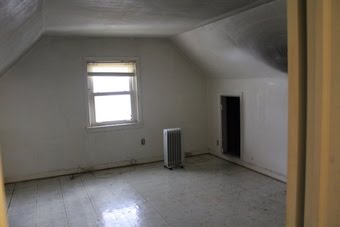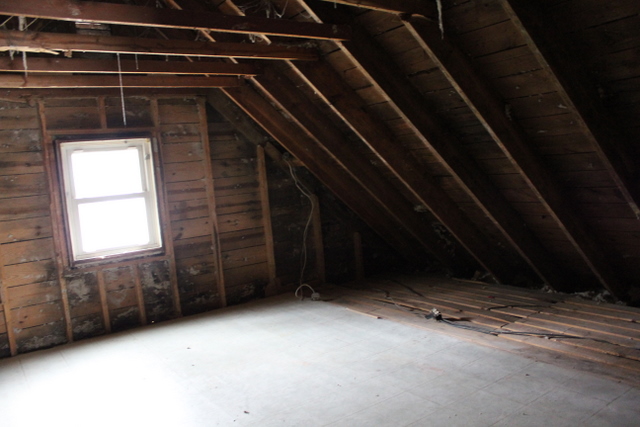 We have now had a safe yard for about a year now, and this is our second fall with a garden where there once was nothing.
This: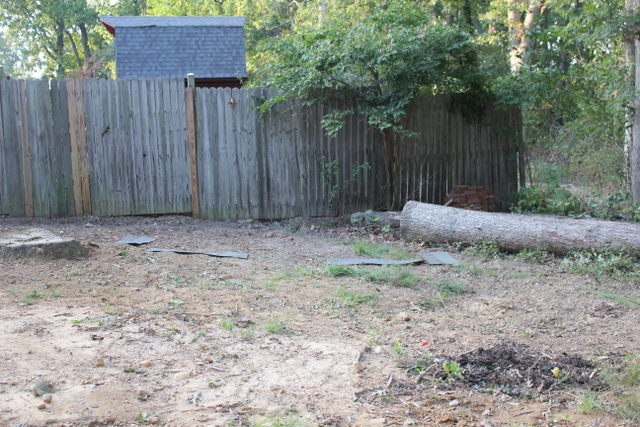 to this: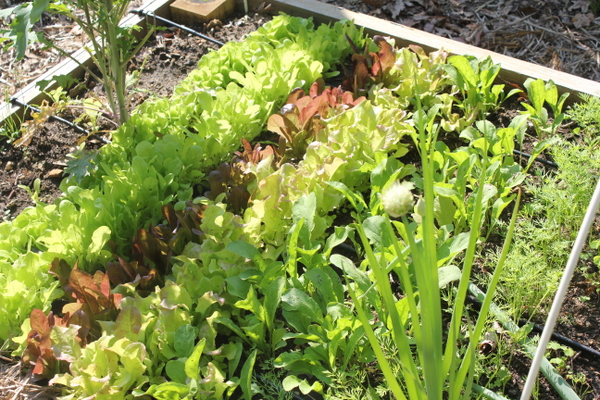 This: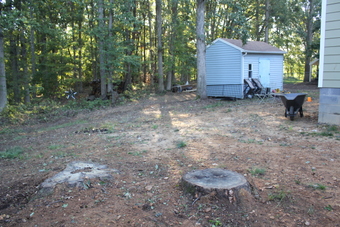 to this: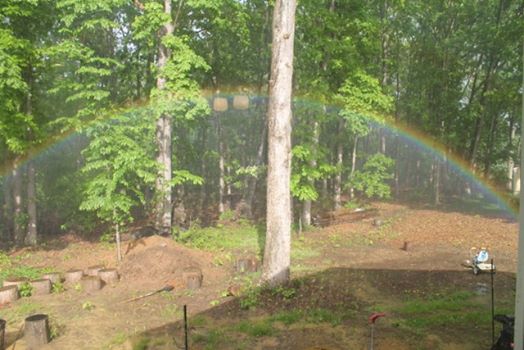 then this: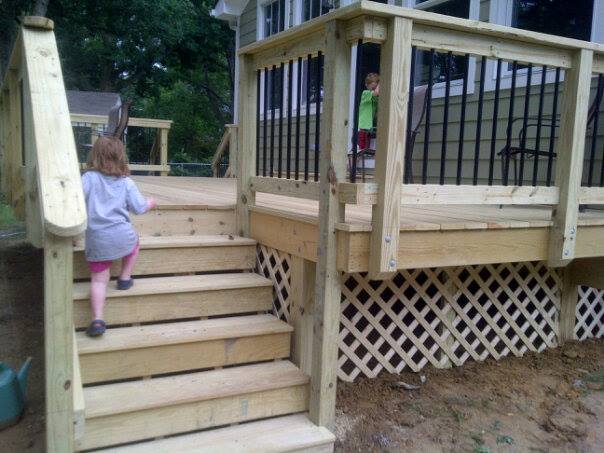 We continue to evolve in our thinking about the house, but most of the key elements of design do work. We love our open kitchen and also the vaulted ceiling with the windows opening to the woods, but it is a little loud, and sometimes I wish we'd factored in a screened in porch to feel closer to nature. We like that we didn't lose closet space for HVAC ducts and that we don't pay to heat or cool rooms that aren't being used, but the individual room units sometimes act up and have required some maintenance. It's great that we have two sinks in our family bathroom, but I don't know if I will regret not creating a master bath when the kids are teens.
Even though my tendency is to be jealous of people who have family to help them move and who have somehow managed to organize homes in a functional way, I am trying to be grateful for what I have and hopeful about progress while also accepting the process as a process that will never, like anything else, ever be completely done.
***
More details about the renovation on Jessica's renovation blog: Conjuring Home
***

Visit Hobo Mama and Code Name: Mama to find out how you can participate in the next Carnival of Natural Parenting!
Please take time to read the submissions by the other carnival participants:
(This list will be updated by afternoon September 9 with all the carnival links.)