What words would you use to describe yourself? How do those words change when you become a parent? What do your choices look like with the glasses of parenthood on?
This week I felt like some of my many identities came together outside the Federal Triangle Metro station at the Moms Clean Air Force-organized rally for support of the Environmental Protection Agency's Clean Power Plan.
A little history of how I got here:
I first came to DC from Michigan after college graduation in 1995 as an intern for The Feminist Majority Foundation. After having done an earlier internship teaching elementary children at a place called The Environmental Schools on the southern coast of Maine, I was all about making a difference. The two internships were totally different in many ways, but in both places, I learned a lot — from people, from experiences and from many mistakes — before moving on to the next thing.
In 1997, that next thing was grad school in English and women's studies, where much of my work was about intersectionality and social justice. My final paper for my women's studies M.A. looked at how students in a high school English class conceived of the idea of "diversity." Then I came back to the DC area to teach high school in one of the most diverse schools (if that makes any sense) you could imagine, T.C. Williams High School in Alexandria.
Despite lots of teaching experience, I flailed that first year. Later, even though I won teaching awards twice and co-chaired a committee on diversity in the AP and honors program whose report actually led to some positive change, I was never successful enough at establishing the boundaries I needed to care about my students and do right by them while also protecting my own health and well-being. Their problems were too big, and I felt challenged by the limits I faced in solving them. My body was breaking down, and I knew I was not long for the teaching world. What I needed was to retreat from so much outward energy and just work for myself, and on myself. It seemed the only way I might ever be able to start a family.
I planned to give teaching one more year while I figured out my next step. As it happened, just a few days after that penultimate school year ended, I managed to get pregnant after all.
Then motherhood was the next thing. And then getting my health back after a c-section, after three years of nursing, after setbacks and crises. And preparing for a VBAC, and recovering from a second birth, and working to keep my children healthy before, during and after a house renovation aimed at sparing our neighborhood a tear-down and creating enough space for a proper garden. And spreading the word about holistic health and wellness by founding a new chapter of Holistic Moms. Then trying to expand that reach through the launch of an online lifestyle magazine for natural-minded parents in the metro DC area.
And all the while trying to practice at least some of what I preached, to create — or find? — an inner calm. But feeling like there was something missing because this was just about my body and my children's bodies and the bodies of people who can afford the kind of care that leads to true healing rather than band-aid fixes. An elitist activism.
Then, at Tuesday's rally, I got present to how much bigger it all is. I saw connections. Between the music of Emma's Revolution and the inspirational speakers, it was impossible not to feel filled with a sense of purpose.
Delaware governor Jack Markell talked about how his state went from one of the dirtiest to one of the cleanest and created jobs in the process. Oregon Senator Jeff Merkley talked about the warming of streams affecting fishing, the acidifying of the ocean affecting oysters, the harm to the forests from warm temperatures allowing the pine beetle to proliferate and from a forest fire season that has grown from five to seven months. None of these things are helping the economy in general or poor people in particular. He cited Republican claims that not allowing the unrestricted burning of coal is an assault on rural America and countered that "the burning of coal is an assault on rural America."
Dr. Cindy Parker of the Johns Hopkins School of Public Health and a Board member of Physicians for Social Responsibility got teared up as she put a personal face on air quality crises. The EPA plan would reduce 150,000 asthma attacks each year, and she reminded the huge crowd that each attack is an instance of fear for the person experiencing it.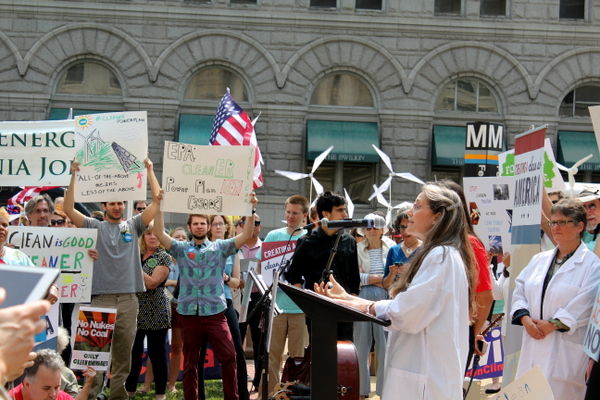 My son has not had asthma, but his intense seasonal allergies seem to come not just from pollen but from exposure to all the road construction and lawn sprays that crop up in the spring. His body is telling us that something isn't right. Mine is even worse, itching even upon entering the room — not the water — of an indoor swimming pool.
Senator Ed Markey of Massachusetts called for preventative care on climate change because "Our planet is running a fever, and there are no emergency rooms for planets." Like others that day, he called for channeling American "innovation" to be a leader, not a lagger.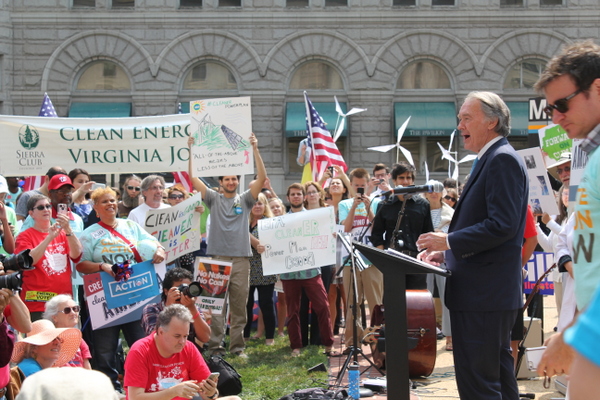 Mark Magaña of Green Latinos talked about needing to vomit after playing soccer outside as a child in smog-filled Los Angeles. He connected the plight of farm workers to urban children, and his grandmother who died of cancer to his 20-month-old daughter. "We won't go back," he said; we have to fight back.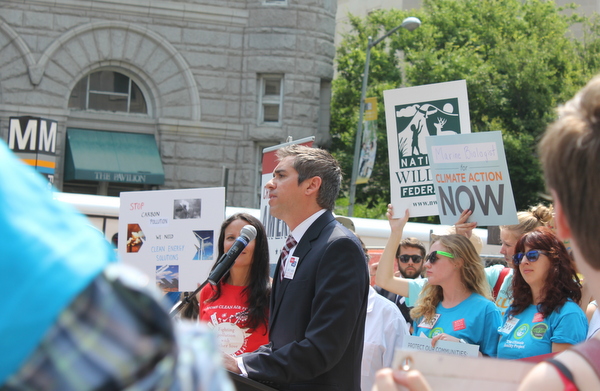 Then Reverend Lennox Yearwood of the Hip Hop Caucus took to the podium and brought it all together. He called this our "lunch counter moment for the 21st century." Too many people are dying because they don't have clean air or water, he said. People. Dying.
In the 20th century, Yearwood said, we were fighting for equality. "And now we're fighting for existence" in the 21st century, he said. People who cannot afford to move to a healthier place or to buy bottled water or to buy vegetables that haven't been grown in toxic air or watered by polluted raindrops are just not going to keep making it.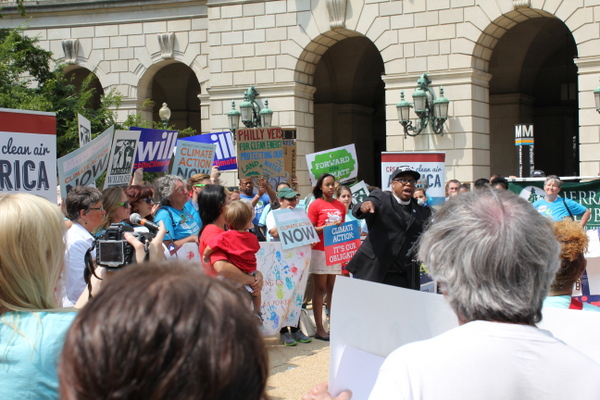 Yearwood called on rally attendees to keep up the fight on this issue so that future generations will be around to say thank you. And he channeled Dr. Martin Luther King by asking that we someday be able to shout from the mountaintops, "Free at last from fossil fuels!"
Then, Emma's Revolution took the microphone again. People complain that activist music doesn't have any love songs, the singer noted before answering the criticism with the simple truth: "But they are all love songs."
And then we all sang "This Land is Your Land."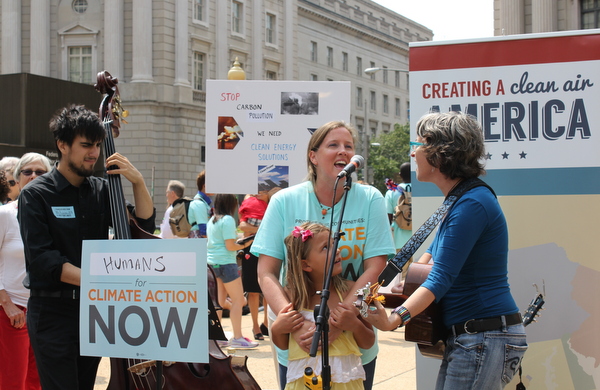 So there it was: social justice activism, environmentalism, parenting, meditations on loving kindness.
Everything I've been and done and worked on and needed.
I learned, I connected, I reflected.
But I felt a little aimless as just a participant by myself, not an organizer or part of a group. The one person I asked to take a photo of me looked at me funny, so I tried a selfie.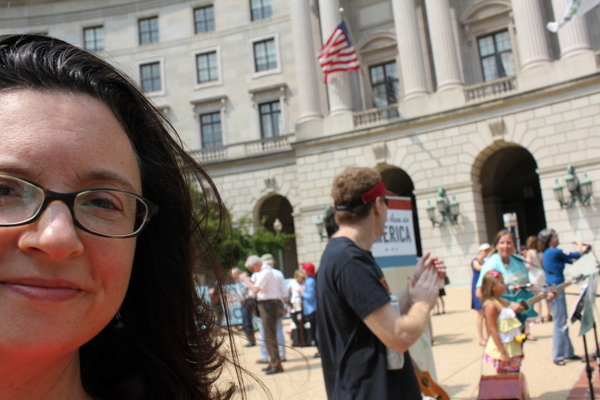 And then, before I got pulled my SmartTrip card out of my back pocket, I got up the nerve to approach one of the red-shirted mamas behind this wonderful event. DC Field Organizer Julie Hantmann remembered meeting me and my son at the DC Green Festival in June and had helped edit the piece promoting the Play-In that I hastily wrote in fits and starts with my children watching television or my daughter sitting on my lap. Even though she caught a grammar error that about made this former English teacher have a heart attack, she still gave me a hug.
Because, you know, it's always about the love.
And then she or someone asked if I wanted a photo, and we all gathered together. Because that's what you do when you care about something. You look for and create support networks. You make things happen.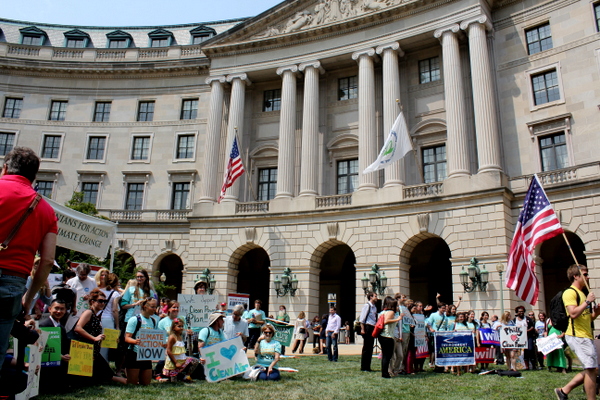 It is not selfish for me to do the work I do. It is not contrary to my parenting to sometimes let small things slide for the greater good.
When Julie tried to offer me a Moms Clean Air Force water bottle, I declined, pointing to the one in my backpack on the ground that I'd gotten at the July 9 Play-In. I smiled and said, "When we were getting ready this morning, my son said got out the silver Klean Kanteen with the red logo and chirped, 'I'll fill this one up for you since you're going to the event today.'"
I've been having increasingly frequent doubts about the healthfulness of raising my children — and of simply living — in the stress and smog that fill the DC Metro area, not to mention doubts about spending time writing and volunteering instead of on the floor playing with them.
But on Tuesday, amid the throngs of some 300 people who want a better future for the planet and for our children. I was glad to be where I was.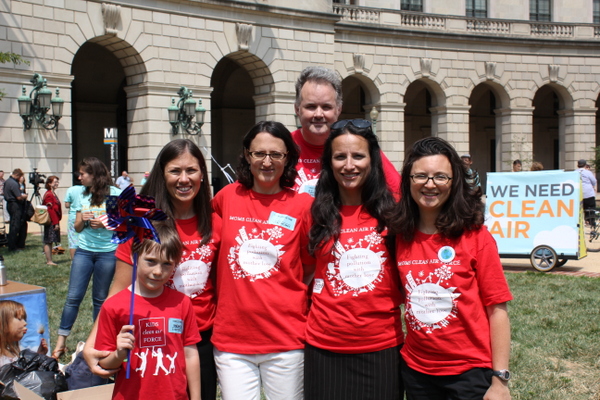 For more on the July 29 Play-In, see my pieces at TheDCMoms.com and on MindfulHealthyLife.com.