It might be said that I had a perfectly fine day, parenting the children alone from 9 to 5 on a Sunday.
Except that I appear to have gained 5 pounds from stress-eating and might have let my children's eyeballs get singed by TV and computer screens. At least it was from gorging on Mr. Rogers and from playing a game about a frog trying to jump to the right fraction.
It was great and also hard, this day. Normal and extraordinary. Pretty and ugly.
One highlight was that, after the Mr. Rogers marathon, we made it to the farmers market with about 12 minutes to spare before the closing bell and managed to score a dozen eggs, some bison sticks, veggies and apples. And then we made it to the Waldorf school alumni bonfire where I felt only slightly guilty for not shelling out five figures for each of my children to attend a school where they wouldn't be exposed to things like jumping frogs teaching you fractions. But they did follow suit in eating marshmallows, the GF store-bought ones I brought with the replacement Kinnikinnick S'moreables crackers.
Despite the wind, it was lovely catch up with a few old friends amid the gloriousness of yellow leaves falling under a clear blue sky. There is nothing like a day so full with sensations: the sounds of feet crunching through the woods, the smell of smoke and melting sugar, the delight of leaves tumbling into your cup and onto your arm.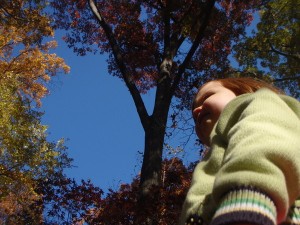 The park has a large, generous pine tree with boughs so wide, it feels to all of us like a special room. Just being in its presence makes me feel like there is a possibility of safety and of magic. And like I need to get my kids outside more.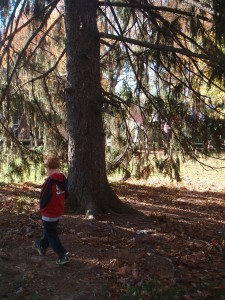 It was "a beautiful fall day," my three-year-old announced on the way home. She happily said she'd wait to pee until we got tot he house, and did, another highlight. Come to think of it, she also happily assisted in unpacking our bags from the market and bonfire. She hung in there, and then some.
But let me tell you, even with nothing exactly wrong and plenty right, it still felt like a loooong day to me. I'm just not very good at this.  You know: parenting. Not without something coming out or going in sideways.
I don't even eat rice pasta, but I gorged on it today. I'd picked most of the remaining basil to make pesto for the bonfire potluck.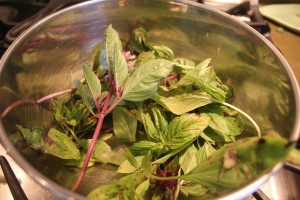 While the kids watched Mr. Rogers, I photographed its pretty purple flowers and fed the leaves into the Vitamix with garlic and pecans and olive oil. I ate some of the pesto pasta at home before we left, I ate some there at the potluck, and I ate everything I brought back home on top of a few other things I'd not care to mention.
My gut no longer rebels with impunity at a drop of a cheat food, but I know it's not going to be happy about what I've put it through today and a couple other recent stress-eating days. My belly has been used as a dumping ground when I feel like a bad mom for, well, I don't know exactly for what, but my house is a mess and my kids don't have a great sense of order and we are not managing to make the kind of memories people want to see on Instagram or that they'll quickly "like" on Facebook. We just make a lot of dirty dishes.
Okay, we did manage to work some more on the art project I wrote about a while ago, but I'm not really pleased with the results and I pretty much ignored both kids while I tried to make something I might actually put on my wall. But I should get a few points for actually returning to something and for keeping my daughter relatively paint-free while she had her way with lots of tempera and leaves.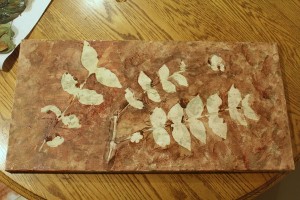 And dinner did get on the table, and not in the worse configuration even. Other than the GF bun my daughter hadn't eaten at lunch, (pre-sliced in half to look like a full bun at half the carbs), it was almost all pretty tasty Real Food – grassfed local beef made into burgers with local onions & spinach (from a bag), homegrown peppers with farmers market onions and garlic, a homegrown tomato, bagged Romaine for wraps, sauerkraut, roasted sweet potatoes, Japanese sweet potatoes, and cauliflower, quick roasted kale chips (all of the above in coconut oil), and broccoli cooked in ghee and broth. And before we started, I fed my son a spoonful of my broth before I claimed the rest of the bowl. By the end of the meal, he'd also finished the end of a bottle of store-bought organic ketchup.
So that was mostly thumbs up at the dinner table, but here is the real story I wanted to share:
I couldn't have even started that meal if it weren't for my mom. I called her during the computer frog game interlude to see how her new therapy is going to help strengthen her lungs and her body. While we were chatting, I stupidly removed the skeletons from the front windows. Clearly, my daughter was not ready to be done with Halloween. She tried to put them back up, asking me for tape and then trying to open a glue stick. I apologized for needing to get off the phone, and my mom suggested I could replace the skeletons with turkeys.
"You mean go out to a store and get something, because I'm so good at that," I said, thoroughly snippy, thinking of all the normal household things I don't have because I don't know what I'm doing as an adult and recalling that I've gone out to get Halloween decorations on Halloween, on more than one occasion. When it comes to holiday spirit, we kind of suck. That's plural because at least I sort of have the desire, unlike my husband. My poor kids. We just never get around to fun.
But she was right, my mom. Before we got off the phone, I grumbled, "I should get them to at least make turkey hands or something," admitting she was right but figuring I'd fail at even that. But something had to happen to fill the time before my husband got home from his Ultimate Frisbee tournament, and if it didn't have structure, that something might have involved some serious sibling strife.
So, bolstered by my son's cheery response that yes, he did know how to do hand turkeys, I got out paper and the new washable markers I bought, you know, on Halloween. I traced there hands and then just stood there for a second. I felt so lost to explain to my three-year-old what the hell I was talking about that I literally did an internet image search and picked her up to show her what these creations might look like.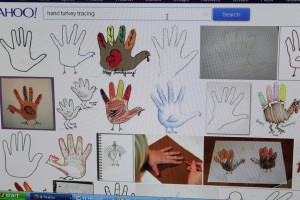 With that in her head, she went to town, and I went into the kitchen to chop vegetables. They drew, and she even gave hers a trim.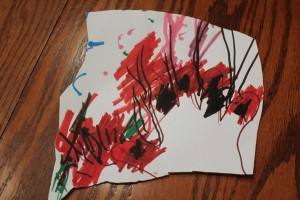 Then, after dinner, she brought her father markers, and then came back with paper and no markers, and then fetched him color after individual color with complete confidence and purpose and watched as he created what she truly deemed a masterpiece.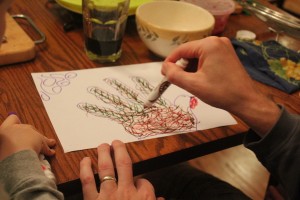 While I cleaned the kitchen, she brought me a green piece of paper, cocked her head, and asked if I'd like to make a turkey. I suggested possibly tomorrow, since it was now dinner time. She nodded and said, "I'll put it out for you to do it tomorrow," satisfied and more sure of herself than I'd felt all day.
And wouldn't you know she picked Sandra Boynton's A-Z book to look at before bed, which features, you guessed it, a Turkey Tripping. I am quite certain that the hand activity I practically waved off to my poor mother on the phone has made the single biggest impression of the day on my daughter.
And on me.
It wasn't just a few minutes of drawing. Or a few minutes of cutting paper. Or a few minutes of watching Daddy draw. It was an entire shift in thinking.
Thank you, Mom.