It smells like leaves. Leaves warming in the sun, leaves rotting in the rain. They are are plentiful in the woods, but not enough have fallen in our yard to put that much energy into raking, not compared to what is to come.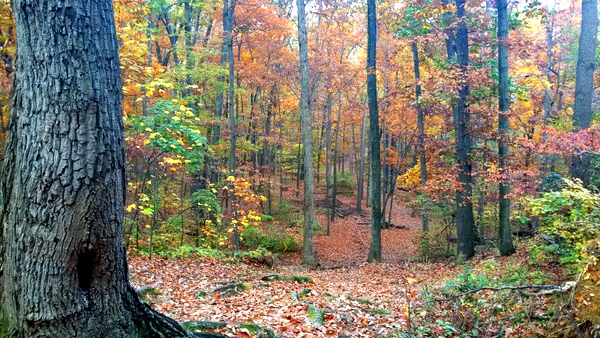 It's about time to sweep the deck and the walkway, though. The sidewalks are slippery in the mornings and after rain. The stroll home from the bus stop has us head-down, our eyes scanning the many and varied hues of pear tree leaves – yellow and green combined, red and green combined, maroon, orange and maroon – falling onto the sidewalk from the yard of the house where we used to live before moving around the corner.
On these warm fall days, that baking-leaf smell comes in through the windows. Maybe there are more mold spores we're letting in, too, because there's a slight mustiness in a few places in the house that I want to deal with before it winter. The whole place needs a good dousing with cleansers with essential oils.
Speaking of essential oils, they are in currency now. At night, I've been diffusing a combination of doTERRA's Breathe blend and Lavender in my son's room since he got stuffy over the weekend. It might have been the virus my husband had that was stemmed for my son by Oscillo, hydration, herbs, and oils; or issues triggered by his soccer game on artificial turf; or leaf mold or some other environmental allergen; or just being run down. But he's much better now.
During the day, I diffuse doTERRA's Balance. When my husband was sick at home last week, I added On Guard oil, which I also put on my son's feet at night during the stuffy times.
I've also put Balance oil on my feet and a combination of Peppermint and Wild Orange oils behind my ears for energy. It's an amazing perk-up!
It also smells like apples. There is a crate with a few dozen from the farmer's market left over after I did an apple-tasting activity in my daughter's class. Every few days, we make a batch of applesauce. I love how the sweetness of the warmed apples and the cinnamon, clove and nutmeg hang in the air, seemingly clinging to surfaces and infusing the whole space with scented moisture.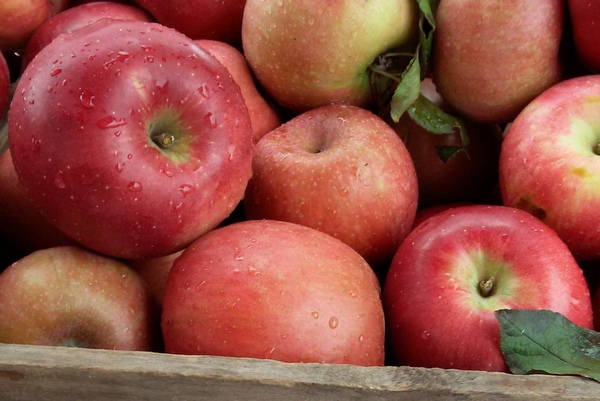 I just wrapped up a batch of chicken stock, so it's also smelled like that. When I've made green beans (also fresh from the farm), I've added rosemary and thyme from our herb garden, as I do with soup. Between the steam and the scent, it feels very Thanksgiving-esque.
It smells often like potatoes, regular red-skinned for the family, always Japanese sweet potato for me with regular sweet potato on Sundays after making bacon. The smell of bacon usually lingers into Monday at least.
Outside the kitchen, things are less yummy.
We are years past diapers, but the bathrooms still smell like pee. They need a proper cleaning with some enzymes and then some oils.
The car my husband bought last year still smells too new to me, and I try to leave the windows open after I ride in it on the weekend.
None of these details will set the world on fire, but they will be forgotten if I don't pause to note them, which I plan to do seasonally, if I can keep up the #NaBloPoMo15 momentum!
What does your world smell like right now? Write it down!
#NaBloPoMo15 posts
Day 1: Writing To-Do List: Making it Public
Day 2: Why I Feel Better, Part 1: Diet & Supplementation
Day 3: What Life Sounds Like Now
Day 4: Big Kids Are Better Than Babies
Day 5: The Art and Joy of Saying No