Most of my the time my daughter is sleeping or not lunging toward an electrical cord lately has gone to looking for childcare. The baby is into everything, and while she's hilarious and funny and it's a delight to hear an 11-month-old play the kazoo, there has to be some balance. And when there is zero predictability, I find that challenging. Especially when a five-year-old is attempting to ride an 11-month-old or pry her steadying hands off of their target.
So I'm trying to be a matchmaker to find the baby the perfect friend for a few days at an at-home care for the fall while simultaneously looking for someone to help out this summer with both kids. So we all survive without too many scrapes and bruises, to our skin or to our egos.
Of course, if my exclusively breastfed daughter is going to be away from me for more than four hours, she's going to have to actually Eat. Some. Food. I cannot now undertake a major pumping initiative. Really, my body is already telling me through unslightly skin problems that it can only take so much. I have got to get to bed at a reasonable hour and eat without substantial interruption (ha! good luck with that). I'd like to commit to a regular morning yoga practice and am sure that would help me feel better, but with her waking at who knows when with an appetite, that  wouldn't come without repercussions for the other parent in our nuclear unit. Which then comes back at the rest of us.
So I wait and hope for some childcare magic to appear before our very eyes.
While this photo of  Baby A slurping mango might appear promising, don't let it fool you. She still pushes most food out of her mouth. But at least she's getting more curious. She enjoyed her dad's delicious (local, grassfed) hamburger (with spinach, onion and garlic) and is intrigued by whatever we put in front of her. Banana and apple have been the biggest hits. But it all comes at a price to the laundry and the floor. She's taken an interest in some water in a bottle these recent hot days, and we might consider trying some real milk soon.
I really chose this photo because today has me feeling like banging my head against something. Hard.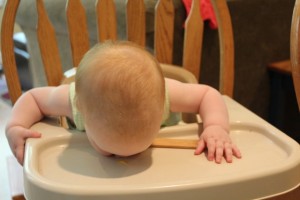 The phone is beeping off the hook again, and I see that the stairs are looking too tempting to a little girl who recently climbed up them halfway before I realized she was out of the room, so I think my time here is done.