If I had to draw a picture of the past few months, it would be something like a tornado, all swirly and intense with flecks of debris scattered throughout.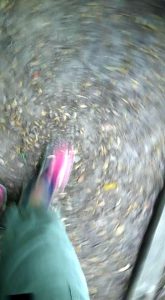 Edited to add: Curiously, the day after I originally published this post, I found I had accidentally taken a fuzzy swirling photo of my foot during my daughter's walking field trip! How's that for taking steps!
My next line was to say: "I want the summer to look different." Now I am realizing that you can't force focus. More on that in a later post. Back to the original.
Something's gotta give. But some things just can't.
I cannot stop attending to my health and cooking almost all the food I eat. Not an option. In fact, I need to learn more about Lyme. I need to think anew about food choices and try some different things – for me, for my son, and for my daughter.
This takes time, and it's not like the summer comes with extra time for moms. It comes with extra daylight, sure. So there are more hours of the day to fill up! But any time other people taking care of my children comes with a pricetag, so it must be used wisely.
This is why I'm largely taking a hiatus this summer from writing on my website, Mindful Healthy Life. I have several folks writing guest posts for me, which I'm hoping to format and schedule before my kids get out of school. There will be a few timely posts related to events, but I'm going to do all I can on those in the next 10 days, too.
Because I've entered into partnership with several businesses and organizations, I can't just walk away from the site. It needs to stay active through at least early 2018. I hope that it might even get more eyeballs when the guest posters share this summer and into fall.
But the site can't drive things anymore. It's not sustainable. With all I have going on with my health and all my son has with both physical and emotional needs, it's not possible for me to make the site work as a business at this time.
There are things I would need to learn – to just know and to know how to do – to really make it sing. There are also a lot of things I already know I should be doing but just can't.
I know some people look at the work "can't" as something to be stricken from one's personal vocabulary. It's about giving up, quitting, succumbing to limiting beliefs. I get it.
But I have chronic illness and some significant emotional needs and a child with chronic illness and some significant emotional needs, and I have to be real.
Here are some of my actual, not made-up or imagined, not-able-to-be-fudged limits:
I can't stay up past 10:30. Even past 10:00 is pushing it.
I can't eat on the go, or at wildly inconsistent times, or during busy/social situations or much of anything I didn't prepare myself
I can't go for weeks without any bodywork or healing modalities.
I can't go for months without some kind of talk therapy.
I can't go for days into weeks without any yoga or mindfulness practice.
I can't go without connection to nature, without time to write or without experiencing or creating beauty.
It goes without saying that I can't drink coffee or alcohol or eat more than a few grams of sugar. I think there are other things I'm eating and drinking that are probably not agreeing with me. Figuring that out will be part of the project.
If one of above conditions isn't met, I feel at least a little off to nearly horrible. If more than one of these conditions isn't met, I can't parent my children in anything close to the way I want. (Let's not even talk about adult relationships right now. And obviously I can't be a successful "businesswoman" either.)
As I looked at the summer, I decided that even though camp is expensive, since I didn't know how capable I would be of providing fun opportunities for them, I signed them up for several, per their request. I need to have some time to be able to attend to my health. But that also costs money, and a lot is going to camp. Plus I want the kids to have some time to just chill and get bored. So we'll see if the right balance can get struck on that front.
So what do I actually want? At all? For the summer?
I used to want to make a difference in people's lives through my writing and activism. I also wanted to make a financial contribution to my family. I wanted to feel like the work I did was worth something to other people and that it benefited me and my family as well.
I still want those things, but they are not compatible right now with me getting well enough to keep living a decent life and to support my children in pursuit of same.
I've come to a point where my hopes for making an impact and getting recognition for my work in some way or another have taken a backseat.
I want to be with my kids without thinking about all the things I should be writing and posting or the efforts I should be making to ensure that people actually read those things. To have a successful site in a metrics sense.
I still really, really want to give my fictional characters the novel they deserve, and I would like to think I can find some space to return to them. However, considering how I feel physically and considering all that my son appears to need right now, I am on the fence about setting an intention or a specific commitment about completing the novel at this time. I hope to get some clarity on that within the first week of the summer and either set one, or decide I am okay not setting one.
Right now, my main project is to get myself to a place where I can believe in the possibility of joy, health and happiness.
What does that look like in a practical sense?
Since I decided I had to pull back, these are some of the things I've been thinking about I really want to do this summer.
I want to play board games and cards with my kids and not wonder the whole time how much time is enough.
I want to do yoga as a family and practice meditation so that we all have an easier time with our emotions and with one another. This might be through mindful moments through the day, through pausing, and by listening to CDs. Establishing new nightly wind-down routines would be nice as would making metta meditation and gratitude journals part of our lives.
I want to wake up before everyone else and do something mindful and grounded – to sit on a cushion or get on my mat instead of get on my computer, unless it's to do something related to health, to connect with a real person in a meaningful way, to write something I truly feel compelled to write, or to work on my novel.
While I will not completely unplug, I want to schedule my screen time this summer and not write an article or do much more than simple sharing unless something really jazzes me. Or unless I'm getting paid for it.
I want to support my son: to have enough focus to make sure he gets all of his supplements every day and to work toward more integrated protocols for him and to research more about other support he needs.
I want to focus on my health:

to not forget any of my supplements
to make green juice at least a few times a week and most days at least make green smoothie when I have time to clean the Vitamix but not the juicer.
to add in some other healing modalities, even though they are going to cost money

I want to support my daughter's health: find ways to get my daughter to eat more colorful foods and a more alkaline diet
I'd like to try some healing & cleansing diet protocols with the family: at least a week for the whole family having a low FODMAPS diet to address my son's SIBO and because the rest of us might benefit from it as well. I might have to settle for a few days or even just a few meals here & there, but I also want to figure out the best approach for some gentle detox and cleansing for me.
I want to support my kids in becoming confident swimmers: make sure my daughter learns to swim and my son becomes a stronger swimmer without anyone getting sick from too much chlorine exposure
I want to spend time at the beach – it may only be two days but at least something!
I want to hike and to canoe, even if I/we can't go far or long.
I want to focus on the house

Get back to the KonMarie purging I started in the fall before I got sick
Purge papers of my own and organize the kids' stuff, especially with one now (almost!) done with elementary school
Work on photo albums & scrapbooks
Make the garden less insane
Keep the house reasonably clean – get into a routine about what to clean when and never let anything get ridiculous
Be present enough with the kids that I can model for them and remind them to put things where they go
Involve my kids in housework and cooking, and gardening

I want use essential oils regularly – for healing and for mood – and to teach people how to use them, for the joy of sharing
I want to keep up a healthy skincare regimen so I look brighter and feel better even if I'm not getting dolled up and wearing professional clothes
I want to read books – inspiring books, healing books, and fiction!
I want to pursue beauty: to listen to music, go to art museums, to take beautiful photos, and to see a play
I would like to add to this list that I want to strengthen relationships, but I think that might be a little beyond the scope of this time in my life. I think this time is for is internal work and work in my family.
I realize that connections with others are supposed to be important for healing and for maintaining a happy outlook. But I am not sure how much more this extroverted introvert can reasonably expect on the relationship front given my fatigue level and all the necessary connections I need to have and maintain for my health and for my kids.
For the past few days, reading people's posts on Facebook didn't make me want to cry, but last week and many weeks before, it did.
I especially have a hard time with people who seem to have boundless energy and strong partnerships, people who go on fun trips and provide terrific experiences for their kids. I hope I can get better at being happy for people and not seeing their successes as reverse images of my failures. But right now I have a much easier time relating to people who are or have been struggling!
I've tried picking up books that I hope will help me think in new ways, change my perspective.  I haven't been able to handle beautiful, inspiring memes in the past few months any more than happy-go-lucky Facebook posts, but reading actual books helps a lot.
At the moment, I am partway through the following books:
Elizabeth Gilbert's Big Magic, which I really like (but it's making me worry that if I don't get my novel to a full complete draft, the idea may just leave and never come back! eek!)
Shauna Niequist's Present Over Perfect, which I'm sure is good but feels in these early pages like it comes from a very different place than I am, not being an uber-successful career woman. (I had a health crash 12 years ago that got me to make similar conclusions about slowing down, but that was just from teaching high schoolers and from being a person who can't manage stress, not from having a successful writing career and from too much exciting travel!)
Glennon Doyle's Love Warrior, which I'm loving and hoping to finish tonight before I see her speak for the first time. I'm so glad on so many levels to finally be reading this story!
Anna Voskamp's One Thousand Gifts, which a friend gave me and is nice for being poetic and encouraging gratitude, but the Christian component is big and is lost on me
Other books on my mind:
I also got from a friend Medicine Cards, which is sort of like a Tarot deck with a book with stories about animals that can give you guidance and wisdom. I was so incredibly low the day she gave it to me, I couldn't absorb the first message so I haven't tried again. Maybe soon. It's good to know it's there.
And another friend gave me Sacred Motherhood, which I feel like I can't touch right now because its pages are so so beautiful and filled with wonderful ideas and lovely words. I think I would feel even worse about all the things I'm not doing. I didn't even list above being more creative and crafty. It's not really a goal. It's just something I wish I would naturally feel able and inspired to be. I'm sure the book doesn't want me to feel bad about myself, but I am not in a space right now to accept its gifts.
I've been thinking also about Shonda Rimes' Year of Yes, which I read a few months back and appreciated as someone's personal journey. And yet, at the same time I wanted to call bullshit on it that a woman who adopted three children without a partner and has created and written two hit shows pre-transformation said "no to everything." We should all have so much to share for our nay-saying lives! Her story is hers. But I had trouble extrapolating the messages. In fact, I think I've gotten in trouble by trying to say yes to too much.
I loved Martha Brettschneider's Blooming into Mindfulness a few months back. That has helped a lot. But also her garden is amazing and her sons are rock star healthy athletes even though, as she wrote in her recent post, she never made their lunches. She didn't have to. I wrote her an email about how different our lives are for being also so similar! So glad I met her two years ago at a blog conference.
It's probably time to re-read Brene Brown's Daring Greatly and my friend Pleasance Silicki's Delight. And Tara Brach. And lots of fiction.
But we'll see.
To do reading and healing, I need time alone, and all of those moments this summer will come at a cost – a literal cost of the kids being at camp we've had to pay for, or at some other kind of cost.
It's been two years since I read Donna Jackson Nakazawa's Childhood Disrupted: How Your Biography Becomes Your Biology and How to Heal and have known I needed to go off and be alone. But that seems nearly impossible to do, and it is hard to think about doing until I've at least worked my novel into a shape that I feel good about.
Where I left Glennon Doyle in Love Warrior was on the beach. I'm going to hit "Publish" now on this behemoth post without adding book links or any photos and just put it behind me so that I can go make myself lunch and find out what happens next in Glennon's search for self.