This time of year is always good for smacking me around. Even on a sunny day like today, when the quince and camellia are blooming and you swear it can't be January it's so warm, winter is in my bones.
And my mom's too.  Right around this time in 1995, while I was doing my student teaching, she fell in her kitchen and broke her leg so bad it popped through the skin. At the time, my father was on his always-dreamed-about trip to New Zealand. Travel was not an anomaly for him; he's done plenty for business and plenty for pleasure, including a trip to Thailand after he fell in love with the cuisine. I'm told he went bird-watching in Arizona (I think) shortly after I (his fifth child) was born. To say that my mother does not share his love for travel is a grand understatement.
When I signed up to read the novel The Art of Hearing Heartbeats for the From Left to Write book club, I hoped I would be able to reward myself with the novel read after finishing a volunteer project I was working on. But then I got more work tutoring in the last week of the semester at the boarding school where I help a few kids. And my children here at home kept needing a mommy. And their mommy needed more sleep. So she didn't finish the book, but its tale of travel in search of a lost father is certainly intriguing.
Last week, I was on a high after the successful fundraiser, and I was pleased with how well I was feeling. And yet, I've also been reflecting lately on just when it is that my health gave me clues that I would have a challenging road. My mom has been wondering the same for years. Maybe that leg break was as bad as it was because she was (like me) celiac and didn't know it, or because of some other health condition that weakens bones. The skin issues and digestive issues I'm having now are not new; they've been cycling through my body in various permutations for years. And even my mom has admitted that her body was not the ideal place to start a life, belonging to a stressed out (and a smoking) mother of four (ages 8-12 and up when I came along).
I bet she and I share more health issues than we are aware, though I hope that my discovering things at and earlier age and the newer research around these days will contribute to an easier road for me eventually. But right now, it's a little challenging. The heaviness I feel around the time of a drop in my thyroid is knocking at the door like a canvasser who won't disappear. And, even if this mild winter continues, it's always tough to go into the month of February, recalling the death of my brother in 1987.
The year before he took his life, my parents and I went to the Bahamas for my seventh grade mid-winter break, a week that Michigan schools take off so that everyone can keep a little sanity. Finding green helps. The year before that, sixth grade, we went to Hawaii. My mom probably hated every minute of both trips. I loved them but wanted to do more activities and wished I had siblings closer to my age to join. When Pat died, I was on a vacation with a friend and her family on a small island near Barbados where we went on the most spectacular hike to a waterfall. A few days later — a week shy of my fourteenth birthday — I had to fly back home alone to the dreary Midwest.
Today, I still have my father's zeal for adventure and his propensity to get and stay busy, but my body isn't exactly keeping up. I'd like to join my sister-in-law's yoga retreat in Costa Rica in March, but seeing as my thyroid really crashed just after meeting her family in Vermont for the Anusara Grand Circle and Wanderlust last June, and seeing as I have to cook all my food from scratch or face a lot discomfort, travel will have to wait.
I'm not even sure how I'm going to make it to Baltimore for even one day of the three-day Fourfold Path to Healing Conference this weekend. Although I fantasize about staying overnight by myself without having to wake to nurse my 18-month-old back to sleep, my not coming home Saturday night wouldn't magically disappear all my issues. I'd still need to bring a bunch of food with me, and I'd probably want to pump. In order to reap the benefits of something that would be therapeutic, I have to make some sacrifices that might otherwise jeopardize my health (not to mention that of my daughter, son and husband, who I'm guessing wouldn't have the greatest night of sleep since we haven't done a dry run on the night weaning).
And what would they do all day Sunday if I stayed at the conference until it ends at 5:30, or would I leave at noon? How would my daughter react once I got home, and then had to go out after dinner to tutor? How would my body react?
Tonight, when my husband was trying to use playful parenting to get my son out of whining mode during dinner, he took on the voice of a train conductor. E didn't understand the "sh-clunk" sound of the pretend hole punch. We realized our little boy, almost six, has never been on a train other than the Metro. Maybe my husband could take the kids up to Baltimore on a train partway through Saturday, and we could all drive back home that night, I suggested. "With both of them?" my husband asked, his eyes practically reflecting the shine of headlights. After a few minutes, he said he'd look into it.
Maybe the promise of adventure can somehow give me the space to pursue some healing without a whole lot of guilt. But probably just for one day.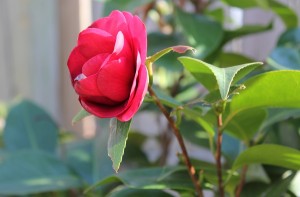 —
How do you balance physical and emotional needs?
What did you inherit from your parents?
What pushes and pulls?
—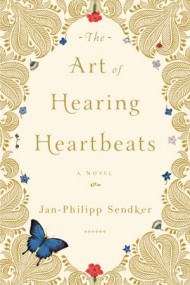 When Julia travels to Burma to search for her missing lawyer father, she discovers much more than she expected. Join From Left to Write on February 1 as we discuss The Art of Hearing Heartbeats by Jan-Philipp Sendker. As a member of From Left to Write, I received a copy of the book. All opinions are my own.