It was at last year's Eat Grow Learn seminar about growing green in Arlington, Alexandria and Falls Church that I found newfound inspiration to frequent local farmers markets.
I had been getting deliveries from South Mountain Veggies and only occasionally hitting the Sunday market at Columbia Pike. When Arlington County Board member Walter Tejada said, "You can go to a different market every day of the week in Arlington except for Monday and Friday," and I decided to get myself and my kids to the market more often, to really connect with the people who grow our food instead of just waking up Friday morning to a bag left on our porch.
Add to that all the other local markets, and there's really no reason not to get much of your produce and all your meat, dairy and eggs from local sources, even if your house renovation project prevented you from gardening this summer.
Well, except that you have to actually get to the market and get your food back home. Try that with two kids in tow, including one who will gleefully run into the street if not strapped into a stroller or on your back.
We had a great time this past Tuesday at the Crystal City farmers market and, including a stop at the post office to buy stamps to finally send our architect a check, used up our entire hour on the meter. We got berries (black, rasp, and straw), pastured eggs, grassfed stew meat (in the crock pot now!) and ground beef, bacon, tomatoes, apples, leeks, squash of various kinds, kale, potatoes, basil, green beans, and corn (organic and complete with worms — won't buy those unchecked again!). Treats included apple cider and Savvy Pops popsicles that dripped all over both kids and their paper towels, and a jerky stick from Coulter Farms that the kids split on the way home, to their delight. Who knew salty protein would be such a hit?
The only problem was how to literally tote all this loot around. It was tough enough to get through the market from one end to the other. As it was, my "just put all the berries in a bag" idea was ill-advised, but it did inspire me to, for the first time, make a (kind of) jam out of all the raspberries smooshed beyond recognition.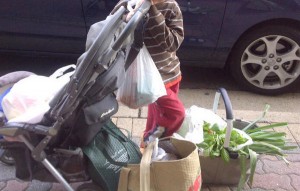 Once we got back to the car, there was still the matter of getting all the groceries into the house. With our home construction project still in progress, we have to enter the house through the basement stairs around back, using our decreasingly-patient neighbor's driveway in the process until we lose our dumpster and get our own off-street parking.
So enter the wheelbarrow and the crawl space truck to help keep me from losing a shoulder, or losing a toddler en route.
It was nice to be out on a delightful Tuesday afternoon, but I just make return to having my weekend morning market runs — occasionally, at least — be sans kiddos.
On a related note…
Tomorrow I plan to swing by the NOVA Junior Master Gardener Training program at Green Springs Garden Park to hear more about local efforts to bring gardening into classrooms. The workshop is packed to the gills, which is great news. Now if we could just get a school garden coordinator in Arlington to manage all the great efforts of countless parent and staff volunteers!
One of those success stories is the Wetlands Learning Lab at Campbell Elementary, which is finally being built after months of delays and red tape. A Campbell Elementary alum is organizing The Big Plant on October 13 to install hundreds of plants being donated by Earth Sangha. This site is going to control water issues on the playground, provide countless opportunities for learning, and be seriously gorgeous!
Every young child needs to have their breath taken away by beauty on a regular basis. Don't we all?