A few weeks ago, Robin Shirley, organizer of the amazing Take Back Your Health Conference, pointed out to me that Liz Crenshaw of NBC4's Consumer Watch needed a group of local moms for a piece. I wrote the producer who told me Liz was doing a story on the cost of diapers. I hoped to serve up to them enough moms from our local Holistic Moms Network chapters, but it was short notice, and we needed more bodies, so I posted on some other local email lists the night before the shoot.
The next morning, seven mamas and their 12 children joined me and my two kids in our my new and not-yet-unpacked (or completely finished!) home to dish on diapers. Liz and her crew could not have been nicer. If only my two-year-old hadn't screamed so loudly about other kids playing with her toys! At least she laid still for the camera when it was time to change her! I just wish my hands hadn't been so shaky that I gave the impression it's tough to button a Fuzzi Bunz!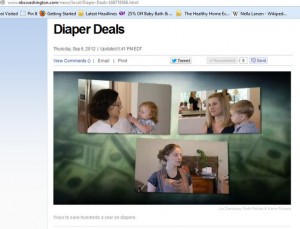 One mom made her own cloth diapers for her son, another mom had never once used a disposable diaper for either of her two kids, and another, like me, used cloth during the day and disposable at night.
The moms who were profiled the most in the piece, though, were those who were savvy about how to buy mainstream disposables for the cheapest price, which was, I realize, the crux of their story. But it's great that it was mentioned that cloth is the most cost-effective solution (if you wash them yourself).
It was fun to meet other moms, to host a giant playgroup in our new home, and to be on TV! Check out the Diaper Deals piece here.
View more videos at: http://nbcwashington.com.