BlogHer18 Health, the first health-focused conference produced by BlogHer and SheKnows Media, was a terrific two days full of inspiring speakers, education and connection. To say that I'm glad I went is a profound understatement!
It was terrific to be in a space with a shared language of health and wellness being spoken everywhere! I loved it! More below about how I came to actually get myself up to New York City for the first time in years, but first I want to recap the event while it's fresh.
Some photos are better than others, and some were not good enough to include. Still, I hope this recap gives a flavor of the event and help me document the amazing good vibes I felt throughout and upon returning home.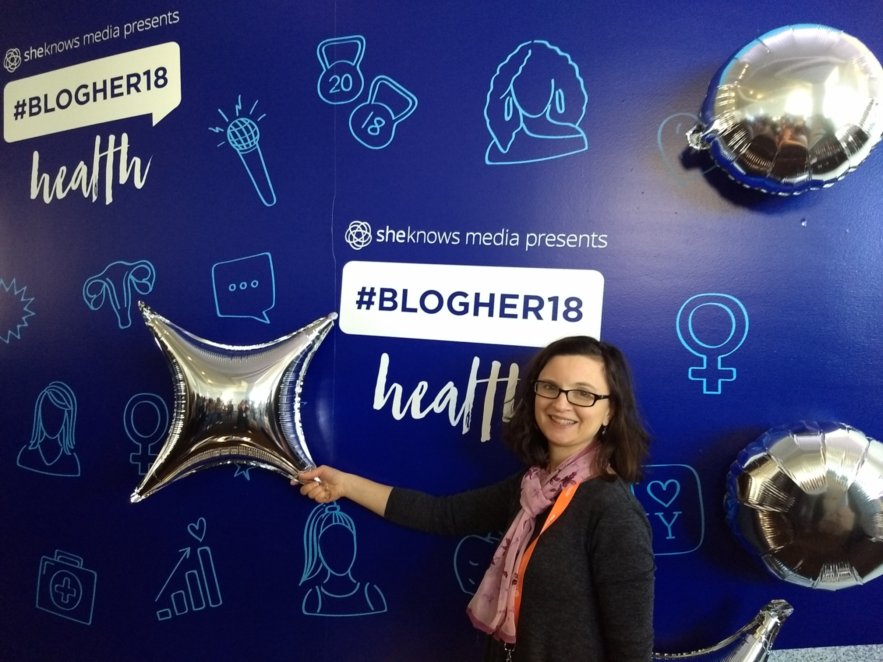 Friday evening
Before the event officially started at 5 p.m., I got to attend a special presentation by New Chapter. Paul and Barbi Schulick, the founders of the supplement company, described how they had found their way to herbalism and healthy living in the late 1970s and early 80s, eventually founding a line of products whose healing powers have been magnified by the fermentation process.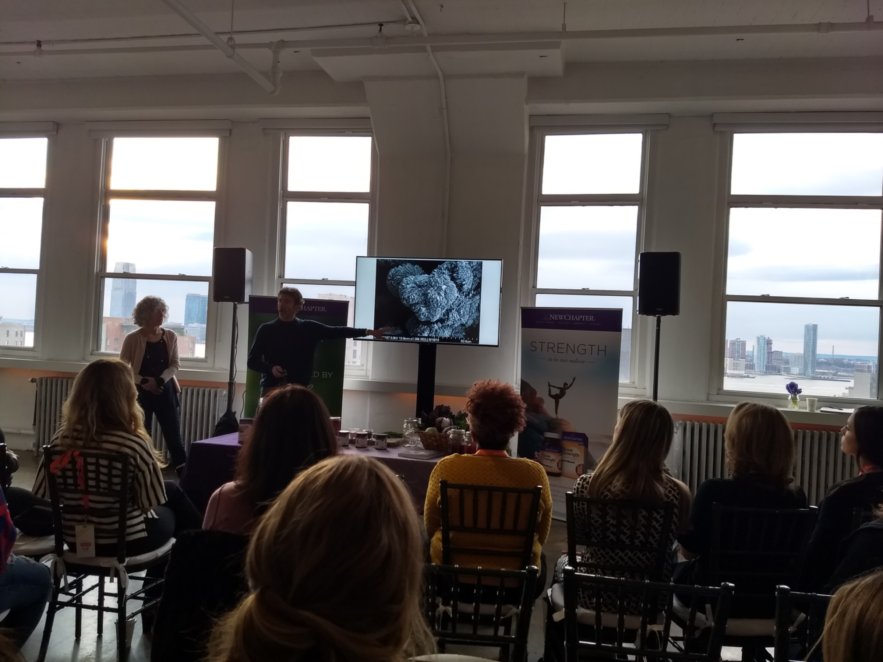 Thin from Within author Robyn Youkilis joined with New Chapter for the event and shared more about the benefits of fermented foods and demonstrated starting veggies to ferment.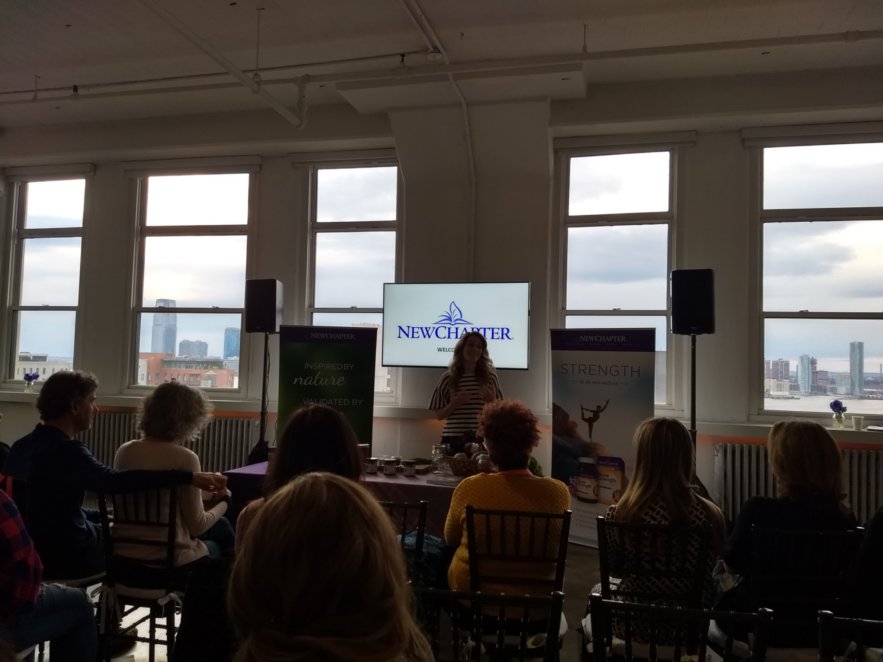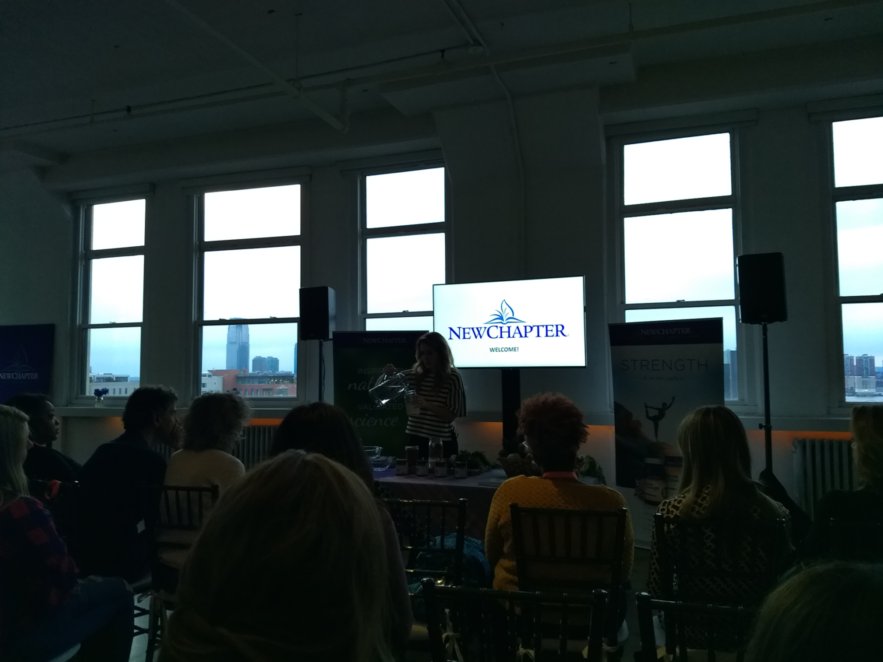 We then all got a chance to taste fermented root veggies and to talk with Robyn and the New Chapter founders.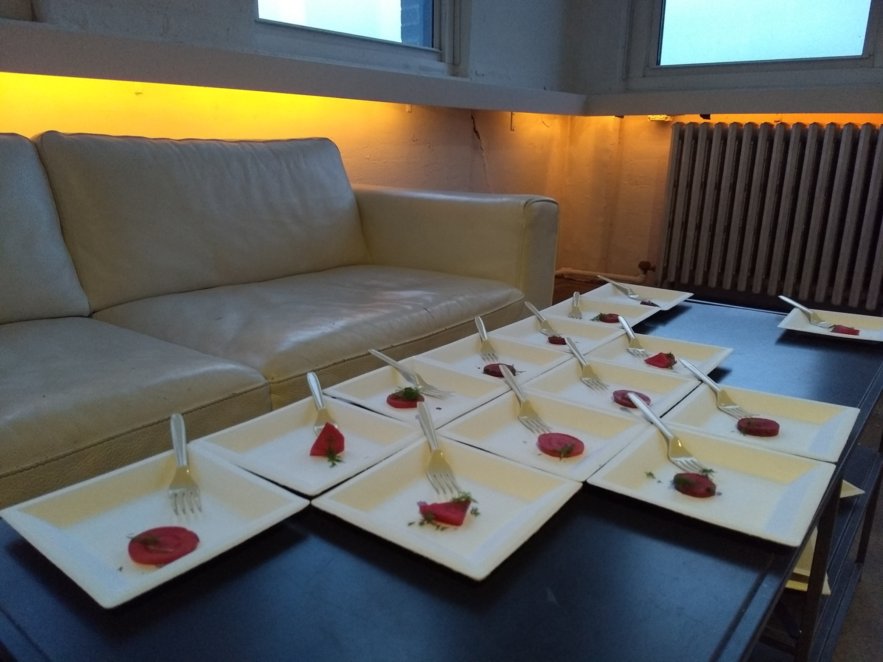 BlogHer Health officially kicked off at 5:00 with a reception that had some pretty amazing food and great vendors. Being mostly dairy-free, gluten-free (mostly grain-free), and nightshade-free can be limiting, but I enjoyed lots of terrific items from the buffet and roving hors d'oeuvres trays. It was delightful!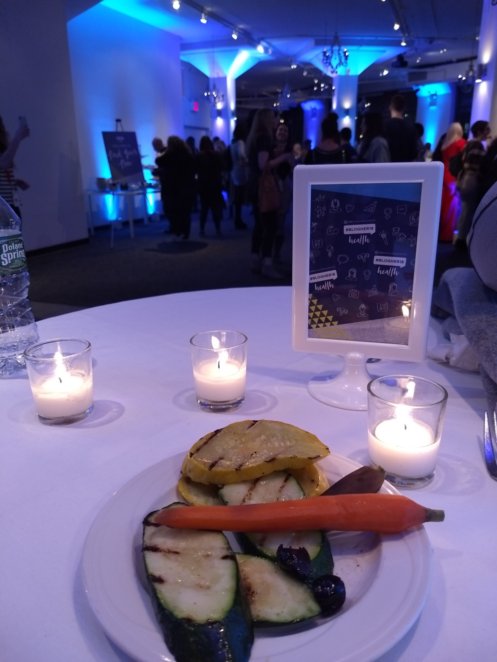 On top of that, there Krave had an exhibit table sampling jerky and there were delicious smoothies made with Primal Kitchen vanilla collagen.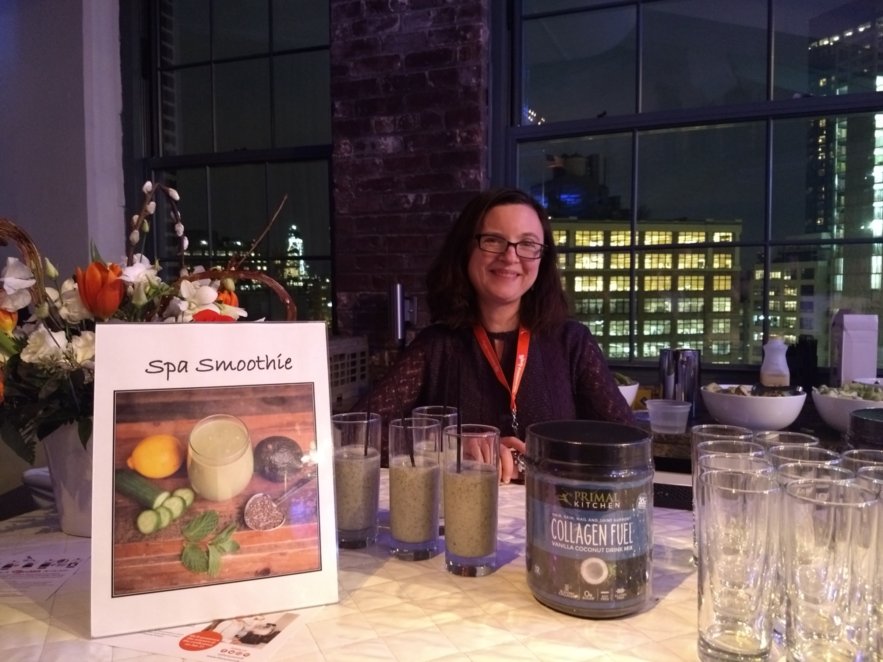 I also got to try the best almond milk I've ever had, made freshly ground nuts and with Harmless Harvest coconut water in a NutraMilk grinder.  NutraMilk is a brand-new appliance that makes nut and seed milks and butters.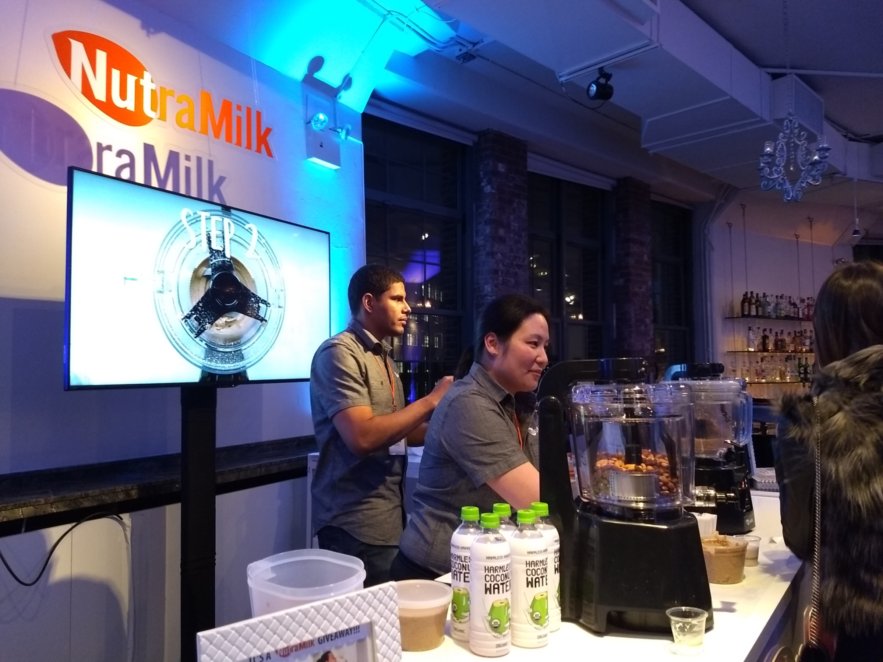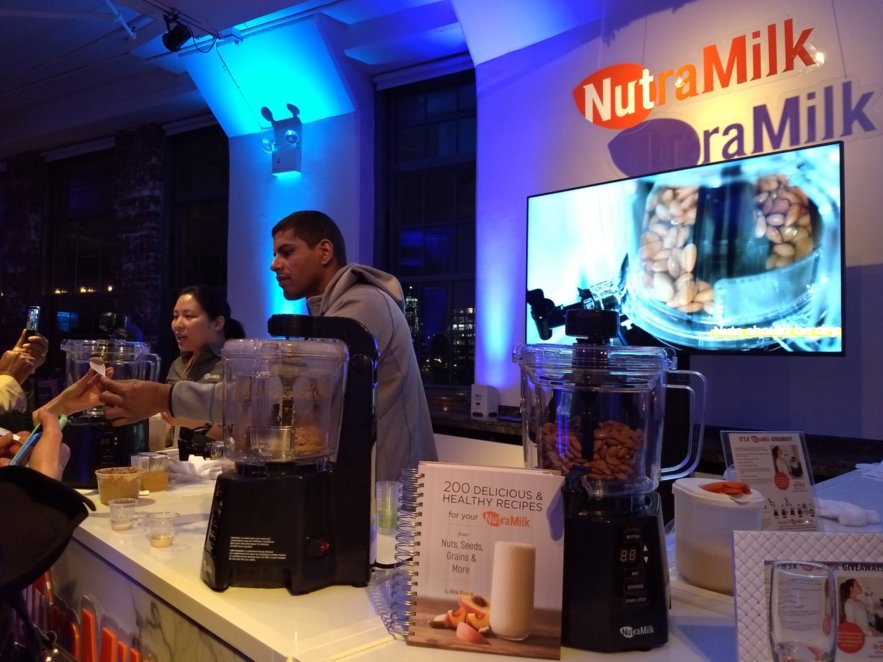 The product had only been on the market about a month, and the vendor was running a giveaway campaign. I was thrilled to learn at the end of the conference that I won one of these terrific machines by posting on Instagram.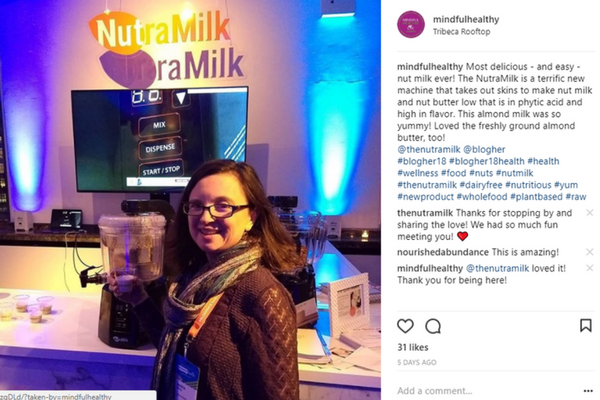 I can't wait to start using it!
I signed up right away to become a NutraMilk affiliate, which means if you buy the appliance using my affiliate link – bit.ly/NutraMilkMHL – I will get a commission.
That's the only affiliate link in this post. All other products are mentioned only because I love them.
I was thrilled to see that the exhibitor list included alara radiation protection case by BRINK case.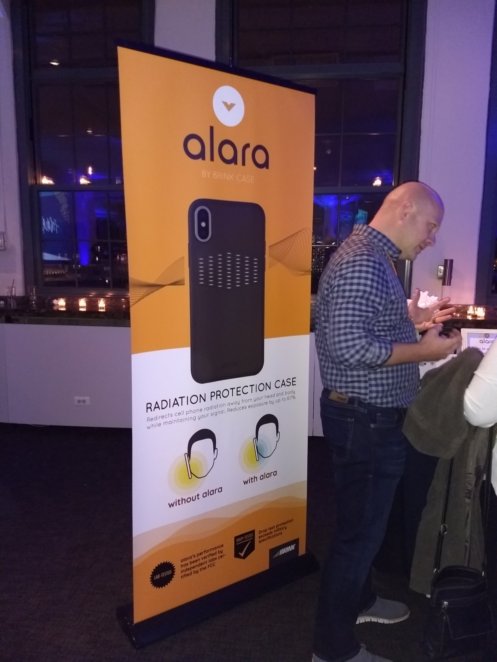 The device changes the direction of radiation to go away from your brain. It was good to see this health issue included in the conference.
After the eating and chatting, we were treated to a star-studded stage.
Harvard senior/singer-songwriter Brynn Elliot performed her feminist anthem, Might Not Like Me.
We heard from 7-time Olympic medalist, Shannon Miller about her experience with ovarian cancer. She shared how she had to adjust expectations through and after her treatment, when just walking around the dining room table twice was her new definition of a good workout.
Then the Voices of the Year Honorees were named and addressed the audience.
They included from Heart Talk's Cleo Wade, Daysha Edewi, Sunshine Spoils Milk's Kimberly Zapata, Every Body Yoga author Jessamyn Stanley, and Crisis Text Line Founding Supervisor Jen James and Me Too movement founder Tarana Burke.
Three of the four organizers of the Women's March – Bob Bland, Carmen Perez, Linda Sarsour – described their vision and how they came to lead a movement. (Tamika Mallory was unable to attend.)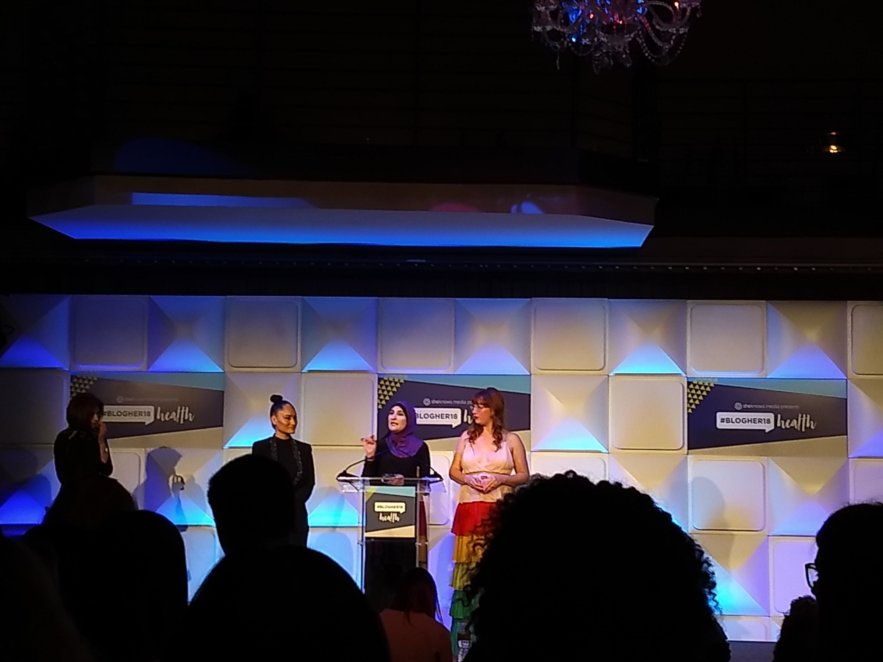 Krista Suh, author of DIY Rules for a WTF World, described how she created and pushed forward the Pussyhat Project. She told the crowd that self-care is radical. It is revolutionary to say "I won't dismiss me."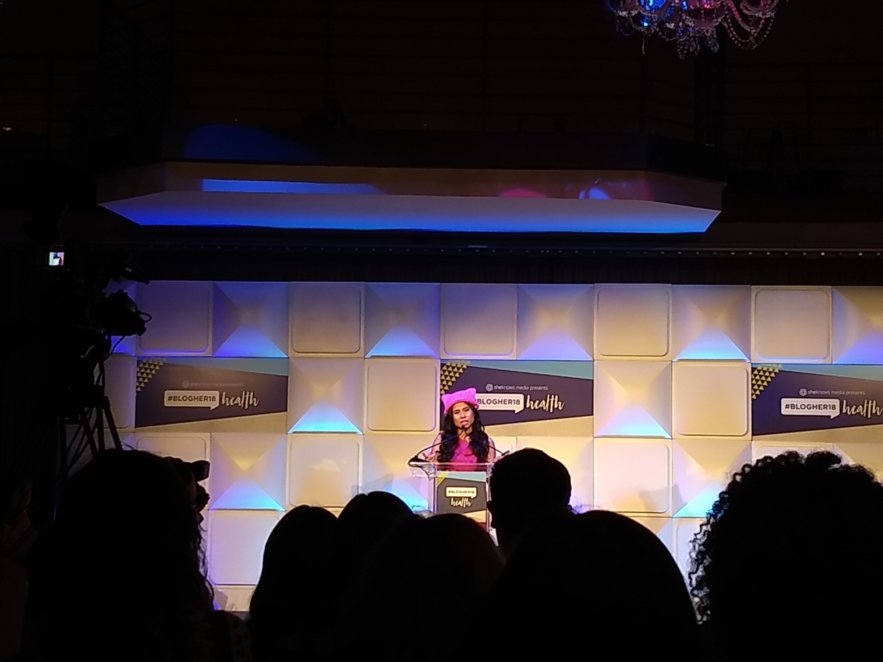 New York Times reporters Jodi Kantor and Megan Twohey shared what it took to break the Harvey Weinstein story.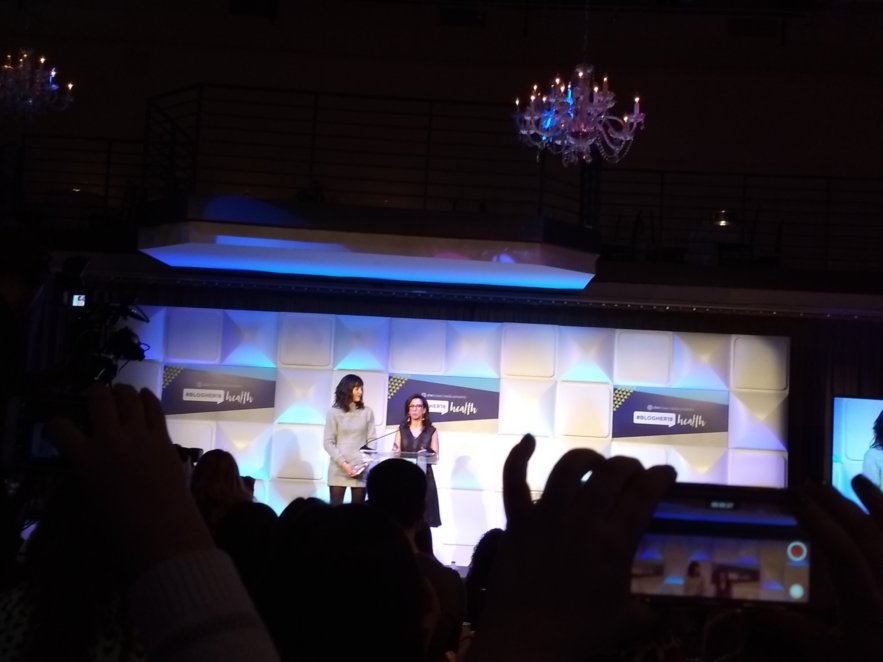 Actress and Goop founder Gwyneth Paltrow also addressed the crowd via video.
Finally, Chelsea Clinton joined a group of youth on stage and talked about the importance of believing from a young age that you can make a difference. I shared video her talk over here on Facebook.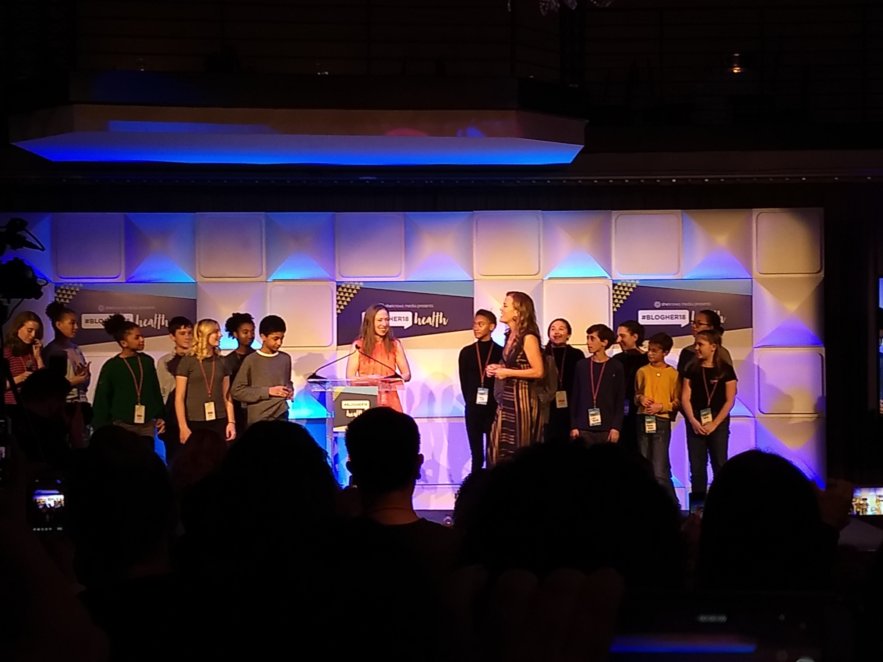 If you haven't yet seen Chelsea's children's book, She Persisted, check it out!
So, that was a pretty inspiring night full of women claiming their power and cheering one another on.
Saturday, January 31
The morning kicked off with the BlogHer team welcoming the 1,000 women gathered high up in the Tribeca 360 building. SheKnows Media's Samantha Skey performed many of the interviews.
The first segment of the morning featured Mama Glow's Latham Thomas interviewing actress, dancer and Emmy Award-winning choreographer Julianne Hough, who shared her personal journey with endometriosis.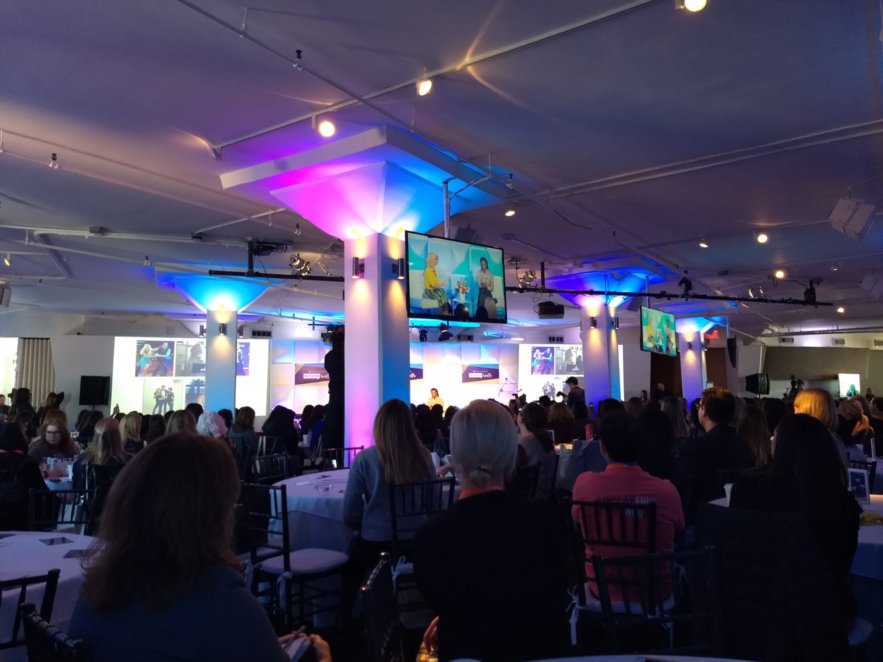 The women in the "Social For Good" panel examined "often under-served health issues that affect women and how personal storytelling can create empathy and ultimately, change." Speakers included Happily Eva After's Eva Amurri, Kendall Rayburn, Phoebe Lapine of Feed Me Phoebe, and Reshma Gopaldas of SheKnows Media.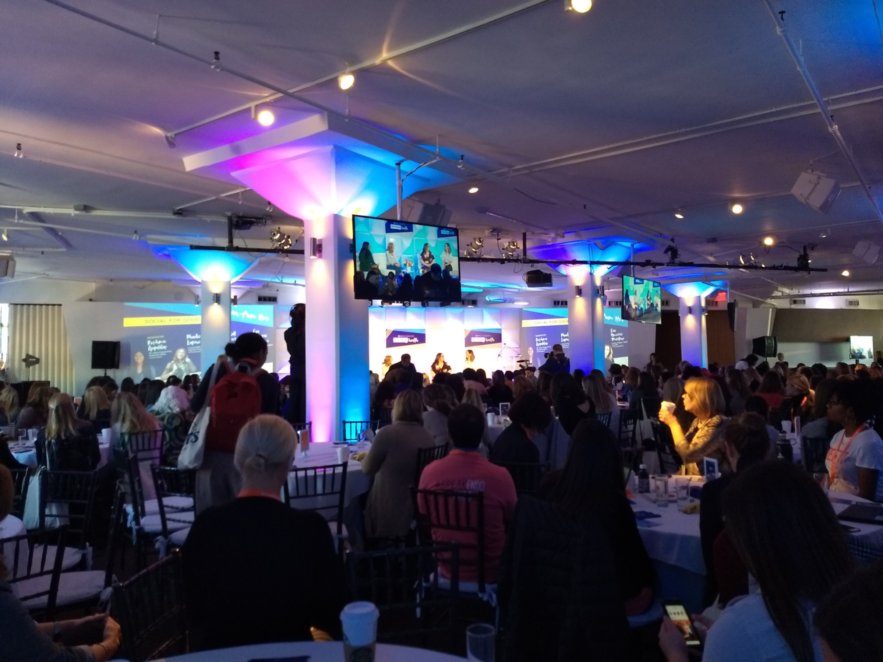 Eva talked about wanting to be open about the ups and downs of motherhood and said, "Just because someone else comes first doesn't mean you have to come last." She shared her journey with postpartum depression and anxiety following her baby suffering an injury.
Kendall talked about her experience with endometriosis and described how therapeutic it was for her to write.
Phoebe talked about being diagnosed with Hashimoto's in her early twenties and documented her efforts to address the "macro" level things rather than specific techniques by taking on one healing strategy per month, which she's documented in The Wellness Project.
After the panel was a spotlight on filmmaker Amy Ziering whose Invisible War film about sexual assault in the military won the audience award at the 2012 Sundance Film Festival. She talked about the power of storytelling to heal the individual and the community and how important it is to push for change in society. Amy went on to make The Hunting Ground about sexual assault on college campsues.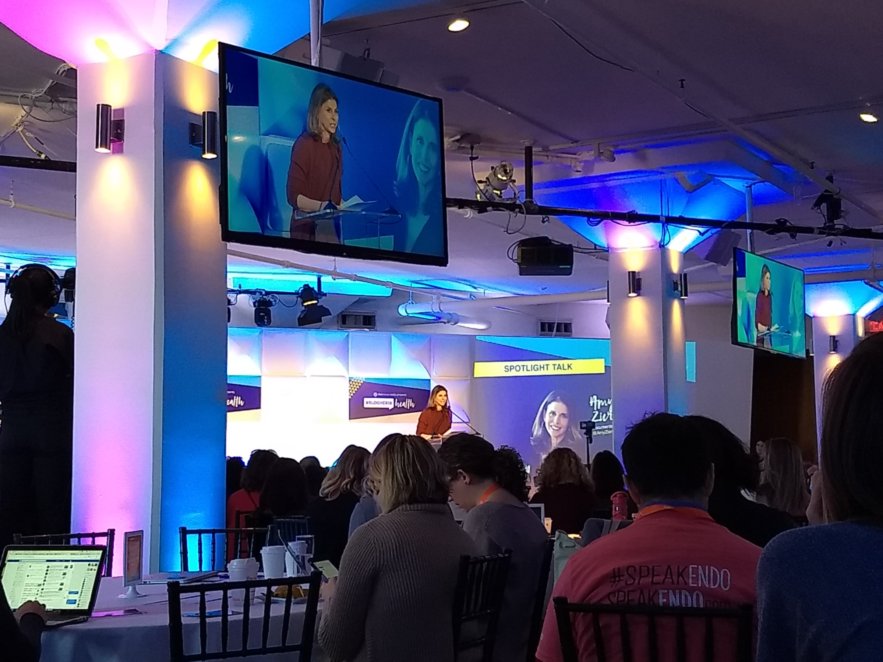 Next up was the #WinningWomen portion, which began with a spotlight on Erica C. who described the intensity of her migraines and what taking care of herself has looked like with her family and friends.
The Own Your Health Panel focused on self-advocacy. On the panel were:
Elly Mayday, who wrote about her hysterectomy and 22 operations after being diagnosed with ovarian cancer at 25
The Daily Headache's Kerrie Smyres, who has dealth with migraines for 30 years, since she was 11, and endured years of doctors not believing her and said, after hears of worrying about seeming high-maintenance, now asks for what she needs
Dr. Aviva Romm, who encouraged women to prepare for doctor visits by

writing a script and practicing delivering it with friends and loved ones
bringing an advocate, preferably a woman
thinking of herslef as the doctor's client or customer who is choosing whether or not to work with this provider
After this packed morning, there was a chance to network, snack and talk with some of the sponsors and exhibitors.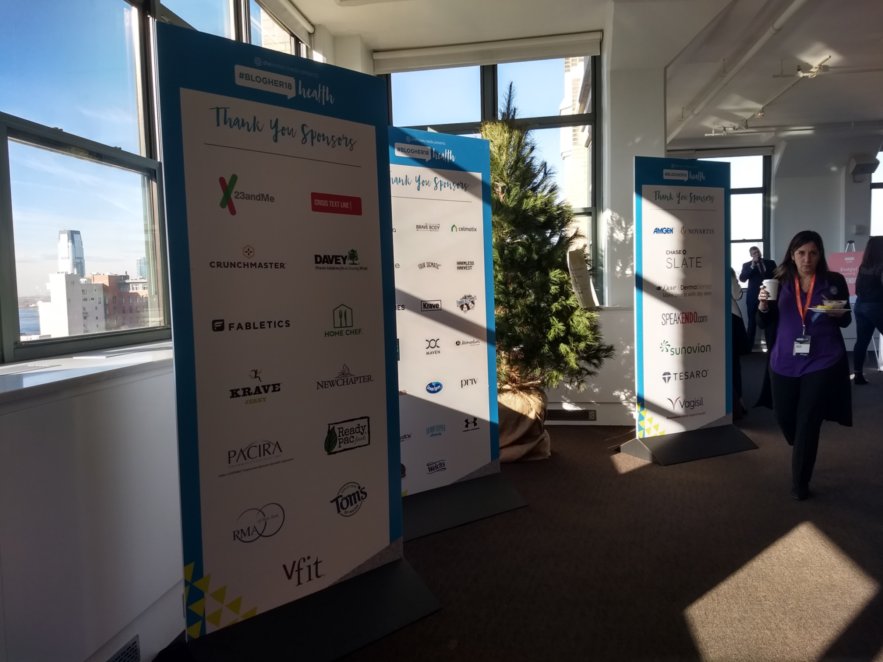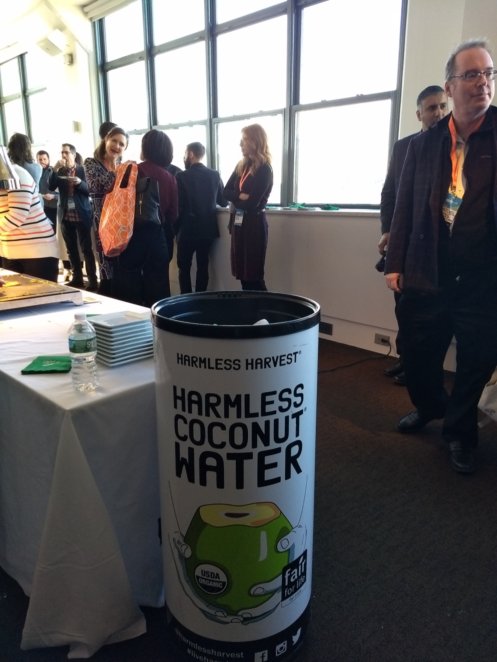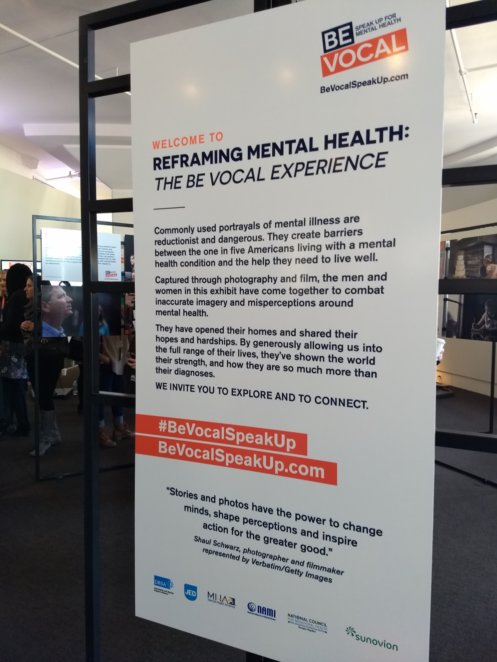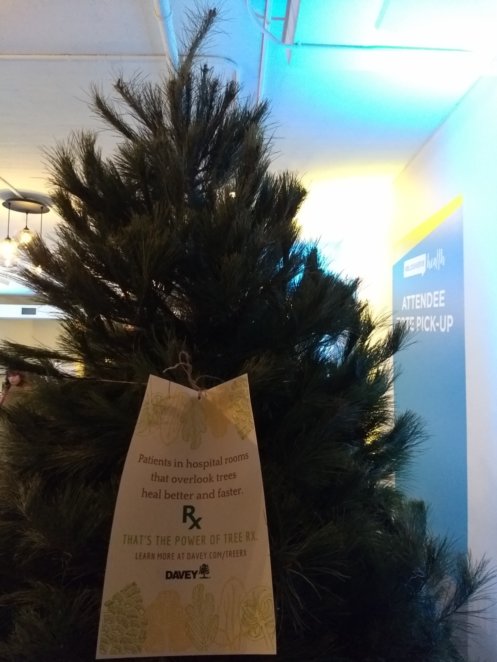 Davey Trees brought 7 large living trees to the space and talked with attendees about the healing power of being around trees.
After the break, attendees could choose a workshop on pitching media opportunities or a workshop on visual storytelling with a panel of influencers led by Jordan Younger of The Balanced Blonde.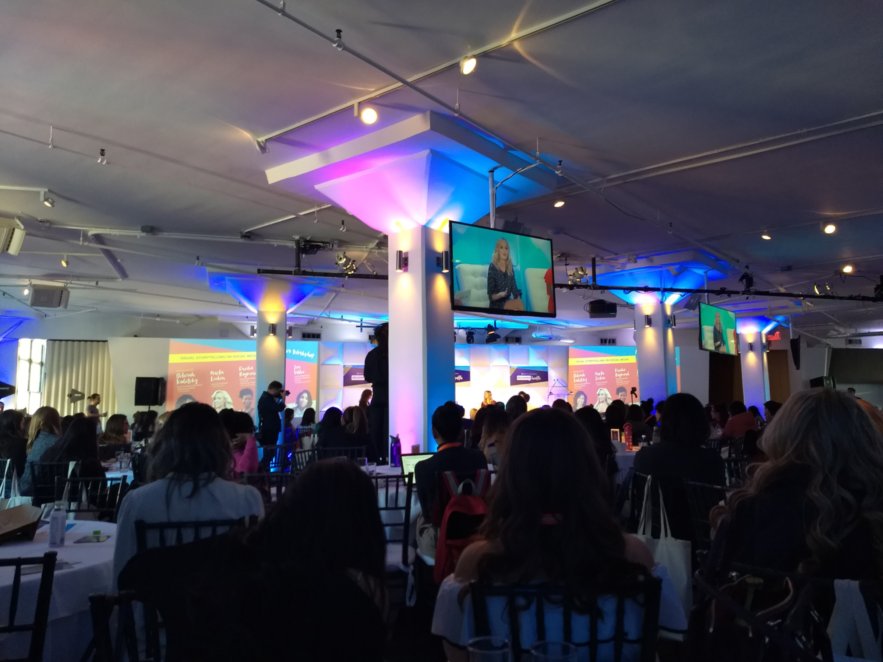 While attendees enjoyed a lunch with lots of greens and healthy choices (sadly, I did not photograph the three different salads in martini glasses!), the Learn from Her session began, starting with a panel on mental health.
Debbie Plotnick of Mental Health America moderated a panel with
All agreed we need more honest sharing and more stories of process as well as recovery.
Next on the stage was a "Hollywood on Health" panel with Entertainment Weekly's Sara Vilkomerson, Psychology Today Editor-in-Chief Kaja Perina, and actress Kate Walsh of Grey's Anatomy, Private Practice, and, most recently, 13 Reasons Why. They discussed intentions in the past several years to show a wider range of issues with honesty and also to ensure that characters are not defined solely by their illnesses.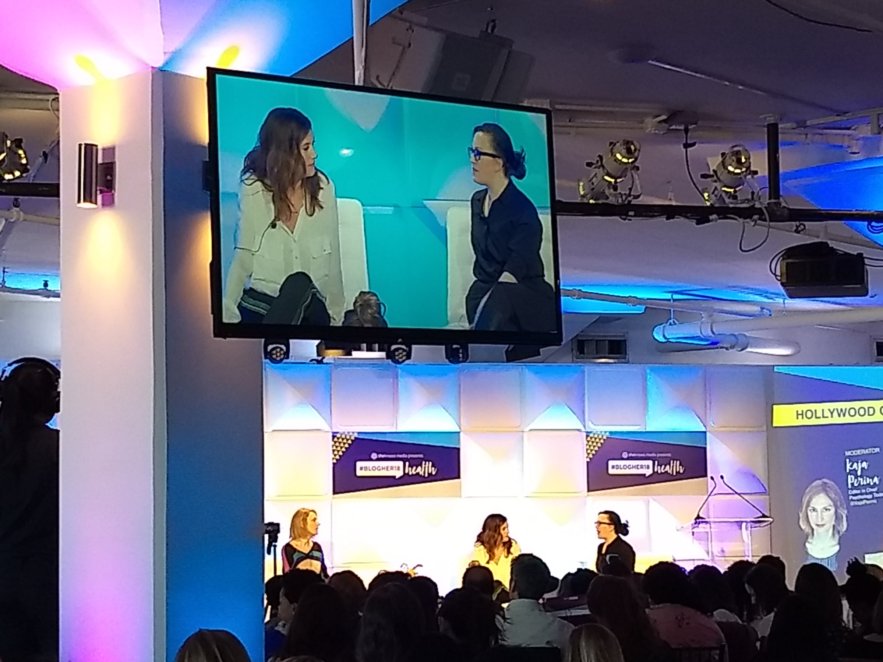 Next up was a fireside chat with the fun and feisty fitness and wellness entrepreneur Jillian Michaels.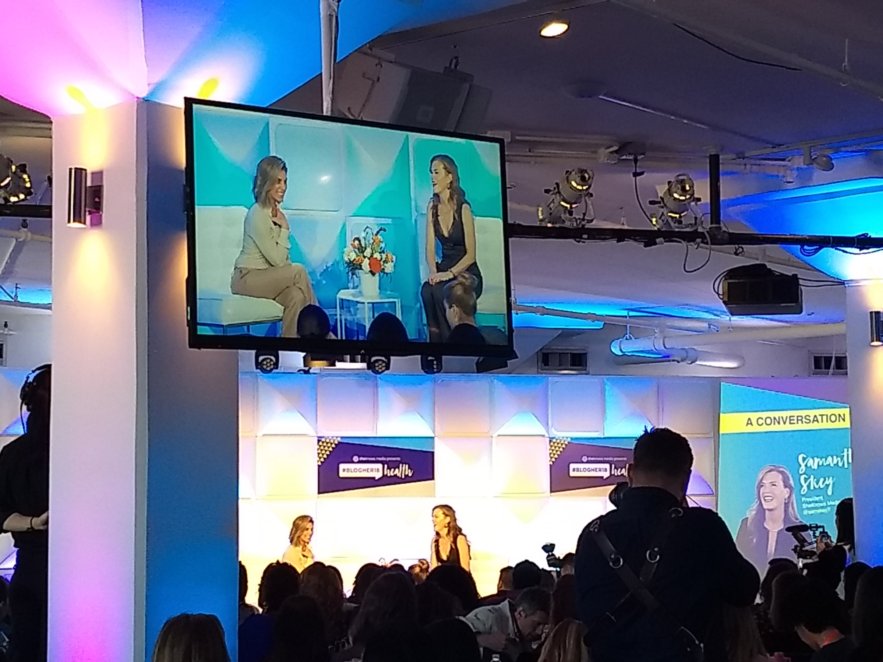 Jillian covered many aspects of her career but pointed out that it was when she thought of her children's friends seeing her as the "queen of mean" that she made a switch in attitude and realized she needed to be less reckless.
She said she's come to realize that people need to be ready to see the thing that's holding them back before they can make any fundamental and lasting change.
This was a great segue to the portion of the day that most resonated with me on a personal level. As I shared on Instagram, I feel like I found my hashtag: #LifeUnfiltered!
This panel featured women talking about chronic health conditions and how they found the strength to keep going and thrive despite their challenges.
Self-love expert Nitika Chopra defined self-love as "being more committed to your happiness than to your suffering in every single moment." She said she came to this after essentially spending two years in pain in bed. She and sister panelists Jordan Younger, Essence Senior Editor Charreah Jackson and Mercedes Matz, who has shared her experience with eczema in a campaign with Dove, defined #LifeUnfiltered as living by your own definition of beautiful, being fully self-expressed and radically loving all the parts of your self.
All wise words and super important to hear.
As someone who struggles with what to share on the outside compared to what I'm feeling on the inside – especially in a social media world where everyone seems to be either going on vacation, bragging about their spouse, or sharing something adorable that their children did – I really appreciated the honest shares of these women and the inspiring message they had about persisting amid the messiness.
Check out this great recap of the #LifeUnfiltered panel by Nikki Brown at Stylecaster.
After the panel, Ruthie Lindsey, the most down-to-earth speaker I've ever seen on a stage, shared a story I will never forget. After having been in a car accident at a young age, she miraculously was able to walk again against expectations. Years later, she experienced searing and debilitating pain and confusion. After many failed attempts to discover the source of the problem, including with several MRIs, a doctor finally took an x-ray that showed a metal wire from her earlier surgery had pierced her brainstem.
It took a long time, during which her marriage fell apart and her father died, for her to return to functioning. She came to realize that she had numbed not only her pain but also her sense of awe. She began to make a list of things she successfully accomplished, like "ate lunch" and then of things she loved before she was in pain. "Sunsets. Wildflowers."
After lots of counseling, she decided to change the narrative she'd been telling and living. People were seeing her for her pain and she wanted them to look to her an be seen. Now she really sees people and thinks (or even says), "You are doing such hard work." She said her pain has led her to see such joy and she told the crowd that we have the power to rewrite our stories and be with people and with joy. "You will be softer," she said.
All of these stories really helped me put my own health issues in perspective. They have been longstanding and difficult, but I have learned a lot, and I do have a lot of resources. We all do. There is no competition for who is in the most pain or who has made the best lemonade out of their lemons. We are all just people doing hard work, wherever we are in that process.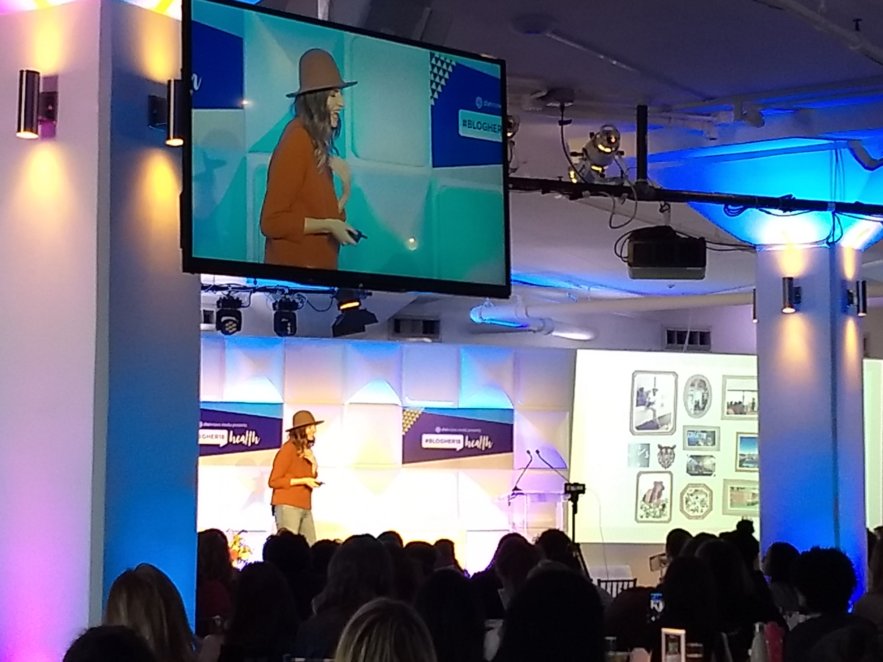 At this point I was pretty full up with emotion and inspiration. But the event continued! There was a meditation with Latham Thomas upstairs, but I stayed in the main room to process everything and hear about the Business of Influence with Chinae Alexander, Christine Bibbo Herr of NYC Pretty, Colleen Wachob, co-founder of MindBodyGreen, Dawn Ferguson and Reesa Lake of Digital Brand Architects.
My favorite quote from this panel was that "failure isn't failing." If we can open our spirit and mind, what may have been guttural and terrible in one moment was maybe just what we needed to happen.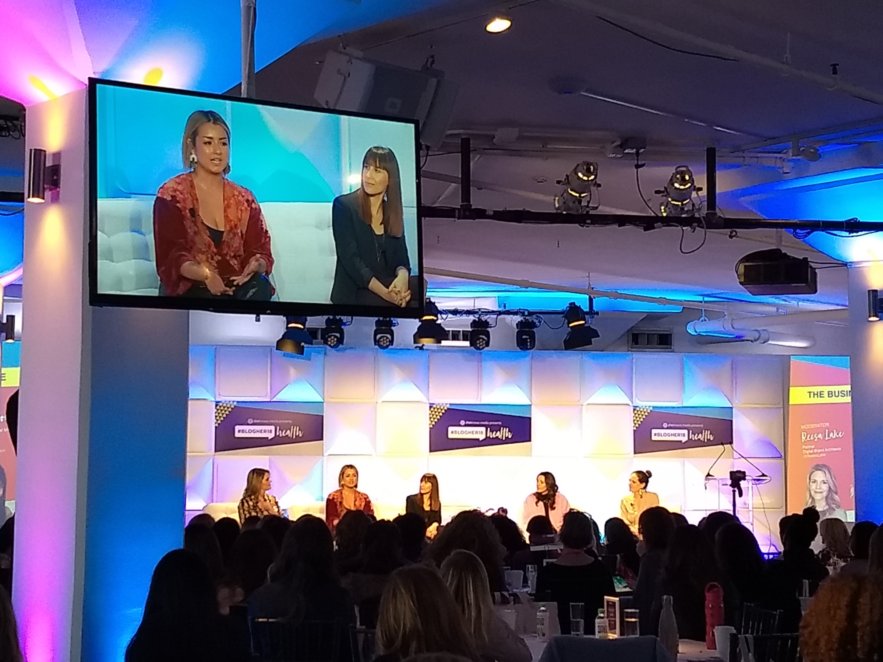 After a short break, the final afternoon segment in the large space began: Passion to Purpose.
The Welltrepreneur panel included Hannah Bronfman of HBFit, Kelly LeVeque of Be Well By Kelly, Latham Thomas of Mama Glow and Rens Kroes. They shared how hard work, dedication and openness have been key elements of their success.
In a spotlight talk, financial expert Farnous Torabi then encouraged us to consider what is our "why," to set mini-goals and to reward ourselves for meeting them.
The last fireside chat was with Camila Alves McConaughey, founder of Yummy Spoonfuls organic baby food company and, more recently, Women of Today. She and husband Matthew McConaughey also run the Just Keep Livin' Foundation to empower high school students.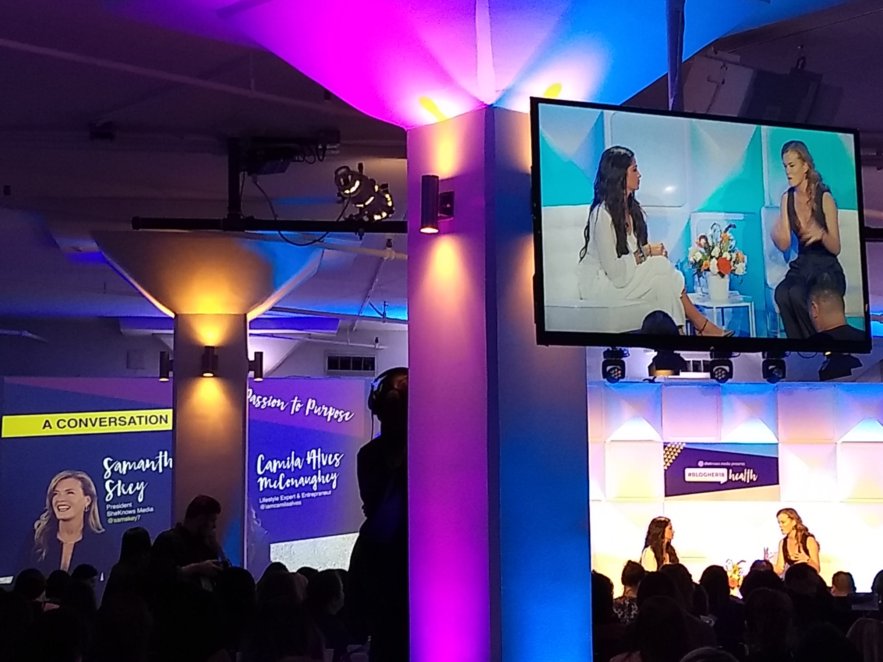 After Camila shared how she came to turn her passions into business and philanthropic pursuits, she then served as emcee for #ThePitch, Health Edition. Three entrepreneurs shared videos of their elevator pitches about new products and fielded questions from judges on the feasibility of their product's success, market demand, and possible challenges. The winner, announced later, was Lia, the first flushable pregnancy test.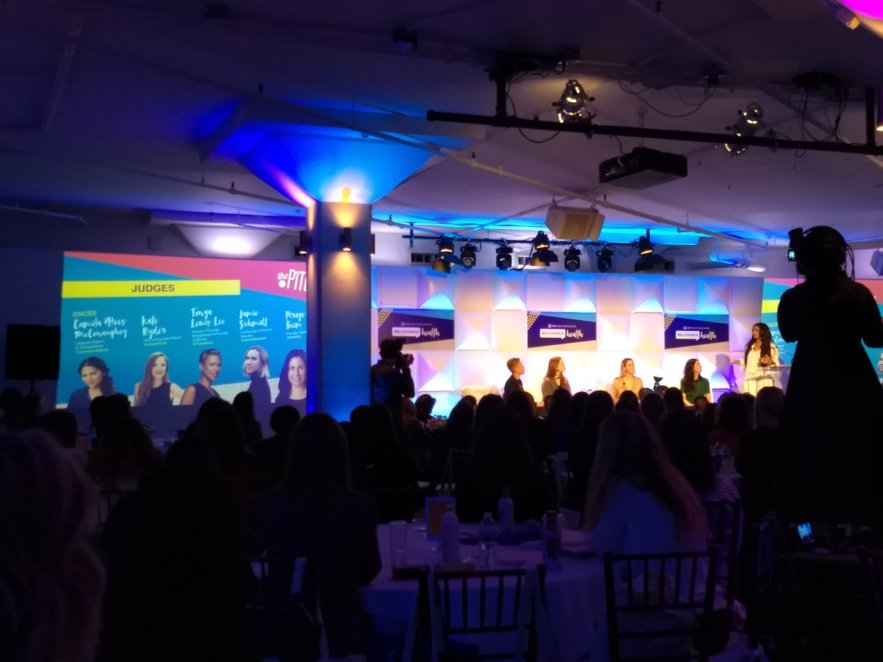 Back upstairs on the Rooftop where the event had started the previous evening, was the closing panel. After a spotlight talk by Piraye Beim, "Wine + Gyn" was a panel of "leading women's health experts on the importance of normalizing and owning our bodies and the power of sharing" featuring Dr. Jessica Shepherd, Sarah Brokaw, Elizabeth Yuko and Logan Levkoff, PhD.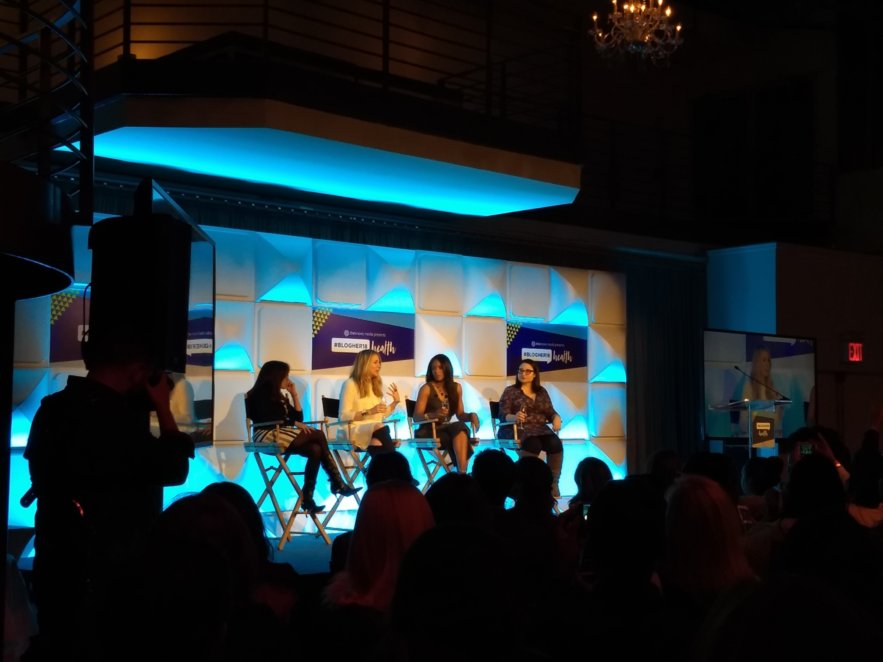 The speakers emphasized that talk about sex – in schools, in doctors offices, everywhere – needs to focus not just on our reproductive potential. Pleasure is a key component, as are accurate labels for all body parts, not just male parts. It was a lively and fun closing to the evening before keynote speaker Arianna Huffington took the stage.
I got the latter part of Arianna's talk – including some Q&A – on my Facebook Live video, but for the first part I just listened, which was appropriate given how much she emphasized not letting technology rule our lives!
Arianna opened saying we are "addicted to our phones" and that this dependence is contributing to anxiety, depression and isolation. Turning the tide will be led by women, she said. She said that the world is designed by men and it's not working. We have all bought into the delusion that we have to hustle.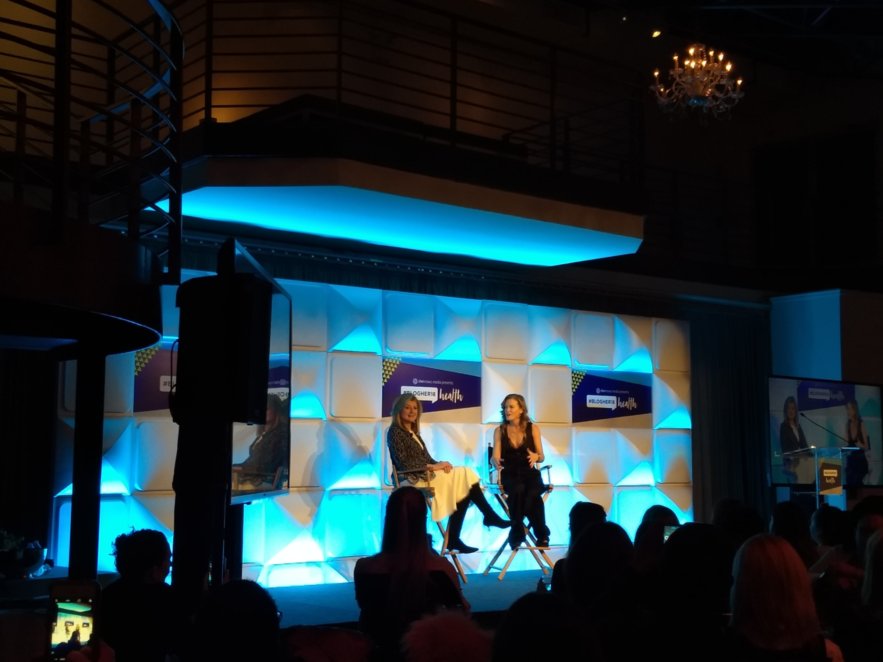 Arianna left the Huffington Post a year ago and now heads up Thrive Global, a "behavior change media and technology company offering science-based solutions to lower stress, and enhance well-being and performance."
She said we all have a place of peace within and that, rather than exhausting ourselves and becoming a frantic mess, we need to be able to connect to the place where the magic happens.
Thrive has several apps, including the Thrive App, which is available now on Android and will be available for iOS in in about six months.
Using the Thrive App, you can make yourself unreachable during periods of meditation, exercise, rest or sleep. People will get a message like an out-of-office reply that you're on Thrive mode. You can identify children and others as VIPs who can get through, but even they will be prompted with a question of whether they really need to interrupt you on Thrive mode!
It also has a "digital coach" aspect giving you a mirror of your social media profile and helping you set and adhere to limits on time you spend on particular platforms.
Arianna talked about the benefits of even just 60 seconds of intentional breathing and said that the "key foundation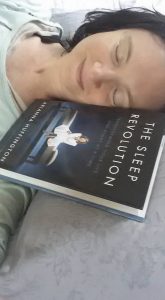 to all habits is sleep."
This reminded me that I received a review copy of her book Sleep Revolution: Transforming Your Life, One Night at a Time in 2016 and failed to actually write the review! Between kid acute illness and my chronic illness, I totally dropped the ball! But let me tell you, it's a terrific book, and I'm so glad Arianna is raising this issue with corporate America and on college campuses!
When asked about how to shift culture in a corporation, Arianna pointed to scientific studies about the connections between health, happiness and productivity that are referenced in her books, both Sleep Revolution and Thrive: The Third Metric to Redefining Success and Creating a Life of Well-Being, Wisdom, and Wonder (which I did write about and count among the books that have had a profound and dramatic influence on my life, especially with respect to walking as a way to wellness).
She also noted the importance Amazon owner Jeff Bezos is now putting on sleep, having studied his own patterns and found that his decisions were consistently less effective when he'd had less sleep.
Arianna encouraged the audience to think about chunks of energy rather than chunks of time. "What we do is a function of our energy, not our time. We have to be not running on empty," she said.
Her talk was both grounding and uplifting at the same time! It was a terrific way to end a terrific conference!
Acknowledgements
It would not be in keeping with the spirit of BlogHer for me to leave out gratitude for the women who got me here.
In addition to being grateful to all the bloggers who were part of my trips to previous BlogHer conferences in 2012 and 2013, I am very appreciative of two who helped me get to this one in 2018. After some backslides in health, confidence and finance, this first solo trip in a long time was a big deal.
Darlene Dee, who profiled me in her Baby Costs Money blog's Monday's Mama feature, encouraged me to apply to speak at this event. She is so supportive and thoughtful!
I knew that was a long shot, but honestly, filling out the speaker application was actually a great exercise in convincing myself that there's value in the work I've done toward change in my community, especially in schools. That rejected application got me the consolation prize of extension of the early bird rate, as long as I registered by Halloween. It was an unrefundable and non-transferrable offer, but it was only $99 for what looked like a pretty cool event.
I took the plunge and registered before October ended.
But I still might have lost my mojo if it were not for my friend Amy Thomas of Amy Thomas Design. Last year, Amy and I co-chaired our school district's Environmental Health and Asthma Subcommittee of the School Health Advisory Board, and she and I worked together to put on a Clean Air Awareness event.
Amy knows a ton about air quality and the many elements that contribute to it, indoors and out. She's a sustainable interior designer about to complete her health coaching program through the Institute for Integrative Nutrition. Everyone she talks to is super excited about her skill set – her knowledge of how the environment outside and inside the body are connected. I'm pretty sure she's going to change the lives of thousands of people.
Amy has changed my life by her collaboration on school wellness, by accompanying me to wellness events around town, and by participating in helpful conversations about both of our visions for our future. And it was especially helpful that she agreed to attend this conference with me! It made such a difference to know I'd have someone to sit with and talk to during the conference and connect to after – plus that I'd save on half a hotel fee! This really helped me get over the hump of doubt as to whether I could justify the expense and time away from my kids.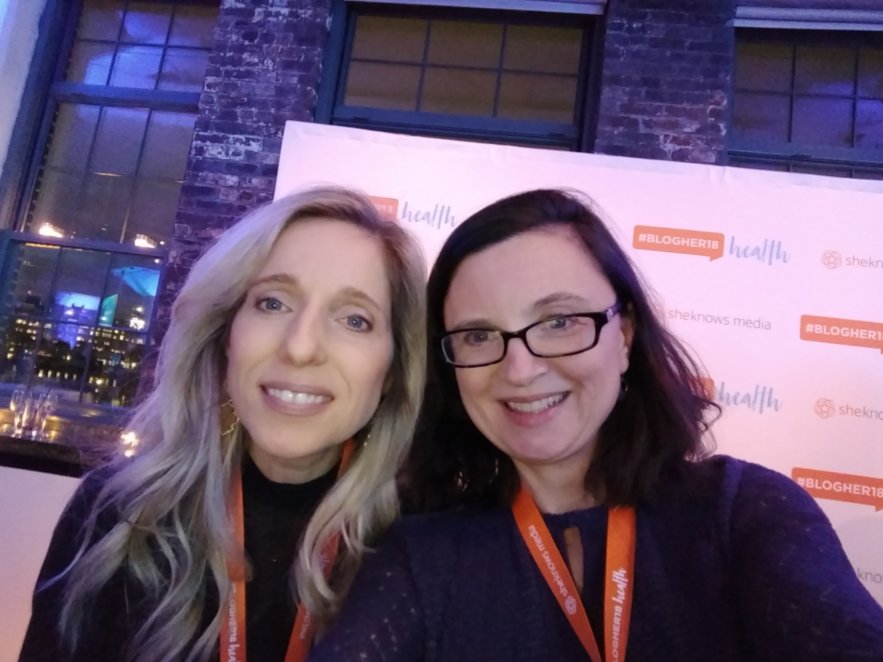 As the conference drew closer, I got over my doubts and decided it was just going to be fun and different and that that alone was important. I was in a terrific mood the week before the conference and came back without losing my mojo to re-entry malaise, as has happened before.
I attribute this some to the work I've done on myself in recent months and some to going with a friend, who even had the guts to ask for a photo with Camila Alves.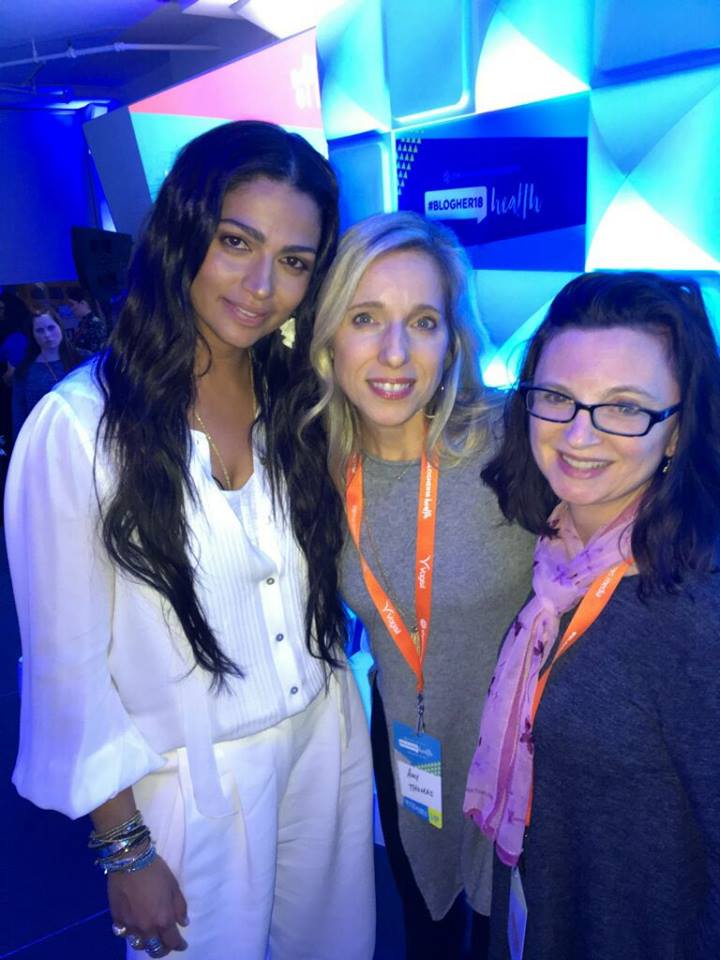 And a lot to the super positive vibe of the event.
It helped that my kids are older and that they and my husband seemed to manage fine without any snafus or anyone getting the flu, but I think my belief that it would all be okay went a long way!
So, big thanks to the universe and everyone involved in getting me to New York for BlogHer18 Health!