When we found out the neighbor we were going to meet at the park had to go back home for bad behavior, the leaf pile called us.
I don't know how we managed to have so much fun without anyone getting an eye poked out or losing a Croc. But it was a day when I felt so grateful that my children have each other.
Siblings
To brandish bright red leaves
in one another's face,
with delight
and awe
then to center the table
with swords turned art
is to make a family home
A family
A home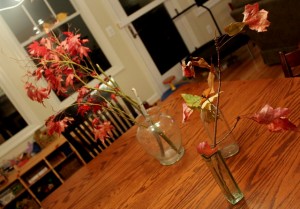 ——————–
After casting aside my poetry hat for far too long, my NaBloPoMo plan is to write a poem — and to take and post a photo — every day in November, spending less than half an hour on both. The hope is to drill down, to focus, to look for and create beauty.
Previous Posts:
Day 1: Eleven One
Day 2: Shoreline
Day 3: Damage
Day 4: On Parenting and Sunrises
Day 5: When will we?
Day 6: Voting Line
Day 7: What I want my children to learn from me
Day 8: Haiku
Day 9: Reminders
Day 10: Routine
Day 11: Lux Esto, in moderation
Day 12: Family Photo Shoot at (nearly) 4o