The last professional photo shoot we had was when my daughter had just been born in August 2010. Today is November 12, 2012.
I bought a shoot over a year ago on as a Groupon or Living Social Deal and just finally redeemed it today. Although I'm thrilled that we got some pictures taken, and I hope some turn out, I can't help but notice how not-great I feel about how I look, in my body and my face.
I have been feeling better and even starting to exercise, but photos don't lie (unless you tell them to). And these are screaming out loud that I am getting old. Older.
I don't like to do face shots of my kiddos on the blog, but here's one that shows how cute my little redhead #2 looked. I'm trying to
decide if I should add one of me so you can see what I'm talking about or just leave it to your imagination (or to Facebook).
Family Photo Shoot at (nearly) 40

It is sad
that I get sad
seeing photos of me next to my children
with their smooth skin,
pink and profoundly European,
and dwell on the depth
of the olive I used to like in summer
that now seems
like soggy yellowed pages
of an obsolete book
that got folded inside themselves
and will never not be wrinkled
————————————————-
Okay, here's Self-Portrait with Toddler: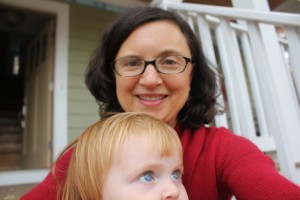 ——————–
After casting aside my poetry hat for far too long, my NaBloPoMo plan is to write a poem — and to take and post a photo — every day in November, spending less than half an hour on both. The hope is to drill down, to focus, to look for and create beauty.
Previous Posts:
Day 1: Eleven One
Day 2: Shoreline
Day 3: Damage
Day 4: On Parenting and Sunrises
Day 5: When will we?
Day 6: Voting Line
Day 7: What I want my children to learn from me
Day 8: Haiku
Day 9: Reminders
Day 10: Routine
Day 11: Lux Esto, in moderation