My daughter learned how pigs sound from our trip to Polyface Farms just after she turned two.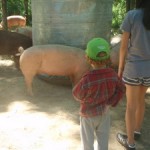 Since then, every time she's gleefully snorted, I smile knowing she gleaned that skill right from the source, frolicking right alongside the pasture-raised pigs at Joel Salatin's farm in Swoope, Virginia. Maybe she'd first picked it up in utero two years earlier when I took her older brother to see what a truly sustainable farm looked like.
It was another kind of brush with both greatness and simplicity when toddler girl and her brother and I recently went to a pre-release party for the new book Beyond Bacon: Paleo Recipes that Respect the Whole Hog
, written by eat like a dinosaur
authors and Paleo Parents bloggers Stacy Toth and Matthew McCarry. We got to sample a delicious array of grain-free healthy foods from other folks attending the Northern Virginia Paleo Parents and Friends meetup. What a treat to be able to let my children eat anything they wanted! And how exciting to finally meet Stacy and Matt in person.
The new book is, simply put, beautiful. It is truly a work of art. For every celiac patient or whole foodie who has looked at well photographed mainstream cookbooks and longed for something as pretty and scrumptious to share the joys of eating without grains, the time has come.
Pick up this book and drool.
As appropriate for the coffee table as the kitchen, this book is really, as the authors say, a love letter not just to pork but to food raised and prepared with intention. And to the land that sustains that food.
The book covers the practicalities of why and how to find pastured meat and what equipment should populate your kitchen in addition to providing page after page of delicious-sounding recipes and gorgeous photography. Aimee Buxton positioned her camera expertly not just behind mouth-watering food but also in awe of the sweeping landscapes upon which it grew. Looking at this book, it's impossible not to feel connected to the land and to be motivated to make wise choices in buying and cooking your food.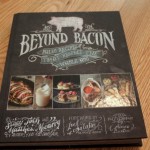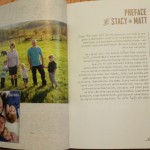 I was amazed to learn from Stacy that she and Matt began the book in earnest just last fall. It looks to have been years in the making, even if the authors didn't have three little boys at home. Stacy admitted that she pulled some long nights and was eager to get back to practicing what she preached about healthy habits now that the book is out.
For a great review of the book from someone who has really tested it out, see the review by Holistic Moms of NoVA co-leader Alexa guest blogging at More Green for Less Green.
Beyond Bacon is being officially released today, July 2, with a release and signing party to follow on Friday night, July 5 at the Merrifield Red Apron Butchery in Fairfax, Virginia, 7:00-9:00 p.m.