You'd think that on Thanksgiving day, I'd be welling up with heartfelt warm-fuzzies or could at least feign some kind of thoughtful riff on how good I've got it. But I'm struggling to find something to write about.
Now, I do know how good I've got it, really, I do. I'm so lucky to have the opportunity to pursue all the medical care I need (most of it holistic and off the coverage charts); to be getting well; to have two happy and wonderful children; to have a husband who is not only a great dad and funny dude but a supportive partner, creative architect, and successful bringer-home of bacon (see uncovered medical care above).
We've had the opportunity to do a great home renovation in a neighborhood we love, to have wonderful visits with family this summer and fall. My children have been able to spend time with all of their grandparents and lots of aunts, uncles, and cousins. I've gotten to attend some great conferences and talks this year, and my health and spirit continue to improve as a result.
My son attends a wonderful public school and my daughter has a lovely daycare/preschool. Even though I've only found the time to write about 20% of the pieces I'd like to write or thought I'd write, I am grateful to have had the opportunity to talk to interesting people and to write what I have written. I'm especially grateful that someone who doesn't even know me let me housesit for her so I could escape the chaos of my home for a weekend and start working on my novel. I'm grateful to have four wonderful co-leaders for my chapter of Holistic Moms Network and a great group of members, and I have so many other friends who have stuck with me even as I've been halfway checked out due to illness, moving or just taking on too much.
I am, indeed, a lucky gal.
But tonight, on a gorgeous fall day when I spent close to an hour driving because my daughter fell asleep too early, and then woke up too early, when I had only green juice smoothies until dinner because there was just no time to sit down and eat and I can't digest in stress, and when I feel like I'm getting a cold, I'm just a little shy on inspiration.
Maybe it has something to do with the fact that my husband and in-laws are watching Trading Spaces right now and I'd really rather be putting all the files scattered over my office floor up into the new bookcase we reluctantly bought from a big box store because I just could not do one more custom Etsy purchase and nothing was coming up on Freecycle or Craigslist, and my husband never got to pick up the antique thing I wanted because instead he had to go to the airport two days in a row to pick up the wallet I left there and then to FedEx on the third day to mail it to me. At some point, I just can't live with crap on the floor. Junk in waiting.
So, on day 22 of 30 of NaBloPoMo, when I'm all out of inspiration, here goes an attempt to squeeze something out of this cute photo of my toddler niece playing with her two closest-in-age cousins who are visiting today.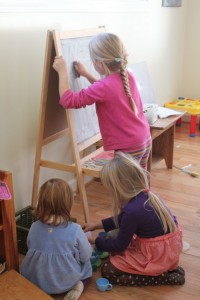 I was the youngest with a gap of almost 9 years between me and my closest sibling, and there were no cousins to speak of anywhere near my age. Once I neared age 20, the difference started to seem less significant, and my oldest child is just three years younger than my sister's youngest.
But still, as I watch my daughter and her brother, I become more aware each day how profoundly shaped I was — am — by being in some ways an only child and in others, a youngster who could never, ever hope to catch up to her older siblings, four who were born in five years.
My daughter, age two, is four+ years younger than her brother, with whom she has a great relationship and with whom she falls asleep at night. Seeing her with my husband's brother's girls, who are just 18 months apart in age, I see a relationship she won't ever have, and one I have a hard time imagining.
Sibling dreams
What must it be like
to talk over the pillow
with someone who wonders
the same silly things about the world,
who worries about nightmares,
who questions the same parents
or even the same grandparents?
Someone your height,
or nearly,
whose hands will always
be even with yours,
who thinks of your growth
as part of hers,
not slower, or ahead, or behind
but parallel
like two trains
running alongside one another,
splitting at some point,
diverging into different directions,
but always on tracks
that lead back
to the same station.
————
After casting aside my poetry hat for far too long, my NaBloPoMo plan is to write a poem — and to take and post a photo — every day in November, spending less than half an hour on both. The hope is to drill down, to focus, to look for and create beauty.
Previous Posts:
Day 1: Eleven One
Day 2: Shoreline
Day 3: Damage
Day 4: On Parenting and Sunrises
Day 5: When will we?
Day 6: Voting Line
Day 7: What I want my children to learn from me
Day 8: Haiku
Day 9: Reminders
Day 10: Routine
Day 11: Lux Esto, in moderation
Day 12: Family Photo Shoot at (nearly) 4o
Day 13: Siblings
Day 14: Point of View
Day 15: Background
Day 15: Greener Grass
Day 16: Journey
Day 17: From two to twelve
Day 18: Baggage
Day 19: Mothering, now and later
Day 20: Expectations