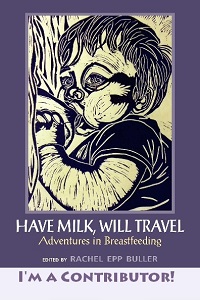 The hilarious anthology Have Milk, Will Travel: Adventures in Breastfeeding was published in August by Demeter Press (and reviewed glowingly by Literary Mama). The editor is heading up a Humor Blog Carnival this month. Details below!
The book contains some 30 essays from mothers sharing the funniest breastfeeding stories you've ever heard. Even if the stories share struggles, these writers have all managed to find the humor in their experiences.
Two of my essays appear in the collection. One was just plain fun to write, but the act of revising the other one in order to keep it upbeat enough for a call for papers titled "CFP: Comic Nursing Stories" was a healing act. I let go of some grumpier parts that didn't serve the piece in the funny version, and in the process, I let go of some of my frustration. Turns out that negativity without levity didn't serve me, either!
If we don't have humor in our lives as parents, we probably just have a lot of tears. And those don't look good on your face, especially if they're streaking through make-up, and even if they're just snaking a line through the dirt of the day.
I don't share a lot of photos of my kids, but here are a few old ones that crack me up:
What's funny about parenting in your life? What's funny about breastfeeding?
You'll have to buy the book — through Demeter, or at Amazon
— to get the stories in Have Milk, but there are tons more to share and be shared. I'm sure you have them!
So join the fun by participating in the Have Milk Blog Carnival!
Here are the details! Share the laughing love!
Humor in Parenting (and Breastfeeding!) Blog Carnival
Carnival date: Tuesday, November 19. Submissions due Friday, November 15.
How could we get through a day of parenting without the ability to laugh?
Celebrate the spirit of the hilarious new breastfeeding anthology Have Milk, Will Travel by participating in our November 19 blog carnival on the need for humor in parenting.
For those participating in NaBloPoMo: Score! Here is an opportunity to have a lot of fun. Or at least to talk about how important it is to have fun. You're welcome!
Posts can share anything that resonates with you about humor in parenting in general or specifically during the nursing years. Laughing while breastfeeding never gets old (though it can get messy).
General topics to consider include:
-the unintentional comedy of life with kids
-the intentional use of levity to defuse parent-child struggle
-how sharing humor with each other helps us make it through and know that we're not alone, including in person with friends and groups, online, in books, on Facebook. How does humor – and humor in community – get you through the day?
Contributors to the collection might wish to share reflections some months or years after originally submitting their essays. What's so funny about breastfeeding now that it's over? Or, now that you're doing it with someone else? How do your kids feel about what you wrote about them? How might your readers be surprised by the 2013 version of you and your kids compared to what you wrote?
Submit your name, link to your unique post, the post title and a one-sentence description of your post to rachel (at) ddtr (dot) net by midnight, Friday, November 16. (This is Rachel Epp Buller, the editor of Have Milk).
On Monday, November 18, you will receive top and bottom code for your post so you can share all the laughing love with the other carnival contributors.
Tweet with the hashtags #humorcarnival and #funnybreastfeeding and please share on Facebook tagging the Have Milk page at https://www.facebook.com/HaveMilkWillTravel
Follow the new Have Milk Twitter feed at @HaveMilkTravel