Although much has changed since this summer-fall recap post was originally written in December 2019, I'm backdating the post upon belated publication to reflect my reality at that time.
——
When I look back on past Novembers when I did NaPoWriMo – National Poetry Writing Month – I love knowing that I found joy in taking photos and writing poems. I'm not sure how I wrote a poem a day those two years, including when traveling to visit family. I do remember the times I quit because someone got sick.
I know that I was writing for my sanity, which felt like all I could do at the time. I'm glad and yet I also wish I'd put that effort toward a further end – submitting some of those works for publication or actually looking for work that would have positioned me differently for a life as a now-single mom.
I'm glad at least for Instagram, a way to take literal snapshots of time. That has become my place for reflection, for marking moments.
I share about things related to writing and the arts and to feminism and allyship at @jessicaclairehaney while @mindfulhealthy is a place I share adventures in wellness and activities specific to the DC area. Those posts go to my Crunchy-Chewy Mama and Mindful Healthy Life Facebook pages. I also occasionally tweet – @crunchychewy and @mindfulhealthy, but the visual is my preferred way to interact with the world.
I'm trying to put most of my writing energy into pieces that may find a home in the world. My novel is completed and is being pitched to agents while I work on adapting some of the chapters to submit as stand-alone stories. I have several flash fiction pieces I'm about to begin submitting and a few essays I'm working on.
The bulk of my time goes to my health and to my kids and, now that I'm finally settled from the move earlier this year, it's time to look more seriously for paid work to supplement – or expand – my tutoring and freelance work.
I'd still like to get down a few reflections, though, about the summer that has passed and the fall that is almost over.
Two weekends in July were particularly memorable: I met authors Jen Pastiloff and Abby Maslin at a terrific reading at Politics & Prose which was a terrific set up to the next day drive my youngest to a two-week sleepaway camp, eleven hours round trip during which time I listened to audiobooks and belted out 80s rock tunes and felt so excited for my kiddo to have what I could tell was going to be an amazing experience.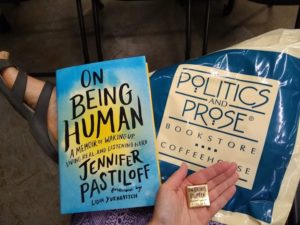 The following weekend, I saw my older child perform in a beautiful choir concert after dinner at which I got pretty upset by my ex. On Saturday, I went with a friend to the 1455 Literary Conference and the following day worked through my entire novel to make all the edits I'd noted over a period of weeks. That was terrific except that being inside all day at the conference in a black box theater and then staying inside to work on edits and avoid the hottest day of the summer nearly drove me insane. I got clear how important it is for me to get outside and connect to nature. Having a dog has perhaps done more good for me than I realized!
Later in August, we had a nice time on a short trip to Lewes, DE, including biking on Cape Henlopen, and then we went to a family camp where we were remembered for the previous year's karaoke of "Don't Stop Believin'" (and did a decent reprise, this time with "Try Everything" from Zootopia) and where my younger & I painted very different waterscapes in the arts & crafts shed.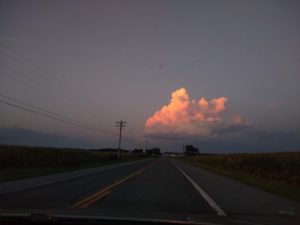 The summer included seeing Kira Willey perform and attending the opening reception for art teacher Morgan Norwood and poet Sally Toner's joint exhibit "Finding Home."
I love seeing my kids hear from creatives and get creative! The younger did a great job in musical revue camp. The older made a fun movie at filmmaking camp, did a great job in the school's fall play and is also participating in a wonderful chorus outside of school.
My teen and I also got to see the 20th anniversary tour production of RENT, thanks to a giveaway from Cook With 5 Kids blog. It was terrific!
The younger is enjoying visual art and plans to audition for all the community kids' theater productions. Both went with their dad to Maine where they spent time with cousins, enjoyed nice people (and apparently a lot of hot chocolate), and pretty vistas around their dad running his first half-marathon. The older took a while to recover from pretty intense cat allergies, so, while moods were decent, much of the fall felt like a health intervention. I was also busy with pursuing some testing toward a 504 plan, with mixed results, so that's ongoing.
I exercised more than I have in a decade, culminating in joyfully running a November race with my 9-year-old.
Thanksgiving week began with a field trip to Jamestown after which I enjoyed having time with my kids at my place for a few days that weren't school days. Then we all cooked a big meal together, their dad took them to a ropes course to #optoutside on Black Friday, and on Saturday, we made the (long! traffic-filled!) trip to Richmond to see a matinee of Hamilton, which was great. Then the best bonus gift was that a friend let me have her husband's ticket to accompany her to the sold-out A Chorus Line at our nearby Signature Theatre. It was terrific!
It was also a true delight to have the opportunity to meet Ruth Behar when the author spoke to my youngest's school at the culmination of their community read of her autobiographical novel, Lucky Broken Girl, for which my 4th grader made and painted a partial cast like the full body cast Behar wore for so many months after a car accident in her childhood.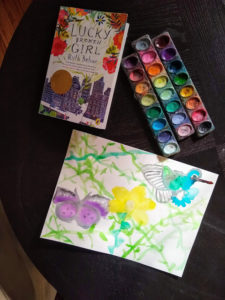 There was also the Maya Rogers' EP release party, the National Book Festival, Fall for the Book, a community community book talk with There There author Tommy Orange, Readings on the Pike and other author events plus the much-needed Remoxify, Women's Health and Wellness Day and Take Back Your Health Conference.
In between it all were lots of walks with the dog, yoga at home (one class in July is all!), a few healing modality appointments and several sessions with our mediator and family counselor and one particularly challenging appointment with a financial neutral. All of that has caused a considerable amount of questioning decades of decisions.
I've been struggling with an identity crisis for half a decade or more, so that's not really new, but having twice the living expenses now has kicked it into a higher gear. Through it all are concerns about my kids health and getting reports about my mom, who has been cared for by my brother and dad since her heart attack and quadruple bypass four years ago. She entered into a hospice situation this fall but has since improved in some ways while deteriorating mentally. So that's uncertain, and hard.
And yet, having some time alone – and not living in a constant criticism battle with a partner! – and some other lifestyle choices have helped with my anxiety somewhat. And the dog super loves me, which is cool.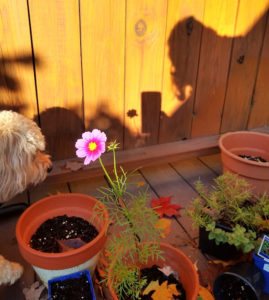 I'm still not sure what to expect from the future. I'm keeping my fingers crossed about my health and doing the minimum to stay above board, but were money no object, I'd repeat testing and try some new things, for the lingering symptoms and in an effort to shore up my reserves. I still have to budget my time wisely, to include rest time between busy days, and to never go to bed late.