I'm pleased to be a featured reader at the first EcoAction Author Night on May 21 in Arlington, Virginia.
EcoAction Arlington, the event organizer, was formerly known as Arlingtonians for a Clean Environment (ACE). The organization celebrated 40 years last fall!
I'm honored to be reading with Tara Campbell, author of TreeVolution, from which she will read, and the new Midnight at the Organporium; Beth Konkoski, whose poetry chapbook  Water Shedding was recently released; Rick Hodges, whose new novel To Follow Elephants came out in March; and Nancy Striniste, whose new book Nature Play at Home: Creating Outdoor Spaces That Connect Children with the Natural World is beautiful and inspiring and filled with wisdom all of us need, at any age.
I expect I will read from the first chapter of my novel-in-progress in which a young woman contemplates major life changes looking out at the Potomac River at Great Falls Park.
Eco-minded authors interested in reading at a future event can email office (at) ecoactionarlington (dot) org.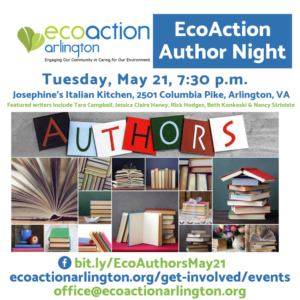 I attended Rick's recent book launch and wrote about Nancy's book launch event here on Mindful Healthy Life.
For EcoAction Author Night on Tuesday, May 21 at Josephine's Italian Kitchen in Arlington, doors open at 7:30 and the program will start at 8:00. Food and drink will be available for purchase. Check out Josephine's menu. See you there!