When my friend and neighbor asked if I would watch her son so that she could take advantage of a $5 yoga deal, I said, "How about I offer up my babysitter instead and go with you?"
I've been meaning to get to Old Town Alexandria's Radiance Yoga for a while, but it's just a little to far for me to want to suck up too much solo time I could otherwise use for writing, cooking, cleaning, resting or, now that we are renovating a house and preparing to move, researching tile and paint or packing! And I'm not feeling all that great, much weaker than last spring when I did my 10-day Yoga Challenge.
The prospect of getting to catch up with another busy mom, though, was as compelling as the potential bliss and healing power of yoga. Driving time without kids in the back means completing sentences!
So I checked out Radiance's schedule of special $5 weekday morning classes during the month of March, asked my sitter to take on another kid for two hours, and made it a date!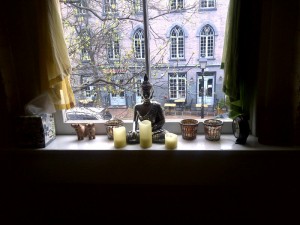 When standing next to a total yoga newbie, one experiences a class with fresh eyes. The centering, the intention-setting, the altar, the breath, the pose. This really is a beautiful tradition. I've missed it.
It was a lovely Gentle Flow class, with a perfect balance explanation and movement for new and old alike. Since I've been dealing lately with exhaustion and probably a struggling thyroid, I was not up for anything more vigorous. it's been hard for me to even want to keep up any kind of practice at home. This class hit the spot for getting me back in my body without any fear of not keeping up or overdoing it.
And yet, I'm actually a little tired now, maybe because the morning fog has risen only so high, keeping a grey cloudcover over a humid midday. So I've fired up the SAD light and made myself a cup of Rainforest Treasure Tea. I may even have a few drops of Camu Gold so that I can get through tutoring this afternoon. (Next week I'm meeting with an allergy elimination person and a medical intuitive who can perhaps tell me if these supplements are okay for adrenally-fatigued me.)
If I haven't overdone it and feel okay when I get up tomorrow, I am hoping to take advantage of the $5 class special to check out a Kundalini yoga and meditation class tomorrow. If the breathwork could do me even a fraction of the good I felt after Tommy Rosen's class last June at Wanderlust, that would be a real help.
If you're near Alexandria, be sure to take advantage of these $5 Radiance classes while they last (hint: March ends soon!). And if you're looking for something grander, check out my roundup of spring and summer yoga festivals.
Are there any other good yoga deals before DC Yoga Week begins in May?