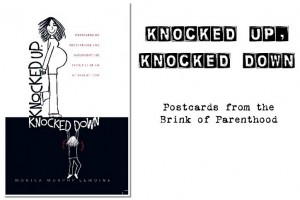 Monica Murphy Lemoine earlier this year published a "darkly humorous memoir of miscarriage and stillbirth" called Knocked Up, Knocked Down: Postcards of Miscarriage and Misadventure from the Brink of Parenthood. She'll be reading from and discussing her book at two local Northern Virginia venues later this week.
This woman has such a way with words. I can't wait to meet her in person! With her blog — http://knockedupknockeddown.blogspot.com/ — the online zine Exhale she started, and this book, Monica has done a lot for writing about loss and infertility. Her work manages to combine humor and poignancy with this challenging subject matter.
Here are the details for her upcoming readings:
1) Thursday, November 4th, 6:30pm – Rock Bottom Brewery, Ballston Mall (Arlington, VA)
2) Friday, November 5th, 7:30pm – The Bell Room at Alexandria's Westin Hotel (400 Courthouse Sq. Alexandria, VA 22314)
Monica is requesting email RSVPs sent to monica (at) monicamurphylemoine (dot) com if you can attend.