The Washington, D.C. area was treated to some glorious weather this past weekend, and audience members for the final SteveSongs performance of the week at Wolf Trap Foundation for the Performing Arts soaked it up! The Children's Theatre-in-the-Woods was the perfect place to be Saturday morning to listen to stories with storyteller Baba Jamal Koram and to sing along with SteveSongs.
Earlier this year I shared an interview with songwriter — and father of two! — Steve Roslonek. Check it out here to learn more about the man behind (or, rather, inside) the red shirt!
If you've never been to Wolf Trap's Children's Theatre-in-the-Woods, see how cool it is on this video on YouTube. This year, theatre has introduced day pass tickets that are good for both the 10:00 and 11:00 a.m. shows. They are a true bargain at just $8.
To enter to win a four-ticket pass, post a comment below by 5 p.m. Friday, July 22. Tickets are good for performances July 26-30 with the Maryland Youth Ballet and the Monumental Brass Quintet or for August 2-6 to see Secret Agent 23 Skidoo and the Wolf Trap Opera Company. Let me know in your comment which week you'd like tickets for and why. I will use a winner at random.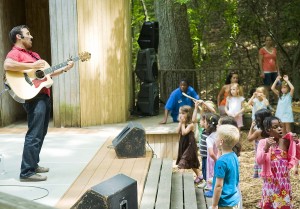 As for SteveSongs, he continues to be just about the nicest guy you might ever see on stage … or after the show. The man seems to have undying patience for signing CDs and DVDs, not to mention the fact that his on-stage jokes engage the parents as much as the kiddos. During a song about grumpy boys, girls, dads and moms, he joked that it was impossible to imagine that any dads might possibly want to be anywhere else on a Saturday than at a kids' music show.
But honestly, though I was worried that going to the concert would cause our trip to look at kitchen counter options to be truncated in such a way as to draw the ire of my spouse, it truly was a lovely way to spend the morning. Last year I was 8.5 months pregnant and it was about 20 degrees hotter with no breeze. This year, we enjoyed a picnic in the shade and throwing the Frisbee in the field while waiting to talk to Steve, who always has a smile for everyone.
Steve was traveling this time without his family, which welcomed a baby daughter about six months ago. He said being away was both easy and hard. It feels good to be happy for the success of a fellow parent who is so entertaining and talented. Thanks to Wolf Trap for putting on such a great show and for letting us come back this year, our third in a row!