I cannot wait for tomorrow's 6:30 a.m. yoga class. Seriously.
I'm tired and sweaty, and at 9:00 p.m., both my kids have just gotten to sleep. I have miles to go before I can.
But, when I look ahead at tomorrow, I think about crossing the Potomac just after sunrise and about arriving home at 8:00 a.m. after having been out of the house by myself for a glorious two hours filled with yoga and NPR. That sounds like bliss. And even if I have to drive the baby to get her to nap or her brother melts down after I pick him up from preschool at noon, I know I will come to any frustration upon a foundation of freedom.
So maybe I'm starting to get a little addicted to yoga. There are worse things, no?
It's surprisingly fun to have this daily dose to look forward to. It feels special, like the days of early pregnancy when you're sitting at a red light and suddenly remember you have within you a miniscule little secret is going to change your life in ways you can't imagine.
I do hope this little experiment results in some new habits, or at least new ideas about the possibility of developing good habits. I have always been one of those people reluctant to commit to always doing x or y on A or B day. But I know routine serves my son well, and I bet it would me, too. I mean, so what if the only thing I counted on as a kid was watching General Hospital at 3 p.m. ? You'd think that I might have evolved into some self-regulation in the past three decades.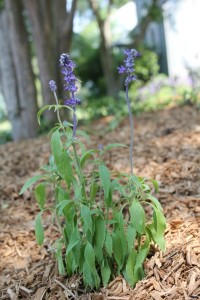 Today — Day Five of my 10-Day Yoga Challenge — was another Anusara-inspired class. Two other women were there to practice with the same teacher I had on Monday. The first down dogs again threatened to do me in, sore as I am from four days in a row of way more upper body work than I'm used to. But once we warmed up, I found bliss in each dog coming on its own or between poses.
Balance poses abounded today, connecting one half of my body and my brain to the other.  A good description or a well-placed touch makes such a difference. The teacher was generous in her adjustments, and, by softening the inner front of the back leg, I found a brand new openness in triangle and side angle pose.
Much of today's work came from spiraling legs in opposite directions and from rooting and reaching: opposite reactions serving one purpose.
Only when you're grounded can you truly reach for the sky.
The plants that wilted in this afternoon's hot sun later bowed in the wind and rain and then, when the skies cleared, sprang to life, blossoms open and wide.
The baby who was exhausted when I took her upstairs during the darkening of the sky smiled with wide eyes after nursing, uninterested in sleep and happy to return to the brightened-again downstairs.
As evidenced by the hyphenated title of my blog, I pretty much always feel more than one thing at a time.  I tend to act limited by too many choices or being "pulled in so many directions." What is nice is to feel those opposing reactions serving the same purpose.
This day, I felt integrated. I didn't feel leaden in my legs but fizzy in my heart. I didn't hungry but stuffed. I just felt full, turgid, consistent.
And so glad I have the chance to start my day with yoga tomorrow.
—–
What do you look forward to and why?
What does it take to fall in love with a habit or a routine?
—–
Other posts in this series:
Day One: The challenge begins!

Day Two: "Let your bottom blossom"
Day Five: "Root and reach"
Day Eight: "Expose your heart"