This election business poses a challenge for me.  Everyone is talking on Facebook about their hopes and fears, but, when I'm standing in my kitchen talking to my 6-year-old, I don't want to talk too much about politics. My son just doesn't need too much of the world on his shoulders. I wonder what truly Waldorf parents do or say (as opposed to watered down, public-school me). Do they discuss the merits of their candidate, the downfalls of the other? You don't have to be watching TV to know there is an election going on. I guess we could have lived in the woods for the past two months; how else can you avoid it?
I do care, and I want him to know I care. I was moved to tears when we went to Inauguration festivities eight years ago.  There is a lot at stake for things that matter to me. But when my son says things like, "I sure hope Obama wins," I feel less proud than I might have expected and more like he's just a parrot. When he sees the neighbor's yard sign and points out that they are voting for Romney, all I do is say, "Looks like it."
Yes, this election is a big deal, and yes, I care about the issues at stake. I do want my son to grow up sharing my values because, well, I value my values!
But I think I care more that he grows up understanding that people do not always agree. Heck, it's one of the reasons I have him in public school, so that he can be around people from many cultures who speak many languages at home and experience their lives in many different ways.
We have been gifted with such generous friends, family and neighbors of different political and religious beliefs. At this time of year, do I highlight – dare I even say celebrate – the fact that people make different decisions on election day so that my son understands there is no right/wrong, good/bad? I look forward to him getting old enough to engage in ideas. This is why I taught high school and college. I don't know how to talk to little kids.
As I sit in front of the TV listening to talking heads, here is the best I can do for a poem tonight, with a phone photo from my departure from the polls tonight.
Voting Line
The girl and boy behind us
did not have scooters
like we did
and did not go to the same school.
Both of our families
made a conscious decision
not to attend our default
and each of us picked a different place,
no doubt feeling certain, and lucky to get in.
The children are fortunate
that their parents had choices.
We all want to cultivate pride
and conviction
but just as important
is openness to seeing a spectrum
and finding a toddler's sense of magic
in the mixing swirls of
blue and red
into purple.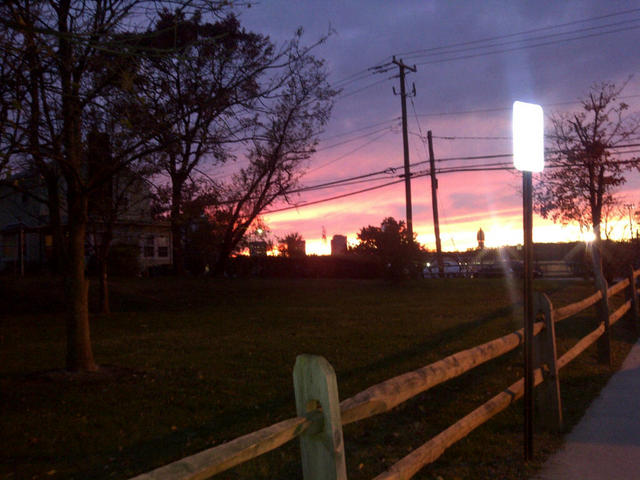 After casting aside my poetry hat for far too long, my NaBloPoMo plan is to write a poem — and to take and post a photo — every day in November, spending less than half an hour on both. The hope is to drill down, to focus, to look for and create beauty.
Previous Posts:
Day 1: Eleven One
Day 2: Shoreline
Day 3: Damage
Day 4: On Parenting and Sunrises
Day 5: When will we?
———————————————————————————
How do you balance conviction with humility and tolerance?