I'd already lost count of which snow day it was when I bought a registration ticket for BlogHer '14 in San Jose, California, the annual blogging conference's 10th anniversary year. There had been so many days that the weather had forced me to scrap plans to work toward the launch of my new site or on my Holistic Moms chapter's 5-year anniversary party. I wanted to want to be with my kids, but like every other Northern Virginia parent who has not achieved sainthood, I was pretty much done with unscheduled days off. The idea of spending 6 hours in a plane alone sounded like heaven. Attending the actual conference would be a bonus!
I never booked that plane ticket, though. I figured the event would probably sell out; if it didn't seem feasible for me to attend as the date got closer, I could likely sell the registration to someone else. Now it is seven weeks away, and I'm trying to figure out what to do.
I've attended the annual BlogHer conference twice. In 2012, when the conference was in NYC, it actually worked out for my sister in New Jersey to watch my children for about 36 hours before my husband picked them up and brought them home to be with them until I got back on Sunday. Sure, it felt kind of icky to leave my daughter on her 2nd birthday, and yes, my husband had to spend an entire Saturday and part of Sunday with two kids in a newly renovated and moved-into house that had no kitchen counters or dishwasher.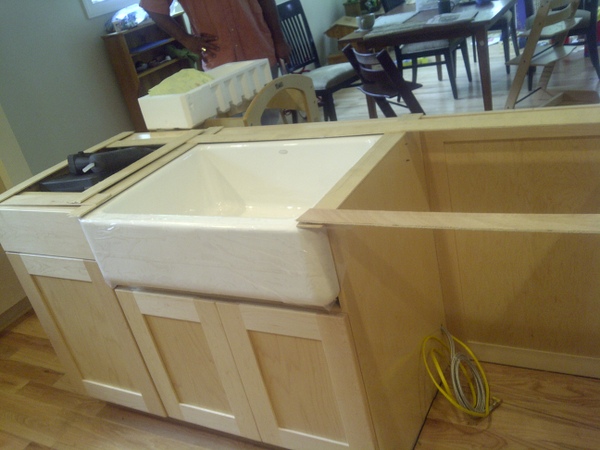 The timing and situation couldn't have been a whole lot more nuts. I'm not sure what they did that whole 36 hours, but I'm pretty sure it involved District Taco.
But still, it was mostly a fun adventure for my kids. For the first half of our time apart, they had my sister plus three tween and teenage cousins to play with them in the pool (which they can't ever do with me because of my reaction to chlorine). My sister sent me pictures of them having a grand time and lots of reassuring exclamation points. I sent my son pictures of the Wells Fargo stagecoach and me with The Lorax.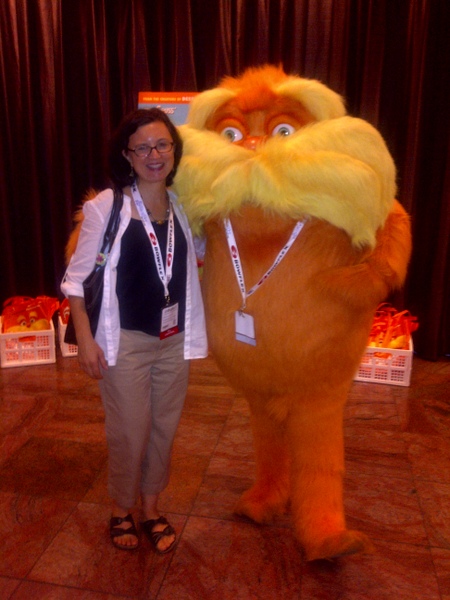 My son still talks about the restaurant meal he had that Friday night, when my husband met up with my sister so he could drive the kids home. We traded texts of green beans from my restaurant to theirs, and my son still says it was one of the best meals of his life.
I learned stuff, met people, spent some time alone, and read a lot on the train there and bus home. I knew I was coming home to unpack a new house and that I wouldn't have time to do much writing, but still, those three days were glorious.
Then in 2013, with the conference in Chicago and much of my family in the Midwest, I floated the idea to my other sister of possibly watching my kids at my parents' house in Michigan. With the knowledge that my brother would be on hand and that her kids were old enough to be of some help entertaining my younger ones, she took up the challenge.
On a Thursday morning in July, we went blueberry picking a mile from the house we lived in until I was 10 and she 19 and then raced to make my noontime train in nearby Ann Arbor. I was gone the rest of Thursday, and all of Friday and Saturday, returning to my parents' house around 11 p.m. to climb into bed with the sleeping children who'd spent time the previous two days playing with cousins and uncle and aunt, and fishing with their grandpa, and reading with their grandma.
I loved the train ride, I loved the hotel room, I loved learning from and meeting so many talented women. I loved being alone.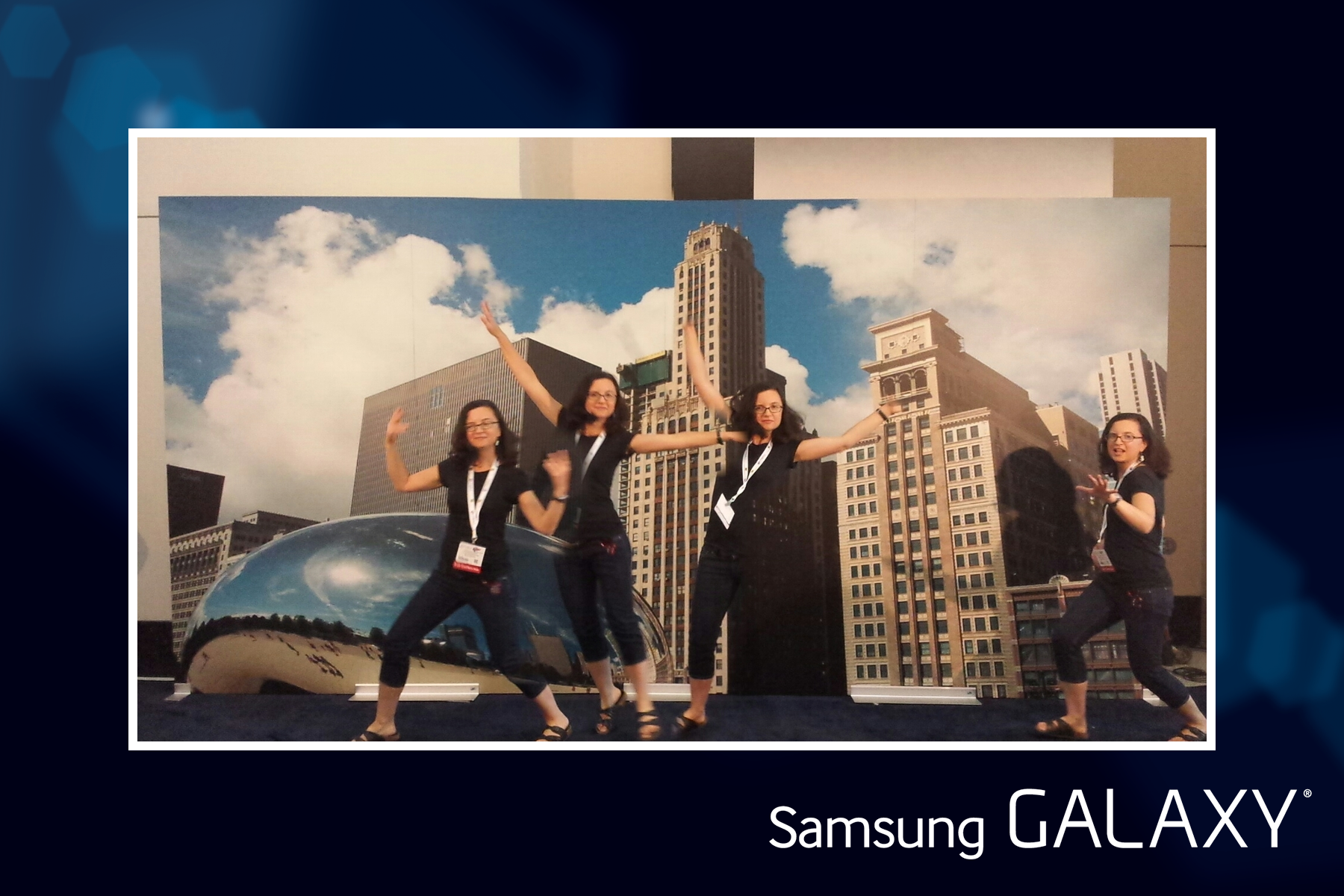 And I loved coming home to my babies.
Sure, there was some debt to pay on the other side in the form of a clingy toddler/preschooler for the following couple of weeks and a tired son. It's not like I didn't feel guilty (again). I did. But I also knew how good it was for me.
Plus, the timing set in motion by my desire to go to the conference also allowed us to have a big crossover with my other sister and to celebrate all the summer birthdays before I started driving home to Virginia with the kids. When my daughter sees a photo of that six-cousin and many-balloon day at my parents' house, she says, "I want to go there again!" Big crossovers are hard on my mom, so that kind of thing probably won't happen again. I'm glad it did last year.
This year? The childcare would be all on my husband's shoulders. He wasn't interested in making a family trip out of it; that would be a whole lot of money, and our daughter is rather young for her almost-four age and would probably not appreciate the trip. My son, I'm sure, would never forget standing the Redwood forest or seeing the Pacific Ocean, but it's no small feat to do all that stuff with two kids. Plus my husband would have to spend the two days I'd be in full conference mode solo parenting. I'd actually like to go on Bay Area outings with them myself, but I can't be in two places at once.
If I did go out there solo, it would be fun to try to connect with a few friends I have in the Bay Area, but it doesn't feel there would be a whole lot of down time to make that happen.
As it stands now, the week of the conference, we have the kids signed up for a outdoorsy/crafty/gardening camp my friend in the neighborhood is leading that runs 9-1. If I flew out to California, leaving on Thursday, she would probably watch them another hour or two and feed them a healthy snack for a little extra so that my husband could get in nearly a full day's work from home. But I would either have to take a red-eye back on Saturday night or lost almost all of Sunday in transit. Then I would want my kids to return to that morning camp on Monday so this time I could actually process some of what I learned and follow-up with people, unlike past years. It's only 4 hours a day, and we can walk there, but I worry they'd after my absence, they'd be pains in my friend's ass and really needy with me in the afternoons.
And I also worry about how much it would run down my husband watching the kids solo and run down me being away from home.  When you have a diet as restricted as mine, and a system as sensitive as mine, travel comes at a price. BlogHer has been pretty good about having gluten-free and dairy-free options for lunch, but there are breakfasts and dinners to worry about. I can't just eat whatever whenever, not without consequence. And I'm doing better but still have some sensitive adrenals, so the time change alone may wreak havoc on my system, to say nothing of a flight that leaves super late at night or super early in the morning. The best times and prices are to San Francisco, but then I'd have to get to San Jose.
Also, it seems a little crazy to go all the way out there and not see the Redwoods or the ocean or anything that would feed my soul at a visceral level. But it doesn't feel right to take extra time without my family when my daughter isn't even four yet and there is no other family to help my husband. We are not flush with solid babysitters right now, either.
Plus, it's not like there aren't other blogging conferences closer to DC. There are. But there are lots of other competing interests for fall weekends, which are already getting booked up. And again you have the issue of a quick turnaround. The idea of sending my kids to school on Monday without my having come home Sunday just seems beyond comprehension.
BlogHer is in the summer, and it really is very cool, I know from experience. I've loved being in a giant ballroom with other women writers while the likes of Katie Couric and Sheryl Sandberg have been interviewed and to hear my friend Kim of I'm Not the Nanny introduced by Queen Latifah, who emceed last year's Voices of the Year. Collective laughter in the presence of such intellectual power and influence is truly something. I've been reading Arianna Huffington's new book, Thrive and would, I'm sure, be beyond inspired to hear her speak in person.
What else do I stand to gain if I go to BlogHer '14? A lot. Now that I finally have a real website I want to seriously exist in the world and succeed, I would network on a whole different level, more like the way I've successfully connected with people at local health and green living events.
With the conference in Northern California, I'm sure I'd meet loads of people and businesses that might blow my mind and perhaps lead to a more successful business. I've soaked up a bunch of information over the past two conferences from business-related sessions but would now make the most of them and their networking opportunities. And it could not hurt to get some tech tips, too.
Finally, now that I have a partial draft of a novel, I would take advantage of the writing track and try to really make some connections that might lead toward publication, and at least to smart revision and marketing. Nowhere in here is the word "party," which is how my husband described the conference to someone else, much to my chagrin. I really am trying to build a future, and a career, even if it feels like it's happening about as fast as the Grand Canyon got created.
And it didn't cost the Colorado River any money to carve out the canyon. By contrast, it would cost me at least $600 just to fly (probably more for times that didn't suck), and then there'd be hotel room for probably three nights plus dinners and other snacks that I'm sure would add up to a couple hundred dollars. Then there's the hotel for around $150/night if I splurged to stay alone like I did last year, so that's another $300-500. The conference registration was around $400.
So $2K is a pretty significant investment for someone currently earning nothing but still spending a lot of money on holistic health pursuits, not to mention what I've spent on building the website. And a big part of my doubt is how much I still want to follow up with people from past conferences. Why go to something to get further behind when I can't even catch up from the past…?
If I can't get a weekend alone in my home and if I am going to take it upon myself to disappear for a short time this summer, I'm starting to think I should probably just go on a little mini writing retreat to flesh out the holes in my novel and maybe do a little yoga. I could spend a fraction of the money and energy and just have a few days of alone time this summer, maybe during the week the kids will be at full-day camp so I don't have to miss a weekend. I'd leave on a Thursday after drop-off so there would only be one day's worth of lunch to pack… Maybe  I could even house-sit for a friend like I've done before…
All of the above was written before I went online to check out the BlogHer conference schedule.  Now that I've looked at the line-up — and also read some great posts on the main BlogHer site — I'm back to considering how I can make this work. I want to be part of this community, and not just half-assed anymore. What kind of flight times might not seem crazy and energy-zapping? How much am I really willing to spend on a plane ticket? Could I find a sitter in the next seven weeks who could help out and make it seem like not such a big deal that I'm gone for something like four days?
Thirteen years ago, when we bought our first house, I was the one to say: "If we get outbid by a few thousand dollars, how mad are we going to be?" There were five other contracts, and they told three of us to come back with a revised offer. That "just do it" reasoning probably changed the course of our lives; even my husband has said it was one of the better financial decisions we've made. The house had nearly doubled by the time we sold it in 2009 to buy a larger home in the neighborhood, and that purchase then put us in the position to be able to buy this house in 2011 when its as-is, near tear-down self presented us with the renovation opportunity of a lifetime.
So maybe I should have faith that a couple hundred dollars and some energy and logistical hassle right now might somehow come back to me in the long run? It's a story I've already told myself a bunch of times when I've invested in other conferences and opportunities, but maybe this is the year I decide to really believe it.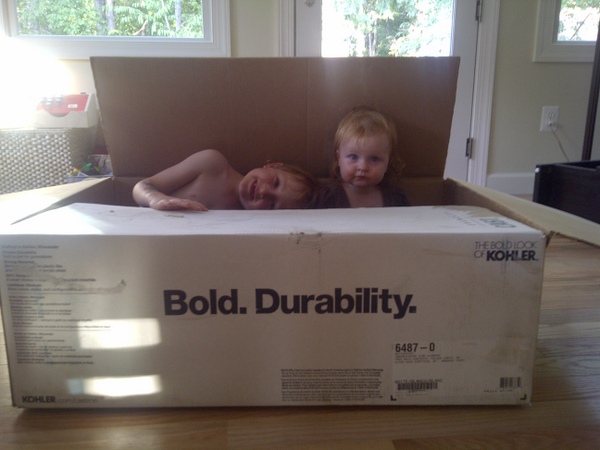 What do you think? Should I stay or should I go?