After casting aside my poetry hat for far too long, my NaBloPoMo plan is to write a poem — and to take and post a photo — every day in November, spending less than half an hour on both. The hope is to drill down, to focus, to look for and create beauty.
See below for links to previous entries including Day One about why poetry?
Although it has been my intention for some time to start going to bed early and getting up early, it seems that even when I do, morning is not the time I feel like writing unless the scenes have been percolating for days or weeks and are all but fully formed, just waiting for a quiet moment to release themselves onto the page without interruption. That is for the novel or prose, though.
At then end of this fourth day of writing poetry, I have a hard time thinking that I will switch over from writing poetry at night to writing it first thing. So far it's been something to gnaw on during the day and produce at night. And I've been taking new photos each day, so it would be hard to get much interesting photographed before dawn! And goodness knows no poetry is going to get written while I'm making everyone's breakfast, getting lunches packed, putting away last night's dishes, possibly starting that evening's dinner, preparing remedies and supplements, sweeping the floor, and maybe trying to do some breathwork or yoga.
Tonight I was stood up by my first tutoring appointment, but since there was a chance he might show up late, I didn't call the second appointment to start early. Instead, I worked on a synopsis (think back cover) of the novel I'm writing to see if I could pinpoint what it's about. And I wrote this poem thinking about this morning's sunrise photo shoot. And about my children.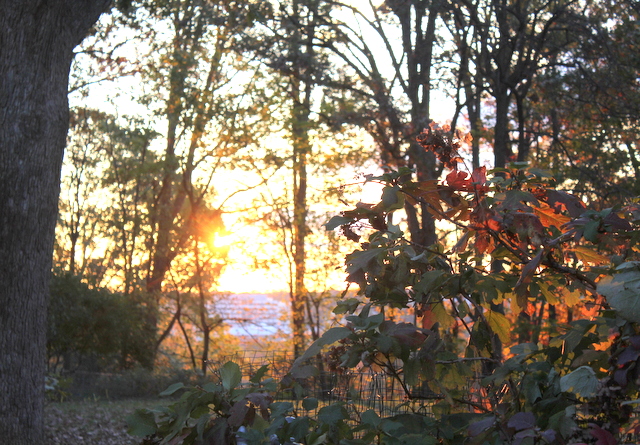 On Parenting and Sunrises
What shines is remarkable
for what it reveals
outside itself
For the glow it brings
to what is nearby,
when those leaves
or that cloud
or your face
appears to warm,
to stretch into a smile
We are forgiven
if we sometimes
dismiss the light itself
to brood over
the brightened path in its wake
Previous Posts:
Day 1: Eleven One
Day 2: Shoreline
Day 3: Damage