Welcome to the January Carnival of Natural Parenting: Learning from children
This post was written for inclusion in the monthly Carnival of Natural Parenting hosted by Hobo Mama and Code Name: Mama. This month our participants have shared the many lessons their children have taught them. Please read to the end to find a list of links to the other carnival participants.
***
It almost goes without saying that my son has taught me about living joyfully, living in the moment, and living as though every detail in the world were worth exclaiming over, lessons I forget and re-learn daily.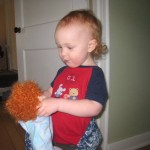 But what he's really taught me is about me.
It's not that I was new to introspection before he came along. I've written plenty about the various roads I went down pre-child to deal with my issues and get healthy in my head and heart: talk therapy, craniosacral therapy, emotional freedom technique, flower essences. I always considered myself a pretty self-aware gal, almost annoyingly so.
But. Then I had a child. Plenty of books talk about needing to get in touch with yourself in order to be a good parent. And plenty of people probably find ways other than parenting to really explore their own complexity. Still, there is something special about having a being that is a product both of your nature and your nurture, something that screams: "So that's who I am!"
Some of the things I've realized about myself have been surprises, but most have been frightening confirmations.
I talk a lot. This I knew. But hearing the never-ending stream of narration from my toddler then preschooler's mouth. It's not just a phase. He's using my words.  M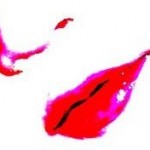 y gestures.  My inflection. I even titled my first blog "Mama's Mouth" because he had a replica of mine, both in shape and in spirit.
I am messy. I do not live a ritualized, orderly life. My son has inherited and/or learned to copy my hoarding tendencies and my failure to put things away in a logical place when we are done with them. Yes, this is the opposite of a Waldorf approach, and yes, we're working on it.
I am judgmental. Not in a scary way. But when I hear him — with a finger-wag in his voice — spouting about how someone biking without a helmet is not safe or that someone shouldn't eat a certain food because it has chemicals, I cringe. He's been learning a bad/good dichotomy from me that I don't want to be a part of our lives. Safety is cool, and good nutrition is great. But telling people what they should and shouldn't do? Not so much. The more bossy his four-year-old self gets, the more I remember being that obnoxious girl in preschool who told her classmate, "There's no such word as 'buyed.' It's 'bought!'" Notice I said classmate, not friend. My haughty 'tude never made me all that popular.
I am sensitive. The more I write, the more it sounds like I've been stunted at the developmental level of a four-year-old. But when my son stomps his foot, or says he wants something NOW, or falls into sobs on the sofa, I know just how he feels. I can remember doing the same thing at his age, and I've spent the intervening 33+ years trying to figure out more appropriate ways to channel the same frustration, sometimes more successfully than others. My heart broke like a Christmas ornament when he came home bleeding from a sledding accident, telling me his friend's parent said "it would be the most fun run" and that the third parent on the scene was supposed to keep them safe but didn't. I'm not sure when or how I'm going to get over watching his faith in adults drip out of his mouth.
I am a singer. Never a soloist, I've still always been someone who likes to say it with a song. I remember lyrics like nobody's business, and making up new ones is a specialty. I'd forgotten this until Junior came along, and it was like I rediscovered an old friend in my new and returned singalong self. Now that he's doing the same (all. the. time), I'm reminded to call on that self with his baby sister, who tends to get me more often distracted than channeling my inner Ani DiFranco.
I am loving. The sincerity with which my son tells me he loves me at least once a day gives me a clue that, despite all of the above, I'm not doing so bad. He seems to get supreme joy from sharing his feelings, making his love known. That won't always be the case, I'm sure, but I don't think he'd say it if he didn't hear it, really hear it, from me.
I can make a positive difference. The baby is the best teacher of this right now. When I'm just muddling through, trying to get dinner made or get the boy run around while it's still light out, I catch my five-month-old daughter just staring at me with her big blue eyes. All I have to do is smile at her, and she'll smile back. Wiggle my hips and she'll giggle. Clap my hands above my head and she'll laugh.
Then, and when she's crying in her dad's arms but stops the instant mine take over, it's those times I know that I'm not just a broken mom passing her bad habits and quirks onto her children. I'm someone who can create joy, soothe spirits, warm hearts.
—-
See also this post about watching parents lost their cool at the zoo; at the end, I list some books that discuss how learning about yourself helps you become a better parent. And how to deal with all those issues you carry from your own childhood so they don't become your kids' issues, too!
—-
What is the most profound — or the simplest — lesson you've learning from your child, or just from parenting?
Or a lesson from a parenting book that made the biggest difference?
***
***

Visit Hobo Mama and Code Name: Mama to find out how you can participate in the next Carnival of Natural Parenting!
Please take time to read the submissions by the other carnival participants:
(This list will be live and updated by afternoon January 11 with all the carnival links.)