Background
When a November sky is kind,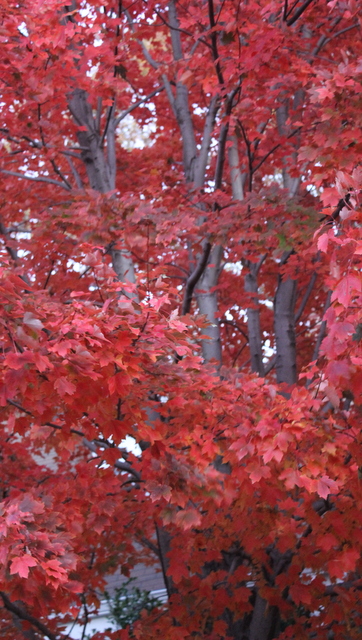 a maple tree is brilliant,
spreading its red royally,
like a regal bird preening.
But when that side smile
of blue sky turns cold,
a resentful shade of grey,
the leaves mimic an angry stop light
and remind you
of old blood on a dishrag
that you didn't wash
until the stain had set
so you threw the cloth
into the trash
——
Another photo from Tuesday gave me this poem, which I just wrote after returning from a Holistic Moms meeting. Trust me, I did not want to write when I got home. I just wanted to go to sleep.
So I'm thankful I had a photo — one I didn't use yesterday — to prompt me as I drove home.
And I'm glad I had a commitment to myself so that I'd actually write!
15 days down, 15 to go!
—————
After casting aside my poetry hat for far too long, my NaBloPoMo plan is to write a poem — and to take and post a photo — every day in November, spending less than half an hour on both. The hope is to drill down, to focus, to look for and create beauty.
Previous Posts:
Day 1: Eleven One
Day 2: Shoreline
Day 3: Damage
Day 4: On Parenting and Sunrises
Day 5: When will we?
Day 6: Voting Line
Day 7: What I want my children to learn from me
Day 8: Haiku
Day 9: Reminders
Day 10: Routine
Day 11: Lux Esto, in moderation
Day 12: Family Photo Shoot at (nearly) 4o
Day 13: Siblings
Day 14: Point of View