I did not get a post written in time to participate in the November Blog Carnival of Natural Parenting in part because I feel like I no longer do such a great job at getting "kids in the kitchen," this month's theme. We were great at it when my son was two and three, and now — at age 5.5 and tired after a long day at public kindergarten — he doesn't feel like helping out as much. It's all I can do to keep the baby out of harm's way and get a meal (all from scratch, by necessity!) made before dark.
But then the boy decided he wanted to make a concoction in the Vita-Mix the other day. He whipped up kale, red pepper, salt, basil, olive oil and water. I was skeptical but figured we could try this raw "soup."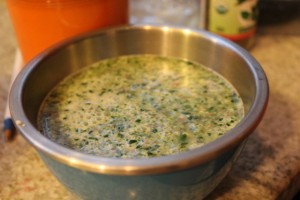 Color me surprised that it was delicious!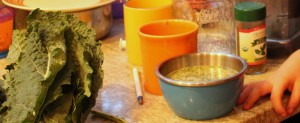 We used it like a dip or sauce, and my son happily gobbled up the salmon and veggies he poured it on. He's never been a fan of pesto (unlike his baby sister), but he loved this, sans garlic. I am still not clear on how much raw kale I should have with my thyroid disorder, but it sure tasted fresh. I added some to my raw juice the next morning and felt the chlorophyll boost!
He had a great time while I worked on other dinner prep, we enjoyed something new and healthful, and I got out of my comfort zone. Couldn't have planned it, can't count on when it will happen again, but what a delight!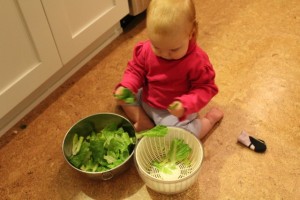 Oh, and now I know that sorting lettuce will keep his sister occupied for a good long time. Especially if it goes on the floor and we start the rinse & spin cycle all over.
I wasn't part of the carnival, but here is some link love for the participants!