Being pregnant in the summer is a different experience than having a baby due in March. My body is really out there. And I mean out there. But still, people have been pretty nice.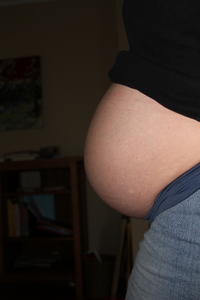 One friend complimented me on how good I looked and then made the analogy: "like an olive on a stick." I liked that better than the "did your mommy swallow a basketball?" question in the grocery store.
As I was walking away from dropping my son off at day camp, another parent rolled down the window of her car to say: "You look great! I'm an obstetrician and I would have had no idea until you turned the corner!" I replied with a thanks and "Two weeks left!"
Because it was super cheap and super close to my son's camp, I bought a month trial to a gym through a Living Social deal and ran into a friend who is a member. "I'm impressed!" she chirped about my working out at 38 weeks pregnant. "You can even hold a conversation!" she noticed while I ellipticaled.
I went to a bellydancing Moms Night Out with my Holistic Moms chapter, and, when we danced in a line, my friend commented that she couldn't even tell I was pregnant from behind.
So, despite the fact that I think my face is super puffy looking and my wrists are tingling and numb, if not painful — while I hold the phone, while I chop vegetables, and a lot during the night — it's nice to get some positive feedback from the outside world on this body that is carrying an extra third of its normal weight.