The first time I heard of the Weston A. Price Foundation was the day after Thanksgiving 2003. My face was full of acne, my belly was full of gas, mind was muddled, and I hadn't had a period in almost three months. Not exactly the picture of health.
But I was still offended when the nutritionist I spoke to suggested that my vegetarianism — near veganism — might have contributed to my gut and skin problems, my fertility, and my depression. How could this woman call herself a nutritionist? Meat was so bad, I thought.
Still, her five-month pregnant belly and her regained health after years of chronic fatigue syndrome convinced me that her wisdom might be valid.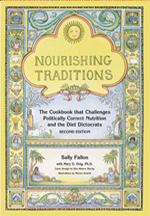 Although I wouldn't actually purchase Sally Fallon's Nourishing Traditions cookbook for another three years, I did start to eat eggs and full-fat dairy, and I stopped eating soy for breakfast, lunch, and dinner. I ovulated two weeks later and began having regular cycles from then on. Soon after, I started eating meat again, and my health improved.
A traditional diet, I believe was key to my healing, including from the the thyroid disorder I was diagnosed with just after that meeting with the nutritionist. Now, eight years later, I have two children and a much better sense of health and wellness.
I'm so grateful to have learned about this approach, and it's wonderful to see so many people writing about this way of eating, including Kelly the Kitchen Kop and Jenny at Nourished Kitchen. One of the other top Real Food bloggers is Kimberly Hartke of Hartke Is Online! Kimberly also serves as the publicist for the Weston A. Price Foundation, and she'll be speaking on September 15 to the Arlington/Alexandria chapter of Holistic Moms Network. Her talk, "A Respect for Tradition: How Looking Back Can Show the Way to Wellness" will address some of the following questions:
How can the wisdom of traditional diets address modern-day health concerns?
What connections between health and nutrition did pioneering dentist Weston A. Price find when he traveled the world in the 1920s, and how can we benefit from what he learned?
What is so great about raw milk?
How come obesity rates started rising when low-fat diets came on the scene?
What are healthy fats and why do we (and our children, especially) need them in our diets?
The presentation will be the focus of the group's September meeting, which is 7-9 p.m. at 716 S. Glebe Road, Arlington, Virginia on Thursday, September 15, 2011. For more details, visit the Holistic Moms blog.