In the past two days, I've actually done two things I really wanted to do and done them with joy.
I spent the day at the Natural Products Expo East where I talked with some truly inspirational people about amazing products.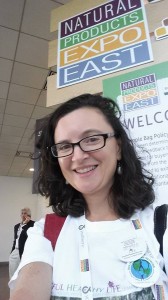 And I talked with moms and other local leaders in the holistic parenting community at the Beloved Yoga Love Your Baby Health & Wellness Festival.
The fact that I felt well enough to do both things back to back is something I am meeting with gratitude. I am not deluding myself to think there is not still healing work to do, and I'm still itching to write a recap of all the changes I've made since January. But I don't want to let this happiness go by without thanking it in the moment!
I'm grateful to all of the folks who have believed in me and my vision(s!) over the years and especially to the seven incredible women who are coming on board as contributing writers for my website, Mindful Healthy Life.