I met my future husband at a dorm room party on Friday, April 24, 1992. Twenty years ago today.
"You were babies!" people exclaim when I tell them this. Yes and no. I was 19, he almost 21. We did, in some ways, grow up together.  We've seen the world change together, from days of waiting for letters in the mailbox to texts moments before we walk in the door. It's hard to believe it's been 20 years. Sometimes I feel like we are exactly the same people, and other times, when I think about the details of our courtship, I have to admit that my life today is many moons removed from that one.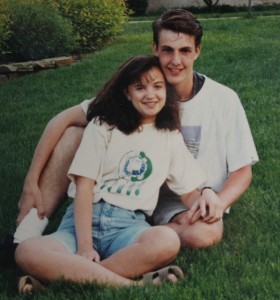 The night I met LJ, I'd earlier been out to dinner to Olive Garden to celebrate the birthday of a new male friend. B and I had met just a few weeks earlier, at the beginning of the spring quarter at Kalamazoo College where we were both first-year students. I wandered into my friend Hannah's suite in the newly remodeled Severn dorm while B and a group containing some folks I knew and some I didn't were going around saying nice things about one another. He said my lips looked "kissable." As someone fresh out of a year-long relationship with a high school beau, the attention of college guys were something I'd just opened my eyes to.
A few weeks later, on April 24, I went along on a group outing to the mediocre meal spot and gasped at the prices of what appeared to me then as fancy entrees. I opted for the plain marinara pasta after I realized I could fill up on the table's free bread and salad. Kissable comments aside, this was a group thing, not a date with B. The thing that made it special was my actually getting off campus and getting out with new people instead of pining in my dorm about my jealous (newly ex-) boyfriend back home, still in high school.
Still, it was spring, and though I was not looking for love, my newfound freedom was apparently attractive. Not only had B shown an interest, but I was also going to have a date the next night with a basketball player a year older than me. What a 6'7″ guy would want with a 5'0″ girl like me, I had no idea, but I was ready to branch out!
There was a new group of girlfriends I was trying to connect with now that I fully planted in college and had lifted my boots out of the mud of my previous relationship. It was through the Outward Bound-like program I'd done at the beginning of the year, Land/Sea, that I met one of these women, a gorgeous creative spirit named Ivana. I met up with her and her roommate, Denise, and some other friends of theirs who  looked beyond my frizzy hair and the nerdy rayon shirt I was sporting from The Limited — hunter green, with gold and green buttons down the front — and let me pre-party with them before we headed over to Severn for a suite party next door to where I'd met B.
Not a whole lot of details stick out about that night after that. I know people were selling beer behind a makeshift counter in the far back bedroom, and I went to get at least one. But the rest of the evening, my butt was pretty well glued to the wooden framed dorm couch, sitting next to LJ. A junior just back from study abroad in Germany, he'd happened upon the first-year party with some friends because there was nothing better to do. It was a small school with a subdued nightlife.
He and I spent much of the night sitting next to each other on the boxy cushions of that couch, looking into our dark brown bottles and sharing the darkness of our souls. His parents were just splitting up, and I shared how my (so young!) life had been shaped by my older brother's suicide five years earlier. Not exactly flirtatious material.
But it stuck. He walked me home across the quad in the chilly April air, and we hugged goodnight on the steps of Dewaters dorm before he headed to neighbor Trowbridge Hall. I figured that would be it; we'd shared a connection, we knew each other better than we knew some of our friends, but this was not the stuff of romance. And I was on the rebound anyway. Too early for anything too deep.
Sitting alone at breakfast in the cafeteria the next morning, I felt a little funny as he walked by, tray in hand, alongside another woman. (This was also the season of defining myself as a feminist, so my classmates were no longer "girls"). Smiles were exchanged, and I think I might have passed him later that day while he was playing frisbee golf near my dorm room. I do know the day was grey, and I know that later that night I had an innocently awful date with the basketball player. We rented White Men Can't Jump. I probably don't need to say anything more, but it's too tempting not to add that he made me pizza with pepperoni, not realizing I didn't eat mammals.
Rather than accept his offer of staying over in his extra room, I drove back to campus mostly sober and to answering machine messages from Ivana who told me that LJ from the night before had been wearing a funny hat and looking for me. She said he seemed disappointed that I was on a date. She didn't know a lot about him except that he seemed nice, and she thought he'd been on Land/Sea, too. So our start was build on somewhat false pretenses. I thought he, too, had hiked through the Ontario wilderness.
It wasn't long before I learned that he hadn't and that I got a chance to learn a whole lot more about him. He found me that night and we chatted in the florescent light of the "lounge" in my dorm, an underutilized square of cinderblock walls that looked like a place furniture went to die. I wonder how the green and black stretchy sweater I was wearing would look now. At the time it seemed clingy, but in an age just after oversized was fashionable, it's hard to know.
Our first date soon after was a trip to Meijer's so I could buy deodorant. The next time I bought tampons. I didn't even really consider that he'd flinch, and he didn't. We had dinner at Pizza Hut and Burger King. This was all on my dime, our excursions in my car with my new feminist bumper stickers. LJ hadn't much worked, and his folks were fighting at each other through his finances. I was buoyed by parental allowance and my own earnings from summer jobs.
LJ made me a mixed tape of jazz and I didn't really know how to appreciate yet, and I took him to see Tracy Chapman. When tickets for U2's Zoo TV concert went on sale, I stood in line at a Harmony House back home where I ran into high school buddies. We all bought tickets in a block together, me musing I hoped I would still be with this boyfriend when the concert came around in September, something like three months and what seemed like a lifetime away to a 19-year-old.
I was still with LJ, after a summer of visiting LJ on campus for K's then-year-round calendar while I was living at home and working at the now-defunct F&M drugstore. I used to buy I bought discounted Entemann's goodies to bring for my weekend visits to Kalamazoo. At the time of the U2 concert, LJ and I both were sick with bronchitis, but we went anyway and watched Bono talk live to the MTV awards show.
We spent the fall together on campus and then most of the rest of our relationship long-distance, through him graduating in 1993 and me going to France for six months. LJ visited over Christmas, and when we fell asleep to the smell of a honey candle I'd bought at a farmer's market in Lyon, I knew it was his arms I wanted to spend my life in.
After that, I found a way to take my summer off so I could live with LJ and work, and be involved in my sister's wedding preparations.  I also got myself a student-teaching job in Ann Arbor the next winter, so we lived together then, too.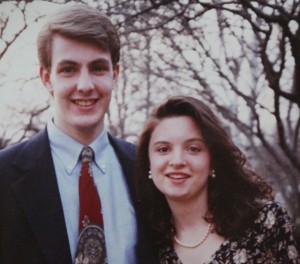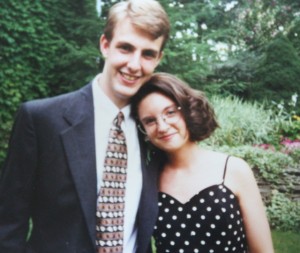 But meeting someone at 19 seemed too young for forever. So after I graduated in 1995, I set off for Washington, DC to work at the Feminist Majority Foundation. LJ came out for our big conference, Expo '96 for Women's Empowerment and brought my underslept and overworked self a lot of food from local restaurants. He'd moved to Austin, Texas, and was working for the central offices of Whole Foods Market even before they opened a Bread & Circus in DC or eaten up all the Fresh Fields stores.
He transferred to Chapel Hill so we could have a year of living only 4 hours apart, and then we moved together to Cincinnati so I could pursue graduate degrees in English and Women's Studies. I started to think of marriage an arcane and sexist institution, and watching my sisters with their kids did not inspire maternal instincts.
After a few months working at Joseph Beth a super cool independent bookstore, LJ got himself a consulting gig and started to ride the dot-com bubble, jet-setting across the country and living out of hotels. While he built up his bank account and filled our cheap apartment with furniture for then-little-known Room & Board, I was reading and teaching about social justice and finding myself wondering if we were headed in different directions.
But we planned to move back to DC, where I started teaching in 2000. The transition hit me with a severe bought of depression. When LJ communicated his intention not to live like that forever, I got motivated to get help. Within months of getting on medication, I felt like a better version than I'd ever known of myself. Our landlords said they intended to sell our apartment. We decided to buy a house together, and while we were at it, I said, we might as well go ahead and get married. The meds helped me see both the forest, and the trees, and even the leaves, and I knew I wanted to be with LJ. So we put in a contract a month before LJ got laid off and began planning a wedding and 10-year-anniversary celebration for the following summer, to be held near our new home in July 2002.
LJ was unemployed and home painting the house when 9/11 happened. I called him from my classroom at school, and we went to an Ethiopian restaurant that night, pondering our future just miles away from the Pentagon. We'd met just weeks before the Rodney King verdict and LA riots set off a "Day of Gracious Listening" on our campus and protests, undoubtedly, nationwide. All the major historical markers of my adult life have been shared with LJ.
LJ benefited from the post-9/11 unemployment extension and got a job just before our wedding, which we did a little on the cheap but had a lot of fun. It made me sad that none of the girlfriends who'd been around when we met could attend and that two of LJ's friends didn't make it, dealing as they were with divorces of their own.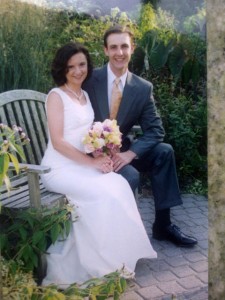 We had a wonderful time in spite of missing company, and it was great to celebrate a decade of togetherness. Still, it was a lot to plan for a wound-up gal like me (no J.Lo event planner in the budget!), and between the stress of that, the bigger crises of 9/11 and the DC-area sniper scare the following fall, combined with the day-in-day-out craziness of teaching high schoolers in crisis, my health started to suffer. My history of medications and a diet that wasn't suited to me contributed to my finding myself in a bad way in 2003. Just when we were ready to start a family, I started to get depressed and anxious. My thyroid was out of whack, my gut was a mess, and my periods were nowhere to be seen. It was not pretty.
On my journey to heal it holistically, I learned I had celiac disease and was intolerant of dairy, too. Research and consultations with alternative health practitioners and mainstream docs alike became a part-time job. Although I was earning a decent wage, what with two master's degrees and four years in the school system, it was a good thing that LJ had found his way back to employment that put teacher salary to shame. From a rough place to a healthy one cost a pretty penny.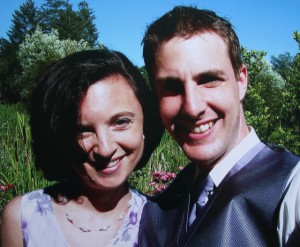 In 2004, I was much improved. One weekend we attended the standout Napa valley wedding of our best man, who married his Kalamazoo sweetheart, and the next weekend we went to Colorado for another classmate's nuptials. The former included lots of reminiscing, and the latter, not so much. LJ had been that friend's best man at his first wedding to the woman he started dating the same spring LJ and I got together in 1992. What a blast that first wedding was in 1994. How bizarre to refrain from "remember whens" a decade later at the celebration of a new pairing. And humbling. Take nothing for granted.
When LJ's mom remarried in 1995, she changed the date because I had a college friend getting married that same weekend. That friend, too, has since remarried. There have been moments I've wondered if LJ and I could make it. After my health had improved by our conception prospects looked uncertain, we started going to counseling, ostensibly to get support for dealing with potential infertility.
We got pregnant a month later, and have been riding the parenthood rollercoaster since. With both kids, there were months in the postpartum year when the lack of sleep and the trippiness of hormones converged to put me in great doubt about our future. We are not always the partners we want to be to each other.
Last fall, when it became a possibility that we could buy the house next door and renovate it exactly as we wanted, I knew it was his dream come true. His college application for Kalamazoo said he wanted to be an architect, to go to the 3-2 program and finish up at the University of Michigan after getting the best of the small liberal arts college experience. He didn't pursue that path, but the desire to design remains.
And for us, the opportunity to take a look at how we live in our new family of four and shape a nearly identical home to suit that was an opportunity we could not pass up. So, for the past several months, we've been looking at our space and our habits and spending every waking moment thinking about what makes sense, what will be beautiful, and what will make us and our kids happy for years to come.
Although I've all but checked out of my friends' lives in recent weeks and have spent a lot of money on babysitters while we manage this project, and although there are times when we're at each other's throats about all there is to do before we can sell this place and move into the new one, the process has helped me appreciate my husband in a new light.
For one thing, it kicks ass that he has figured out how to manage this insanity from a financial perspective. He did all the research to find out how to get us approved for a second mortgage while we still own this house, and then he did everything to get us to buy the new place directly from the owners, with whom he negotiated a deal worthy of neighbor envy. He's an impressive realtor, without the capital R.
He's also done a ton of work on both homes, in and out, and has designed most of the place such that we've needed architects only for permitting, drawings, and for feedback. The one we've turned to for design consultation says repeatedly, "You're really good at this."
She's not kidding. He is. And he's funny. And he can still play the piano like no one's business, even though he hardly ever gets a waking moment to sit down at the bench without a child climbing on one of his extremities.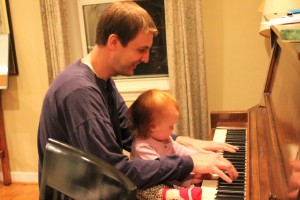 And, even though I am someone who unfortunately set expectations too high for any mortal to meet, no one can argue with the fact that he is an amazing father. When he comes home from work, it takes only one "Go see your daddy!" to get our 20-month-old daughter off my pantlegs and giddily waddling toward the front door. When I woke up next to her this morning, admittedly in the futon in our son's room while he and my husband slept in our king-sized bed across the hall, I felt such a feeling of gratitude.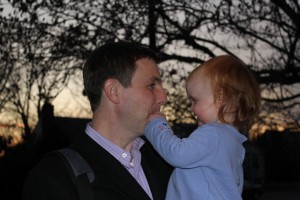 This person has seen me through so much. Through stress, frustration, success, joy. Through accomplishment and embarrassment. Through accolades and disappointments. Through sickness and through my journey toward health. Through two pregnancies and a lot of time wondering if they would happen. Through a c-section and an homebirth. Through breastfeeding struggles and successes, going on five years' worth now. Through mothering, with all its attendant ups and downs, and extremes. How astoundingly lucky am I?
I wouldn't want to go back and tell the 19-year-0ld me where she'd be in 20 years because I wouldn't want to change a moment of its natural unfolding. But when I think about her, I think about the magic of that night and a night a few weeks later when I jumped into LJ's arms after a Saturday apart and before a spring dance. It was this night I spoke of in my wedding vows, of this moment on the quad looking up at the stars, asking for this to last.
It has. For a really long time that sometimes feels like just a few breaths even though it's over half my life. When LJ and I met, I used to jog around campus in the evening, wondering what it would be like to own a home, to be a family. I imagined the babies I would have with LJ, never seeing being baldness into what has become redheaded childhood. I am living the life I dreamed of and so much I never knew to expect.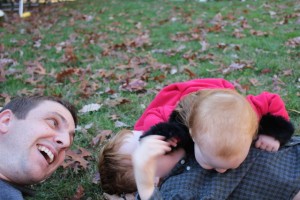 The other day, before LJ got a much-needed haircut, I looked at his shaggy head and saw a glimmer of the young boy I've seen in photos from a few years before we met, at his sister's wedding. He was in a late-80s Don Johnson pastel suit. I didn't know him yet, but after 20 years of sharing our stories and looking at albums that now show us where our children's eyes come from, nothing is a total surprise.
And at the same time, everything is.
I love you, LJ. Thank you for a wonderful 20 years. Happy anniversary. I love what we've built together.